Hiking at Hakaui

Lynn & Mike ..around the world
Mike Drinkrow & Lynn v/d Hoven
Fri 26 Apr 2013 06:04
08:56.72S 140:09.90W - Daniels's Bay (Hakaui) and a hike to Vaipo Waterfall
About 6nm west of Taiohae Bay is the protected anchorage of Daniels Bay - named for a man who has long gone. We went down there for two days to check out the 3rd highest waterfall in the world!
First day in the bay Mike and I went snorkeling - he was looking for octopus (no luck) and I was looking at the beautiful reef fish, many of which I had not seen before. Unfortunately the water was a bit too murky for underwater photographs.
Also in the bay was En Pointe, a trimaran with Tom (California) and Tulia (Mexico) on board - we chatted with them and decided to do the hike together the next morning. We beached our dinghys (our small one with the wheels) and set off past the small settlement towards the waterfall. What a beautiful hike - reasonably flat but at least 6kms each way, which was quite far, given that we have not done too much walking over the last few weeks. We were well equipped with bug spray and water (both essential) , and took the sometimes confusing route up the valley. Luckily previous hikers had left little piles of stones to keep us more or less on track. The walk took us through a beautiful jungle, crossing the river a few times and past a few ruins, many of which are quite substantial rock wall structures. Nearing the waterfall we found a sign warning us of the dangers of rock-falls ...and some hard hats in a bag! How considerate.
Sadly when we got to the end, the falls, were not falling ...not enough rain, but a very dramatic place never-the-less. John was feeling a bit light-headed, but luckily Tulia had brought along a mango so she could get some sugar in his system. We sat around at the pool for a while, enjoying the dramatically high cliffs above us.
We then trekked back and stopped at the local settlement where Maria & Ma'i were very welcoming. They had fresh green coconuts for us - you drink the water inside - and some sliced mango. They have many fruits, goats and cows on their land which they sell in the main town - their access is only by boat or a 16km ride on horseback. Ma'i has amazing tattoo's all over his body and face - and was very keen to tell us about slaughtering goats, hunting pigs, octopus, prawns and other good masculine things. All this in a blend of French, English, the local language and lots of actions. The Marquesians are very warm and touch cheeks with you when you meet - with Ma'i (the husband) making a strange animalistic out-breath on each touch of the cheek. Interesting!
We bought some fruit from them - including the sweetest, hugest grapefruits you can imagine, and headed back to the boat ..what a memorable day. Tomorrow is my birthday and we will be back in Taiohae Bay.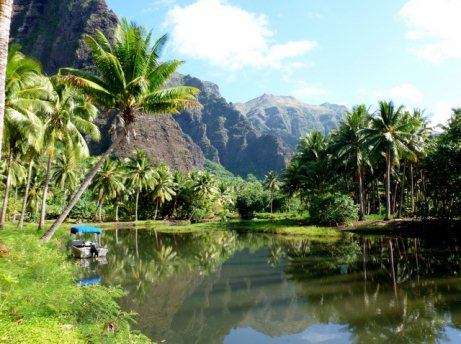 The creek at Hakaui - start of the hike Mike pole-dancing across the river
John & Mike taking a rest Ma'i expertly chopping a coconut - check those tats!
---