Manjack Cay

Lynn & Mike ..around the world
Mike Drinkrow & Lynn v/d Hoven
Sun 16 Jul 2017 16:27
26:49.09N 77:22.00W Manjack Cay
We stopped at NoName Cay so that Steve and Marietjie could visit with the swimming pigs. We gave it a miss, as we have had our fill of this weird attraction from the Exumas. But we did get some conch, and enjoyed another round of fritters.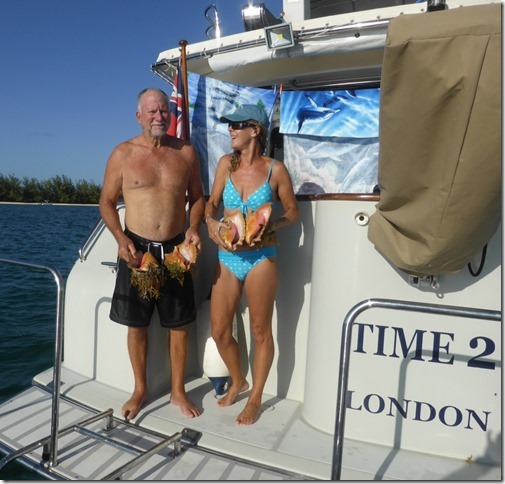 Our next stop was Green Turtle Cay for provisions and a dinghy tour of Black and White sounds. We are finding less and less good food as we head away from the more populated islands. Milk goes off quickly, potatoes are soft and fortunately we do not have to buy meat. The islands are still fairly close together here, with a short hop up to Manjack Cay. This island is fairly uninhabited, but we were delighted to find a welcoming beach, with chairs and shade. This land belongs to Bill and Lesley, ex cruisers who live a simple largely self sufficient existence here. On the beach, they have cleaned out the casuarina trees, grown coconut palms, a large vegetable garden and other beautiful trees. They welcome visitors to their beach. Like all beaches in the tropics, this one has lots of "no see ums" and so we brought our trust Off – with 40% DEET. I'm sure we will be growing second heads soon.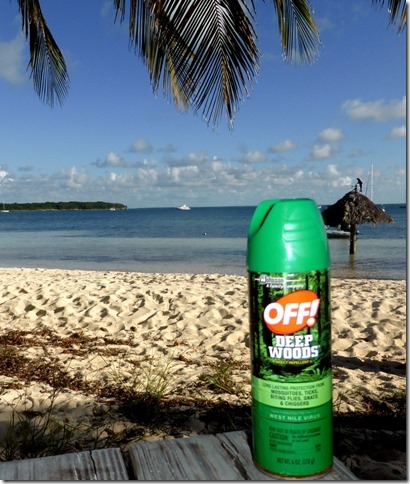 We took a dinghy trip up the mangrove creeks seeing lots of small turtles. I dived in, hoping to photograph them underwater, but they are too skittish to get close. Snorkelling in the mangroves is very interesting, with lots of small fish and different types of jellies.
On the north west side of Manjack are some nice bays that attract "tame" stingrays and sharks. We took some squid to feed the rays in the first bay, where there were no sharks. Here you get to experience the amazing sensation of a ray giving you a "hug". It swims right into you, pushing itself up against your leg. Once over the surprize, the soft spongy flesh feels quite wonderful. Mike and I experienced this for the first time in Moorea, French Polynesia.
Marietjie and Steve enjoying the ray interaction
The second bay had more rays and turtles and also a huge school of small sharks. And yes, there were tourists, including small children, feeding them. Quite unbelievable!
Looked like lemon sharks – about 1m long
---