Out and About in Papeete

Lynn & Mike ..around the world
Mike Drinkrow & Lynn v/d Hoven
Mon 20 May 2013 21:57
Out and about in Papeete, Tahiti:
We have been on the town docks in Papeete for a week now and have done most of the touristy things on the island. Papeete is the capital city of French Polynesia and fairly sophisticated in island terms. The country has no income tax, so is funded by import duties and VAT - so as long as you work here, goods are affordable as you get the tax break. It is a bit more expensive for tourists!
The local produce market is interesting, with lots of fruit & veg, flowers, fish and prepared foods. In contrast there is also a giant Carrefour hypermarket just outside the city, where you can get just about anything. We were very happy to get our hands on some New Zealand lamb!
In the evenings there is a square on the waters edge that becomes an outdoor eating market. Mini vans (with kitchens inside) pull up and unload tables and chairs, and start cooking. They are called Roulottes, and serve pretty good food with many options to the core dishes of grilled fish, Chinese Chow Mein and French Steak & chips pr Crepes. Sadly there is no alcohol allowed in the square. Booze is shockingly expensive here e.g. very ordinary bottle of Vodka is US$50 or a bottle of wine $30, from a supermarket!
Tahiti is not nearly as "romantic" as you may imagine - the city is full of traffic and quite dirty and the rest of the island is pretty basic, with very few hotels. There are beautiful tall mountains and lush vegetation, but no decent beaches - all of them are black! The black beaches are due to the volcanic origin of the island. I suspect all the "beachy postcards" come from the outer Society islands, where we will head next.
Tahiti is like a figure 8 - a big island and a smaller one, joined by a flat section of land. We took a tour on the coastal (only) road around the island with new friends, Will, Gai & their daughter Sarah - who are from Tasmania.
Some pics from Tahiti: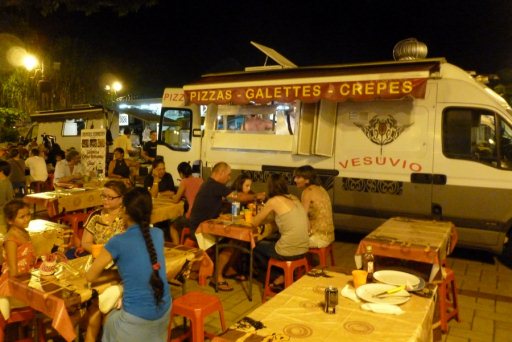 Roulottes in downtown Papeete Diet Coke with dinner!
Waterfall in the north east of Tahiti Sarah finds a giant leaf
Black beach at Mount Venus - where Captain Cook watched and measured the transit of the planet Venus in 1769
Weird fish for sale ... the aptly named Unicorn Fish and the unusual Saumon des Dieux - which Mike is enjoying above
Flower sellers making floral crowns for tourists A core starch - TARO
---