San Pedro

Lonely-Planet
Mathilde en Wim
Thu 9 Feb 2017 23:49
17:54.73N 87:57.82W
San Pedro 9 februari 2017
Het ging zo lekker, het varen van
Cay
Caulker
naar San Pedro. Tot we de motor een half uurtje aan hadden om bij San Pedro binnen te lopen: in de ondiepe delen voel je je toch veiliger met de motor aan dan onder zeil: je kunt toch sneller reageren.
Ik ging de kajuit binnen en rook een brandlucht. Kwam niet uit de motorruimte maar uit de accubak. De diodebrug, die er over waakt dat de start accu niet ontladen wordt door de service accu's, was gloeiend heet. Dat hebben we eerder gehad als de accu's vrij leeg zijn en er langdurig een grote laadstroom door heen gaat. Ik heb daar in het verleden voor om raad gevraagd en kreeg toen het antwoord: als de verf er niet van afbrandt is er niets aan de hand. 
Dus over de hete diodebrug maakte ik mij nog niet veel zorgen, erger was dat er op de startaccu 17 volt laadstroom stond. Niet goed voor de accu. Peter gevraagd de motor stationair te laten draaien (geen laadstroom meer) en samen hebben een puntje zeil gezet om toch ons doel te bereiken.
Vervolgens met de dinghy naar de wal om hulp te zoeken, die kwam in de vorm van Walter, 26 jaar oud, dik boven de 100 kg, een heel gewicht voor tante ma, onze dinghy. Walter was een gezellige prater en een handige sleutelaar, die vrij snel onze dynamo gedemonteerd had en meenam voor onderzoek: het te hoge voltage moest van een defecte regeleenheid in de dynamo komen.  Via de telefoon hoorden we dat onderzoek van de dynamo inderdaad een gebrek aan aangetoond, helaas onderdeel niet te krijgen, dus nieuwe dynamo uit Belize city laten komen. Was er in een paar uur met de super snelle veerboot. Volgende dag gemonteerd: probleem onveranderd.
Op zoek gegaan naar een nieuwe diodebrug die we zowaar in San Pedro konden kopen. Eerst in de winkel aan 3 mensen gevraagd of ze zoiets hadden, kenden het niet, naar een meneer gestuurd die het misschien kon bestellen, zou 3 weken gaan duren en vervolgens komt een van de jongste werknemers aanlopen met precies het model dat we moesten hebben.
Gemonteerd en nadat dat Peter er op aandrong de oude dynamo toch nog maar te proberen, na 2 uur sleutelen om alle verbindingen uit te zoeken en te monteren, deed alles het weer vlekkeloos. 
Walter gebeld of hij de door ons provisorisch vastgezette verbindingen kon komen verbeteren. Kwam hij direct doen. Nadat hij weer een half uur gesleuteld en een uur verteld had over al zijn familie, erg gezellig maar we maakten ons wat zorgen over de prijs,gevraagd wat hij voor bijna 2 dagen werk + praten wilde hebben. "ik wil niets hebben, ik heb jullie probleem niet opgelost" Toch 100
US
betaald waar hij blij mee was. De gekochte dynamo hebben we nu als reserve.
We wachten nu tot zaterdag op goed weer. Raken ondertussen aardig thuis in San Pedro. Op naar Mexico of Cuba
Bij de foto's
Het sportveldje is leuker als het ook gebruikt wordt
Cay
Caulker
: de pelikanen zijn hier aardig tam, eten uit de hand
San Pedro: een en al golfkarretjes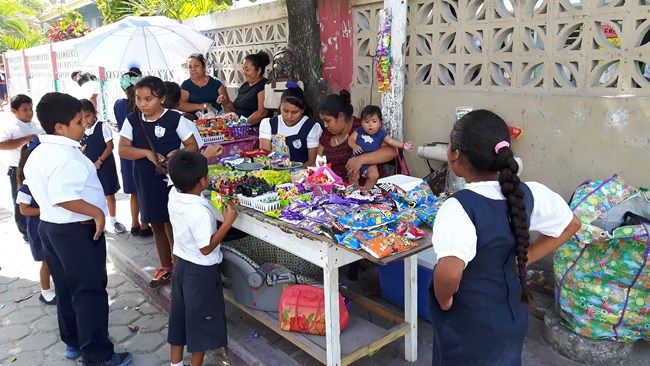 Schoolkinderen die snoep kopen in de pauze
Als ze niet van het schoolplein mogen gaat de verkoop door via het hek.
Peter aan de
cinnamon
rol, super groot.
Lepelaars gezien, hier een roze exemplaar tijden ons dagje fietsen
Schoolmeisjes tijdens de pauze, hier ook mooi ingevlochten.
---