Aruba vervolg

Lonely-Planet
Mathilde en Wim
Tue 4 Jan 2011 16:46
Aruba, Oranjestad, 3 januari 2011,
Hallo, allemaal,
Wat leuk al die e-kerstkaarten, woonboten in de sneeuw en 12-uur sms'jes! Het kerst- en nieuwjaarsgevoel was er zo toch ineens.  Het was hier een beetje een tamme bedoening. Vriendjes net weg, weinig andere boten. En helaas ging het plannetje van Remco en Dorien om de feestdagen over te komen niet door. We hadden een tafeltje gereserveerd bij Marandi, een klein romantisch "sunset" restaurant op het water met alleen een rieten dak, op een erg mooi afgelegen plekje van de baai.  Het was een behoorlijk eind varen met Tante Ma en het was een wonder dat we droog over kwamen. Het had de hele dag al geregend en de altijd prachtige zonsondergang  ging nu ongemerkt aan ons voorbij.
Oud en Nieuw hebben we op de wal gevierd. Op de pier van de Paardenbaai werd een fantastisch vuurwerk afgestoken en het Casino ernaast deelde champagne uit. Er waren veel mensen naar de haven gekomen. Koelboxen met drank mee, tafeltjes en stoelen, strakke, blote jurken, veel glim en super hoge naaldhakken ( de winkels staan er vol mee), mannen dragen erg Zuid-Amerikaans aandoende (te kleine)  lak- hoeden met "Happy New Year" er op. In de tentjes rond de haven werd veel (en goed) gedanst en hier en daar kon je zelfs oliebollen krijgen.
De bewoners van Aruba zijn i.t.t. de andere eilanden vooral van Indiaanse afkomst. De kunuku huisjes hebben ook vaak abstracte schilderingen op de muur. Een oud indiaans gebruik om kwade geesten buiten te houden. 
Mensen met een Afrikaans-Caribische achtergrond kwamen pas rond 1920 naar Aruba om te werken in de olie-industrie.  We ontmoeten hier veel mensen die alleen Spaans of Papiaments spreken.  We proberen de gesprekken op de radio te volgen, wat nog niet meevalt. Grappig, het accentloos Nederlands er af en toe tussen door, zoals  "gooi op een akkoordje"  en  "mijn nek uitsteken".
De mensen zijn hier trouwens opvallend vriendelijk, auto's stoppen al als ze maar denken dat je over wilt steken en iedereen is zeer bereid je te helpen.
We hebben geprobeerd een auto te huren om wat meer van het eiland te kunnen zien.  De periode rond kerst is echter hoogseizoen en dan is er nog geen fiets te krijgen.
We behelpen ons met de "hotel" bussen en verder dus uren lopen. Er gaat een reguliere bus naar San Nicolas  aan de andere kant van het eiland, 3 kwartier rijden. Daar moesten we wel naar toe, want  "Charlie's Bar", een legendarisch café, wilden we niet missen. Het café hangt vol met allerlei "flotsam, jetsam en junk", curieuze voorwerpen, schilderijen, noem maar op. Er is geen plekje waar niet iets hangt of staat en het is nog smaakvol ook.  Hier ontmoetten we de excentrieke Wally, naar eigen zeggen, in het verre verleden een gevierde disc-jocky op Curaçao.  Hij heeft 8 katten en hij kon zich Ed nog herinneren (Ed is een bevriend collega, die een aantal jaren als dierenarts op Aruba gewerkt heeft).
We hadden er niet aan gedacht dat dit tevens de "rode" buurt van Aruba is. Prostituees, vooral uit Latijns-Amerikaanse landen als Colombia en Venezuela, krijgen voor 3 maanden een vergunning om hier, legaal, te werken en moeten dan weer terug naar het land van herkomst.  Het gaat meestal om jonge meiden, die de zorg voor een kind hebben. Na een telefoontje kreeg Wally dan ook gezelschap van een mooi meisje, dat niet blij keek, als hij het niet zag.
We hopen woensdag naar Jamaica te kunnen vertrekken. Op dit moment zijn de golven nog te hoog en er is nog teveel wind. De bekende harde "kerstwind" uit het noorden lijkt dan wat af te nemen en meer oost te worden.
Foto's:
Het plaatsje Noord: kleurige grafhuisjes
Charlie's Bar, beelden van buiten en binnen
California-vuurtoren op de uiterste Noord-West punt van het eiland
Zeezicht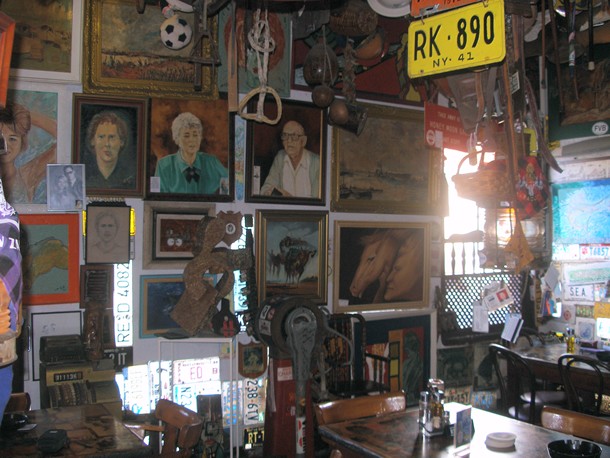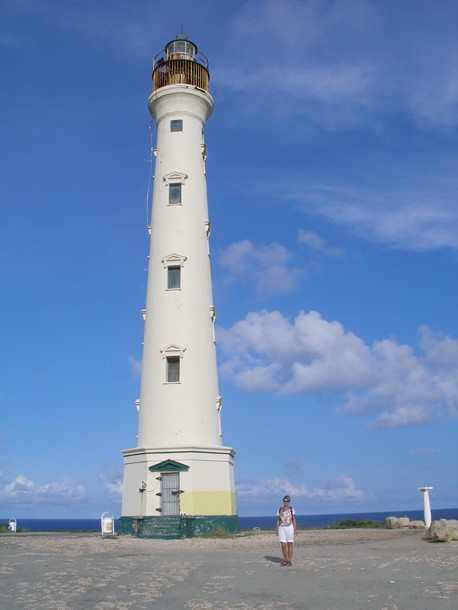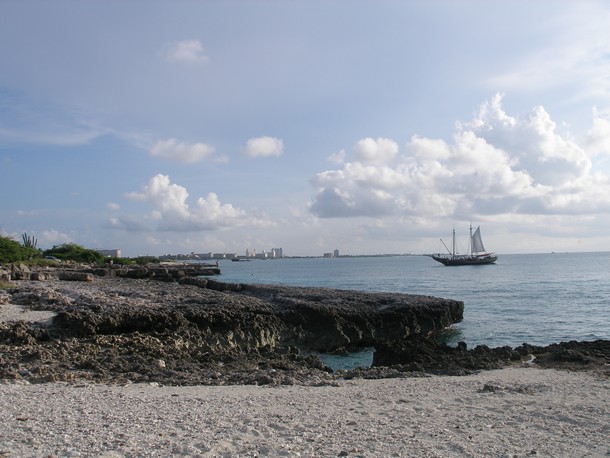 ---