Colombia trip 5

Lonely-Planet
Mathilde en Wim
Fri 7 Dec 2012 17:48
Santa Marta, Colombia, 7 December 2012
Een laatste stukje rondreis:
Met de bus van Manizales naar Bogotá, een rit van 10 uur. Bogotá ligt op 2500 meter hoogte en het is er daardoor redelijk koel. Wim en ik hadden in ieder geval te weinig kleren bij ons, maar het jasje van Ans deed wonderen. Ons hostel Campo Bello was prima maar veel te ver van het centrum. 's Avonds wilde geen taxi ons meenemen, omdat in de files hen dat niets opleverde. Tussen 5 en 8 p.m. werd de rijrichting van de linker rijbaan omgedraaid om alle verkeer gelegenheid te geven de stad te verlaten. De bewoners van de stad mogen alleen de auto gebruiken op de even of oneven dagen. 
Bogotá, stad van 8 miljoen inwoners, vanaf "Cerro de Monserrate". Pelgrims doen de 1500 treden naar boven, maar de 1500 treden naar beneden waren voor ons al ware boetedoening.  
We hebben een hele dag in het Museo del Oro doorgebracht, het beroemdste museum van heel Zuid Amerika. Het bevat 55.000 gouden en andere voorwerpen van pre-Spaanse culturen.
Je gaat langs enorme kluisdeuren naar binnen.
Lepelaars. Dieren zijn erg belangrijk in de Muisca en andere pre-Spaanse indianen culturen. Met behulp van cocaïne transformeert de Zipa in bijvoorbeeld een vogel en kan zo intermediëren met de goden.
Met de armen om de knieën, een meditatieve houding 
Ook Rodin moet zijn inspiratie ergens opdoen: meditatief denker (de mystieke uitstraling van het beeldje valt helaas niet in een foto te vangen)
En wat te denken van de beelden van Odile Kinart?
Het ontstaan van de aarde: zwarte vogels ( vroegere shamanen ) brachten in hun bek licht naar de aarde en gaven de eerste stammen hun land.
De Balsa Muisca, het vlot waarop de met goudpoeder bedekte Zipa voer op het heilige krater meer, Lagune de Guatavita. Vanaf het vlot werden gouden hangers en figuren als offer in het water gegooid. Door in het water onder te dompelen, verkreeg de Zipa goddelijke kracht. Al vanaf 1560 heeft men geprobeerd het goud van de bodem op te vissen. Er is geprobeerd het meer leeg te laten lopen, door er aan de zijkant een gat in te graven en er zijn vele duikpogingen gedaan. Maar de opbrengst viel tegen en tegenwoordig wordt het meer bewaakt.     
Villa de Leyva is een oud Spaans dorpje met cobble stone weggetjes en een enorm plein, Plaza Mayor. Achter de zware houten deuren grote schaduwrijke patio's, waar je heerlijk kunt zitten. We logeerden er in het Hostel Renacer Guesthouse Colombian Highlands. Een prachtig plekje aan de rand van het dorp. Waranda's met hangmatten en veel bloemen. 
We zijn hier in het gebied van de "desert mountains", één dorre boel.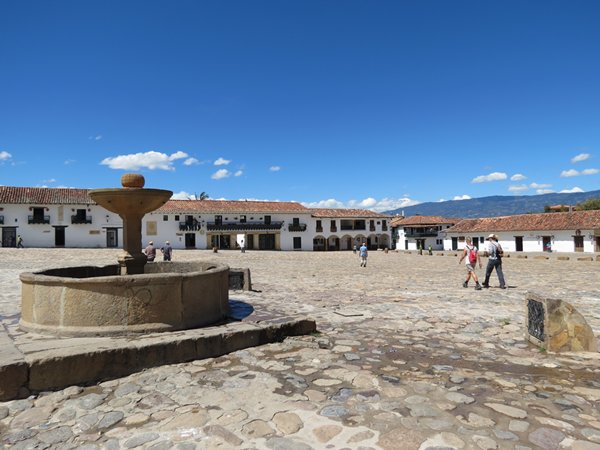 Serenade
Desert mountains met hier en daar een meertje
Is dit alles? Ja, dit is alles.
Berg klimmen in de achtertuin van het hostel
Ceramisch huis
Hostel Renacer
De lokale markt
Sam's Hostel in San Gil aan het park en met een eigen balkonnetje
Vanuit San Gil konden we een dagtocht maken naar Barichara, ook weer zo'n oud Spaans dorpje, om El Camino Real te lopen naar Guane. Dat is een honderden jaren oud met stenen belegd indianen pad (ook weer een patrimonium). 
Dit is ook de omgeving waar de Hormigas Culonas (mieren met vette billen) of Hormigas Santanderanas vandaan komen. Het zijn de koninginnen vol eitjes van reuzen mieren, die tijdens de bruidsvlucht gevangen worden. Kop, poten en vleugels worden verwijderd, ondergedompeld in zout water en geroosterd in ceramische potten. Het zou een afrodisiacum zijn en helende eigenschappen hebben. Ze worden door de Guane indianen gegeten tijdens de huwelijksceremonie, een 500 jaar oud gebruik.
Wonderlijk, maar ze worden verhandeld naar Canada, Groot Brittannië en Japan. Zij  beginnen een bedreigde diersoort te worden.
Volgens de Lonely Planet smaken ze naar "crunchy dirt mixed with old coffee grounds", maar dat is niet waar, ze zijn echt smakelijk.
Hoeveel zal ik er nemen
Tussenstop voor de zoutkathedraal van Zipaquirá. In de zoutmijnen zijn de 11(?) statiën abstract uit zout gehouwen met als laatste een enorme kathedraal 160 meter onder de grond. Indrukwekkend. 
Het was 15 uur met de nachtbus terug naar Santa Marta, wat mij betreft te lang. We werden nog achterop gereden ook door een vrachtwagentje, total los en zijn torenhoge lading over de weg. Erg sneu. En wij moesten wachten op een andere bus.
---