Providencia nog steeds

Lonely-Planet
Mathilde en Wim
Mon 29 Apr 2013 23:17
Providencia Isla, Colombia, 29 april 2013
Het is inmiddels al weer ruim drie weken geleden dat we de nieuwe verstaging in Nederland bestelden, en hij is nog steeds niet binnen. Op 12 april is het pakket verzonden en op internet hebben we via track and trace kunnen zien dat  na 3 dagen 2/3 van de afstand afgelegd was, en dat het  16 april afgeleverd zou worden. Na een paar dagen is 16 april echter vervangen door: "afleverdatum onbekend".  Het pakket ligt waarschijnlijk nog bij de douane in Bogotá.  We hebben "Mister Bush", de  tussenpersoon voor  douane en immigratie, gevraagd voor ons na te gaan waar de bestelling is blijven steken. Hopen dat het wat oplevert, want onze relatie met mister Bush is niet al te goed. We hadden nogal geprotesteerd tegen de $ 80.00 die hij berekende voor het invullen van de formulieren. We hadden er een beetje genoeg van dat iedereen, die achter een bureau zit  geld wil zien (bovenop de verschuldigde leges) en waar je geen kwitantie van krijgt: "Ik krijg $ 20.00 van u en die meneer daar moet u ook nog $ 20.00 betalen"  en dat houdt niet op.
We zagen er wel tegen op om hier nog weken te moeten blijven,  maar over het algemeen genieten we er van.  Als je langer op één plek bent, ga je de omgeving met andere ogen bezien.  Je krijgt een band met de mevrouw van de bakkerij en het internet café en we hebben zowaar een leuk balkonnetje gevonden in de "drukke" straat van Santa Isabel. Het restaurant is een groot deel van de dag dicht, maar dan halen we een biertje aan de overkant om die over de balustrade-bar van Zentrick op te drinken, kijkend naar de mensen die langs komen. Aan de overkant van de straat verkoopt een mevrouw warme snacks, grote gefrituurde bollen met aardappelpuree en vlees erin,  stukken kip op stokjes. 's Middags worden de kinderen van school gehaald. Dan komen moeders langs met  kinderen voor en achter op de motor (helm en rijbewijs zijn niet nodig) zoals bij ons op de fiets, soms zelfs met een baby'tje zittend voor de moeder en met de handjes steunend op de tank.
Er zijn prachtige snorkelplekjes. Op zwemafstand van de boot is een stuk rif waar vier verpleegsters haaien overdag slapen. Meestal half verscholen liggend onder de rotsen, maar soms ook open en bloot in het zand, of zwemmend over het koraal.  Wetend dat er niet gejaagd wordt, zwemmen prooivissen rond hun kop of er niets aan de hand is. Wim kwam, terugzwemmend naar de boot, in een school behoorlijke tonijnen terecht, die maar net de moeite namen om om hem heen te zwemmen.
Af en toe zitten we te lang op de boot en dan wordt het wel taai. We moeten ons dan echt een uitje cadeau doen om het leuk te blijven vinden. We zijn een dag naar Low Cay geweest. Twee en een half uur varen (het was nog leuker geweest als we de zeilen hadden kunnen hijsen) naar een ankerplek bij een rif zo uitgestrekt, dat je tot aan de horizon de golven er op kon zien breken. Onderweg hebben we weer eens een vislijntje uitgegooid. Negen keer beet (ik moet iets aan de positie van de haak doen) en waarvan we drie maal ook daadwerkelijk een vis binnengehaald hebben. Tijdens het binnenhalen van één van de vissen, had een andere vis alweer  zijn tanden er ingezet.
Ik moet bekennen dat de vissen die we kopen ons altijd meer smaken dan de vissen die we zelf vangen. Vissen die je hebt zien zwemmen zijn gewoon niet zo lekker.
We lagen er helemaal alleen in glashelder water tussen het koraal. Woeste koraalrotsen, diep en reikend tot het oppervlak van het water en een voortdurende stroom van scholen vissen.
Verder zijn we nog steeds erg druk met het Spaans. Voor mij zijn de Spaanse boeken op, dus  ben ik begonnen ze opnieuw te lezen. We zijn weer op Colombiaans grondgebied, dus dat komt goed uit. García Márguez beschrijft als journalist in "Noticia de un secuestro ("bericht van een ontvoering") over de ontvoeringen en moorden (van/op vooral journalisten) in de tijd van maffia baas Pablo Escobar, die hiermee druk op de regering uitoefende om, als hij zich over zou geven, strafvermindering zou krijgen en dat bij wet geregeld zou worden, dat hij niet aan Amerika uitgeleverd kon worden, zijn grootste angst.
Hij heeft inderdaad een jaar gevangen gezeten, op een luxe boerderij, die er meer op ingericht was om hem tegen zijn rivalen (er waren er heel wat die hem naar het leven stonden) te beschermen, dan om de buitenwereld tegen hem te beschermen. Toen  hij niet meer zeker was van de intenties van de regering ontvluchtte hij. Na een jaar wist de politie hem te traceren en werd hij doodgeschoten.  Amerikanen, met wie we lunchten, hadden een Amerikaanse serie over Escobar gezien en waarin gesteld werd dat Amerikanen hem gevonden hadden en doodgeschoten. Márguez maakt in zijn 350 pagina's tellende boek echter geen  melding van Amerikaanse hulp ( Amerikaanse geschiedenis vervalsing?).
Een heel bijzonder  boek, dat de puur  journalistieke benadering ver overstijgt, is het boek van

Héctor

Abad

Faciolince

: "El

olvido

que seremos" ( ik zag in Nederland de vertaling "Het vergeten dat ons wacht") , dat gaat over de herinneringen aan zijn vader en aan het gezin waarin hij opgroeide. Zijn vader, die als medicus-docent met de leeropdracht  volksgezondheid, campagnes organiseerde en programma's ontwierp (wat door rechts gezien werd als gevaarlijk en subversief) om preventief iets te doen aan de grote sterfte in de

armenwijken

, door honger, tbc, cholera en tyfus  en die later vocht tegen de rechtsongelijkheid in Colombia en de terreur als politiek middel  en voor het respecteren van de mensenrechten. Zijn vader werd uiteindelijk in 1987 op 65-jarige leeftijd in opdracht van rechtse paramilitairen door een huurmoordenaar vermoord.  
De troonwisseling wordt in Providencia uitbundig gevierd.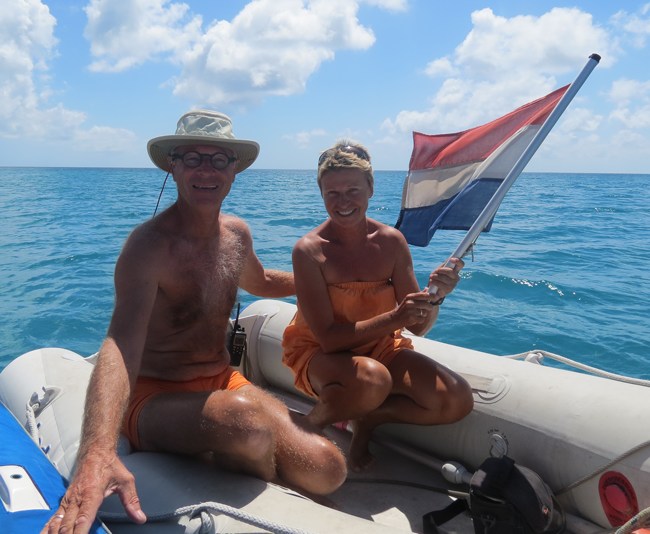 Als het geregend heeft komen de krabben van de bergen naar beneden om hun eieren aan het strand te leggen. Dan wordt er krabbensoep en rijst met krab en krabkoekjes etc. gegeten. Tijdens onze wandeling bij Fresh Water Bay zagen we honderden krabben in iedere hoekje dat er te vinden was.
Stuwdam bij Fresh Water Bay met in de verte de oceaan. De krabben klommen recht tegen de 40 meter hoge dammuur  op.
Er is veel aandacht voor het milieu.
Er is een actieve schilder op het eiland. Veel kale muren zijn beschilderd. Muurschildering met krabben die de weg oversteken. In de krabbentijd  wordt het verkeer omgeleid.
---