Bonaire vervolg

Lonely-Planet
Mathilde en Wim
Tue 27 Jul 2010 23:20
Bonaire, Kralendijk, 25 juli 2010
We zijn weer vaste klant bij Budget Marine. Na het sjouwen met een loodzware accu hebben we er nu onze  buitenboordmotor gebracht. De hendel van de "vrij-stand naar vooruit" is afgebroken.
Morgen horen we of een nieuwe hendel besteld kan worden. Voorlopig is het dus weer peddelen met Tante Ma naar de  steiger van Karel's. Nu wel prettig dat we er zo dichtbij liggen.
Om ergens te komen moeten we lopen, een auto of fiets huren. Bonaire heeft geen openbaar vervoer en een taxie moet er wel zijn, maar wij hebben er nog geen gezien.
Een paar dagen geleden hebben we fietsen gehuurd om de zuid kant van het eiland te verkennen.
Hier liggen de zoutpannen, fourageren de Caribische flamingo's en zijn replica's van de oude slavenhutten te zien.
Lage, kleine  stenen hutjes, waarin de mensen opeengepakt moesten slapen na het werken in de zoutwinning. 2 x per week 7 uur lopen in de brandende zon naar huis, het dorpje Rincon, waar de zondag doorgebracht werd.
We zijn 's morgens vroeg met veel flessen water en zwemspullen op pad gegaan. Al gauw was het 35 graden, kronkelende onverharde wegen en een uitgestrekt woestijnachtig gebied met lage doornstruiken en meters hoge zuilcactussen. Nergens ook maar een streepje schaduw.  Een prachtig, fascinerend gebied, maar oh die brandende zon. God zij dank vonden we Miky's, een lokaal eettentje  in the middle of nowhere, onbegrijpelijk/ geen huis in de wijde omtrek, maar, op donderdag gesloten. Gelukkig konden we er wel onze kleren en hoofd nat maken en een beetje afkoelen onder de boom voor we weer verder gingen. Kon Tiki (restaurant en resort) aan het Lac Cai,  een baai met mangroven en  flamingo's hebben we nog bereikt, maar daarna hebben we toch de short cut terug naar Kralendijk genomen. Nooit meer op de fiets hier, maar met de auto komen we zeker terug.
We hadden niet gedacht dat we dat al zo snel zouden doen. De volgende dag kwamen we, it's a small world, bij toeval  Reinout en Birgit met hun zoons Thom en Ko tegen. Birgit is een oud Heelkunde-collega van Wim en Reinout heeft met collega's een aantal jaren de dierenartsenpraktijk op Bonaire gerund, waar ze allemaal 3 maanden per jaar werkten. Ze vieren nu vakantie op Bonaire. 's Avonds zijn we gezellig met z'n allen uit eten geweest en we werden uitgenodigd om een dag mee te gaan voor een tour over het eiland. Zij kennen veel mensen op het eiland en weten natuurlijk alle mooie plekjes. In een leen-pick-up (met airco) hebben we de hele dag rondgetoerd. Nu wel de zoutponden en de slavenhuisjes gezien. De rood, blauw en geel gekleurde pilaren gaven aan bij welke kleur de schepen aan moesten leggen om het zout te laden. Op de punt van het eiland stond de corresponderende kleur vlag.   
De zoutvelden veranderen steeds van kleur naargelang de concentratie zout. Van wit worden ze uiteindelijk roze-rood. De flamingo's die er foerageren zijn prachtig donker roze. Wat een mooie plaatjes.
Het bijgeloof tiert hier welig onder de lokale bevolking. Leguanen worden door mannen gegeten ter verhoging van de libido. Leguanen-mannetjes hebben een dubbele penis(uiteinde), vandaar !? 
Een grote mot (zagen we in de vlindertuin) in huis is de voorbode van een sterfgeval. De hele familie wordt  gebeld en men komt 3 weken het huis niet uit, kinderen gaan 3 weken niet naar school.
Op het filmpje van/bij de vlindertuin zijn rode heremietkreeften te zien, die in een bak worden gehouden. Eén keer per jaar, in het voortplantingsseizoen, worden ze eruit gezet, dan lopen ze naar de zee om eieren te leggen, leggen de hele afstand terug weer af, soms met jongen in piepkleine huisjes erbij. Bij de bak staan ze vervolgens te wachten om er weer in gezet te worden.
Foto's:
Onderwaterfoto's: we hopen ooit nog eens de ultieme foto van het trunkvisje te maken. Een gestippeld driehoekig stukje rots met een pruilmondje, grote ogen en ronddraaiende gele waaiertjes-vinnen.
Een "open-lucht-kerkje". Hoe doe je dat in de brandende zon?
Fietsen naar de zoutponden
Leguanen
Brigitte en Reinout
In het noorden het Goto-meer en doorkijkje tussen de wortels van de mangroven door.
Slavenhutten, zo klein dat ik alleen onder de nok rechtop kan staan en je bijna op je knieën moet om door het deurtje te kunnen
De Braziel-boom. De bast werd geraspt om kleurstoffen van te maken. In A'dam staat nog een "rasphuis".
Overdekt groentenmarktje waar we vanaf de boot op uitkijken. Venezolanen komen hier helemaal naartoe om hun handel te slijten.
Kon Tiki beach.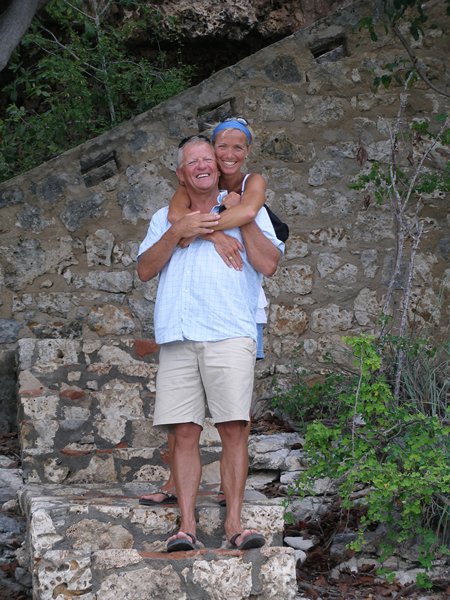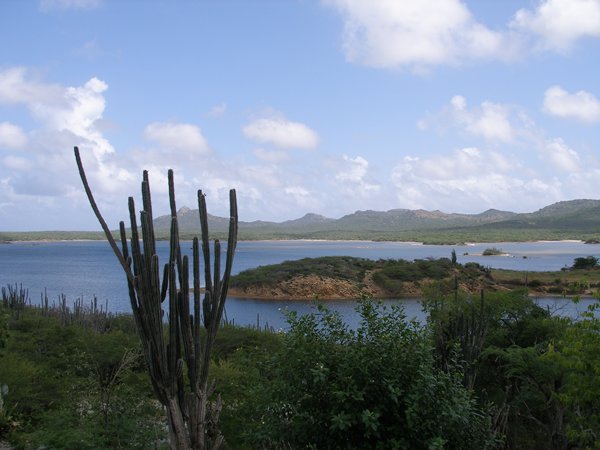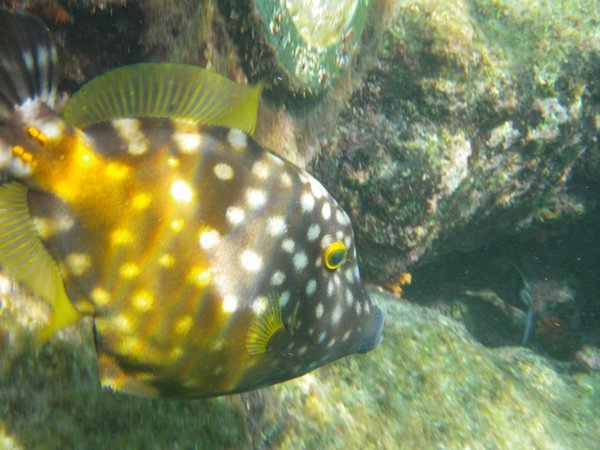 ---