Curacao vervolg

Lonely-Planet
Mathilde en Wim
Tue 26 Oct 2010 04:38
Spaanse Water, Land Curaçao, 24 oktober 2010
We zijn weer terug op het Spaanse Water en god zij dank is de passaat weer terug. De laatste weken was er geen wind en wel regen en dan komen de muggen en de zandvliegjes en is nergens verkoeling te vinden. 's Nachts met je kussen onder je arm zoeken naar het koelste plekje, dat er niet is.
Twee weken geleden zijn we naar de Curaçao Marine  aan het Schottegat gevaren. Leuk om dwars door Willemstad te varen. De pondjesbrug (Koningin Emma brug) gaat ook voor jou alleen open, zij het maar een klein stukje. Met de boot in de steigers hebben we een week lang hard gewerkt om het onderschip schoon te maken en in de antifouling te zetten, een soort verf tegen aangroei van pokken en waterplanten.  We komen nu weer een stuk sneller vooruit.  Er zijn een paar accu's vervangen en er kwamen onderdelen voor de watermaker uit Nederland binnen, die het nu weer doet!  
Na een week zijn we even terug geweest op het Spaanse Water en de volgende dag voor een paar dagen "vakantie" vertrokken naar Klein Curaçao, zo'n 3 uur varen. Een onbewoond eilandje, wit palmenstrand en helder blauw water. De charters Jonalisa en Mermaid  droppen er vakantiegangers voor  een dagje snorkelen of duiken, maar om 3 uur is iedereen vertrokken en blijf je ongeveer alleen met een paar vissersboten achter.  
Heerlijk om weer eens zo vanaf je boot te kunnen snorkelen met een huis-turtle en -spotted eagle ray (die donkere rog met witte stippen en een onwijs lange staart, met zijn snuit wroetend in het zand naar vissen en schelpen). Ook onder water hebben dieren hun territorium en je komt dan ook vaak dezelfde dieren tegen.  "Helaas" moesten we vrijdag weer terug, want we hadden kaarten voor "Brigitte Kaandorp" op landhuis Brakkeput Mei Mei. Wat is dat toch bijzonder in een warm land. Een klein podium  met designer tentdakje, houten stoeltjes in de open lucht en als je een beetje op tijd bent, is er nog een plekje vooraan.  Alles is zo kleinschalig.  Apart dat de gekleurde bevolking overal waar je komt verreweg in de meerderheid is en er hier ineens alleen macamba's (scheldwoord voor de Nederlanders) zijn, net of ze uit alle hoeken en gaten geplukt zijn.  
Van 10-10-10 hebben we niet zo heel veel meegemaakt. De festiviteiten hadden niet zoveel om het lijf.  De overgang naar Land Curaçao leeft ook niet zo onder de Curaçaoënaars. Veel mensen hebben niet veel vertrouwen in een goede afloop. Om er nog iets van mee te maken, zijn we naar de opening gegaan van een expositie van het werk van Curaçaose  kunstenaars in het Curaçao Museum.
Wat een verrassing dat we, toen we uit ons busje stapten, onverwacht vis à vis met Maxima en Willem Alexander kwamen te staan, die net uit hùn bus stapten. Voor en achter hun bus reed gemotoriseerde politie en dat was de hele bewaking.  Het filmen van de opening  van achter het hek (we waren gewoon door de afrastering heen gelopen en niemand hield ons tegen) leverde een leuk 65-jarig huwelijks filmpje voor de ouders  Klein op.
In de krant werd en wordt er wel hevig gediscussieerd over hoe het nu verder moet. Vooral door de uitlatingen van minister van onderwijs en cultuur René Rosalia van de Pueblo Soberano (Wilders equivalent), dat de tambú (de Afrikaanse cultuur) op scholen onderwezen moet worden als dominante cultuur en over wie Yu di Kòrsao (Curaçaoënaar)  is. De reacties in de krant zijn zeer genuanceerd en geven een goed beeld van de achtergronden van blank en zwart. De wrok tov Nederland, arrogante Nederlanders, politici die volledige verantwoordelijkheid willen maar die niet nemen (corruptie, vriendjespolitiek etc.), de oorzaken en gevolgen van de eenouder gezinsstructuur etc.  
Zo kwamen we er ook achter dat Jan Gerrit Palm, eind 19e eeuw, de eerste Curaçaose componist van klassieke muziek is.  Hij schreef naast  mazurka's en walsen ook kerkmuziek voor de Protestantse kerk en de Synagoge. Was hij dan geen echte Curaçaoënaar?
Het zal ons niet meevallen Curaçao vaarwel te zeggen. We zijn inmiddels  aardig ingeburgerd.
Op zondag spelen we "dubble head" (in Duitsland populair kaartspel) met Elli en Bernd, een bevriend Duits stel, waar we ook om 6 uur 's morgens mee joggen. Snorkelen doen we met Nederlandse charters en Engelsen, we mediteren met Curaçaoënaars (met soms winti-achtige taferelen), we lezen de krant en gaan naar Theatro Luna Blou, een leuk theater waar mooie documentaires gedraaid worden (toneelstukken zijn tot nu toe helaas in het Papiaments) en videoregistraties van belangwekkende concerten, ergens op de wereld gehouden (Bebo Valdez, een bekende Cubaanse pianist en de fameuze flamenco zanger, Diego "El Cigala" Salazar/ was helemaal nog niet zo gek (of eigenlijk was het geweldig), groot doek, goed geluid en ook nog Engelse ondertiteling van mooie poëtische teksten).
We zijn onderhand gewend aan namen als Brionplein, Zuikertuintje, Rooi Catootje, Brievengat, Brakkeput, Waaigat, Punda en Otrobanda.  
In het najaar komt een  (wel toepasselijk) gedichtenbundel uit van Giselle Ecury  (Aruba): Vogelvlucht
dag zee                                                                                                       altijd nat
dag  zee in al je facetten                                                                            zou die zee
                                                                                                                    het nou nooit eens zat zijn?
rollend over het strand                                                                               altijd nat zijn
schuimend je water                                                                                    altijd koud zijn 
schuivend het zand                                                                                     en zo zout
en drijfhout, verweekt en verbleekt                                                           en zanderig
zout - in kristallen – reflecteert:                                                                  en altijd maar alleen die kust
diamant                                                                                                        die daar gelaten ligt te rusten
je kietelt de kust,                                                                                         
kruipt op haar schoot                                                                                   je zou hem toch
onder luchten van lood                                                                                 zo nu en dan
schept schelpen gekarteld als kant                                                              goed te grazen nemen
                                                                                                                       als je zee was?
wind speelt het spel mee
duikelt van het duin
botst met jou, zee
je smeekt, streelt en struikelt,
likt gulzig het land
dag zee, soms onbehouwen
soms niet te vertrouwen
behalve
als het avondlicht brandt
dan dompel je altijd vlak voor het donker
Bj de foto's:
Kunuku huisje met cactushaag, nogmaals de A, Klein Curacao en Mathilde met 1,8 kg dorade.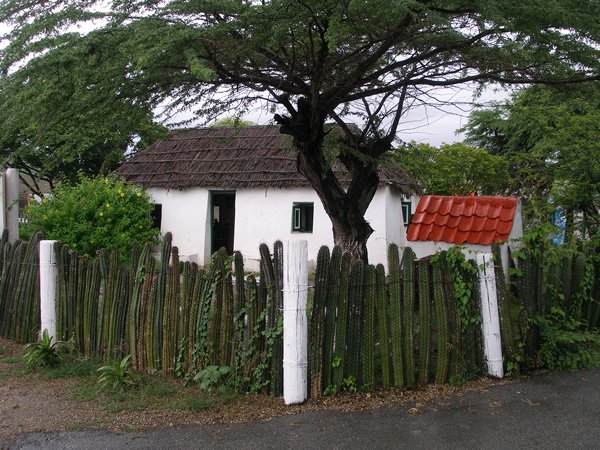 ---