Santa Marta hiking Ciudad Perdida

Lonely-Planet
Mathilde en Wim
Sat 13 Oct 2012 13:45
Santa Marta, Colombia, 13 Oktober 2012
We zijn net terug van een zes-daagse trektocht door de jungle naar Ciudad Perdida, de verloren stad en heilige plaats van de Tayrona indianen. De stad ligt op 1200 meter hoogte in de Sierra Nevada de Santa Marta en is alleen te voet te bereiken langs erg smalle paadjes langs steile afgronden, dagen klimmen en afdalen over bergruggen, klimmen over stenen langs rivieroevers en regelmatig door de rivier. In het begin probeerden we nog onze schoenen droog te houden, niet wetende hoe nat we nog zouden worden.
We werden met een oude Toyota Landcruiser opgehaald.  
Een groepje van acht. Andrew en Cary (Australiërs), Sylvia (Nederlandse), Amy (Australisch), Marina Lyshova (Russisch-Australisch), wij en Miquel uit Spanje en het kleine hondje.
Camacho, de lokale gids en Adriana, volgden op de motor. Een tocht van 3 uur voor een deel over slechte bergweggetjes naar het bergdorpje El Mamey (boven), het startpunt van de hiking. We zouden 4-7 uur per dag lopen, in totaal 44 km.
De eerste dag was vreselijk zwaar, pal in de zon, vochtig en vrijwel steeds klimmen. Nergens een fatsoenlijk pad. Je voeten moesten voortdurend houvast zoeken. Binnen de kortste keren liep het zweet in straaltjes van je lijf en was alles doorweekt en die doorweekte kleren zouden in 6 dagen niet meer droog worden. Ik moest iedere 10 minuten stilstaan om op adem te komen. Gelukkig was ik niet de enige, anders had ik getwijfeld of ik wel verder moest gaan.
Rond zes uur kwamen we bij de eerste cabaña aan. Een kampement met hangmatten. Zo snel mogelijk kleren uit, douchen, en droge kleren aan. Natte kleren uitspoelen en ophangen.
Er werd erg goed voor ons gezorgd. Als we aankwamen stond er al gauw versgeperste vruchtendrank voor ons klaar, iedere ochtend een ander ontbijt, zelfgemaakte empanada's etc. Tijdens het lopen een stuk meloen of sinaasappel. Een hele klus voor Adriana. Eerst uren lopen en dan nog een paar maaltijden en tussendoortjes verzorgen.
De bedhygiëne was minder. Vochtige hangmatten met muskietennet en een deken. 
Hangbrug naar het eerste kampement en 's morgens eerst heerlijke Colombiaanse koffie.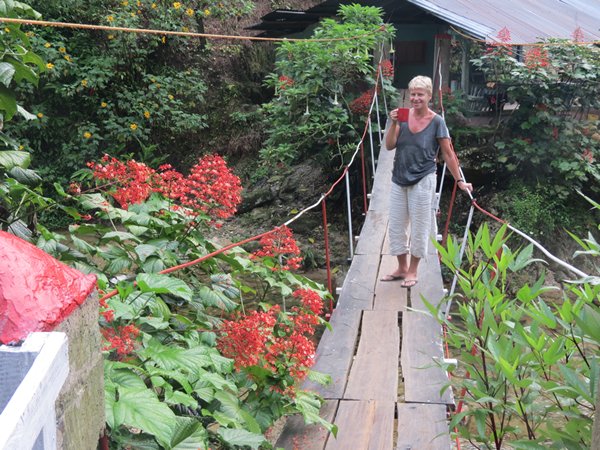 Kikkererwten malen voor de pannenkoekjes, zwaar werk. Adriana en Camacho op de achtergrond.
's Morgens vroeg op, omdat het dan nog niet zo warm is. Bovendien is het regenseizoen en de regens beginnen meestal aan het eind van de middag. Verrassing, de natte kleren van de vorige dag zijn geen mm gedroogd. Mijn broek drupt zelfs nog. Dan maar eerst ontbijten en vervolgens de kledderzooi weer aan. 2e Verrassing: de zool van mijn, oh zo goede, Hanwag- bergschoen hangt er bij. En bij inspectie van de andere schoen, blijkt die ook met het grootste gemak volledig los te trekken te zijn. De tussenzolen waren volledig vergaan. God-zij-dank had Camacho materiaal om de zool vast te naaien, maar heel stevig zag het er niet uit. We zouden ze nog verschillende keren, minder mooi, maar, met sterkere plastic strotouwtjes vastbinden.
Lijmen heeft niet veel zin op vergaan rubber.
Het 2e kampement had echte bedden, stapel bedden met een cabine van muskietengaas. Er ligt een wit laken over het matras en het kussen ruikt niet fris. Een deken zonder tussenlaken.
Iedere dag komt er een nieuwe groep en, hoewel het er niet vies uitziet, weet je zeker dat er niet dagelijks verschoond wordt. In de Lonely Planet had ik gelezen dat er melding van "bedbugs" was gemaakt. Ik had niet opgezocht wat dat waren, ik dacht, dat zullen wel matrasmijten zijn, misschien wat meer dan gebruikelijk. Niet dus! Bedbugs zijn bedwantsen of bedluizen. 6 mm groot. Overdag kruipen ze weg onder het matras en in kieren en 's nachts zoeken ze je op om bloed te zuigen. Dat hebben we geweten. We hebben hele dikke benen en enkels vol bulten en bloeduitstortingen. Anderen waren ook al verbaast geweest dat ze onder de "muggenbulten" zaten terwijl ze voortdurend "deet" gebruikt hadden. Toen ik er 's nachts even uitgeweest was, had ik wel een hele bundel zwarte beestjes aan de zoom van het muskietennet gezien, Maar, ja, in de jungle verwacht je allerlei insecten. 
Gelukkig hadden we bij thuiskomst in de kuip al alles uitgetrokken en direct in de wasmachine gedaan, dus waarschijnlijk hebben we niets binnengebracht,.... hopen we.
In de buurt van de cabaña is een kleine nederzetting van Kogui indianen. Ronde hutten met rieten dak met 2 torentjes erop, die naar de 2 hoogste pieken van de Sierra Nevada verwijzen.
We mogen alleen het dorp fotograferen. De indianen zelf willen niet gefotografeerd worden. Jammer, want het groepje dat door het kampement trok zou een mooi plaatje opgeleverd hebben.
Typische Andes-tassen waar de kop en poten van een kalkoen uitsteken en bruine varkens, die aan een touwtje meegezeuld worden, meelopende biggetjes.
Kinderen hangen bij het kamp rond in de hoop wat te eten te krijgen.
De vrouwen doen het meeste werk, mannen zaaien, weven en breien en kauwen coke bladeren ter vergroting van hun wijsheid. Toen de Spanjaarden in 1500 aan land kwamen, dachten ze hier goud te vinden. Maar de hoeveelheid goud dat uit het rivierwater gezeefd kon worden, veel tegen. Het goud voor het maken van de vele sieraden en rituele voorwerpen van de Tayrona kwam waarschijnlijk uit Mexico.
De tocht gaat over bergkammen omhoog en weer naar beneden. Zo heb je uren geklommen tot 650 meter om uiteindelijk weer op 150 meter in het kamp te komen. We volgen zo'n beetje de rivier de Rio Buritaca en zijn zijarmen. We hebben ettelijke stortbuien te pakken gehad. Alles in de rugzak zit goed in plastic zakken verpakt, maar uiteindelijk is toch alles vochtig. Het regenwater komt met bakken uit de lucht. Als je denkt, harder kan niet, blijkt het toch nog harder te kunnen regenen. Overal in het oerwoud verschijnen watervallen, het pad wordt een riviertje en andere delen van het pad storten in. De klei wordt glibberig. De rivier onder je wordt een kolkende massa. Af en toe loop je over 40 cm brede richeltjes langs een 50 meter diepe afgrond. Je kunt je geen bibberbenen veroorloven.
De begroeiing van de bergen is "lush", een beter woord is er niet. Eindeloos hoge palmen, bloeiende wilde bananen, lianen, prachtige grote rode bloemen en parasiterende bromelia's,  Hier en daar een stukje weiland op een onmogelijk steile helling.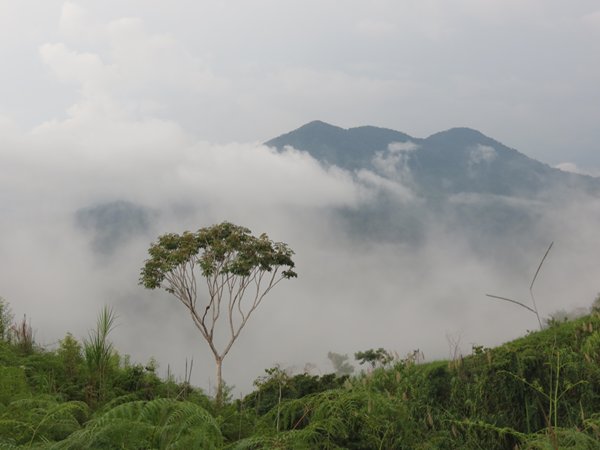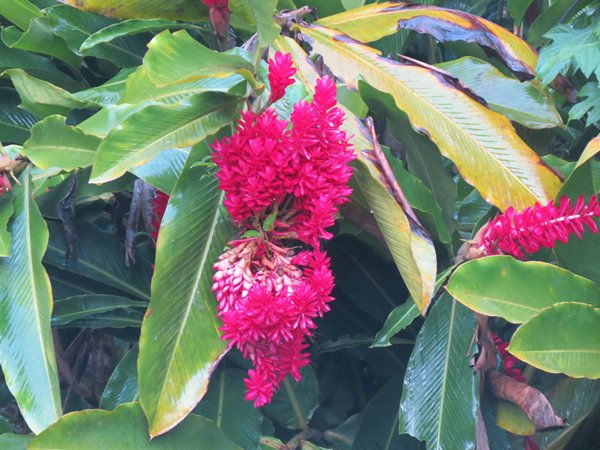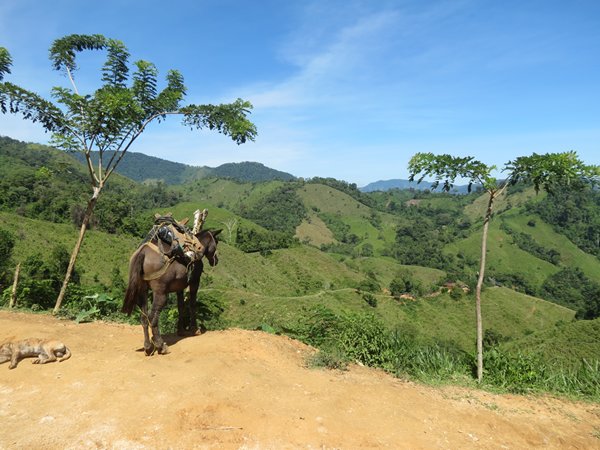 Wordt vervolgd
---