Safi 32:18.32N 9:14.90W

Lonely-Planet
Mathilde en Wim
Thu 19 Nov 2009 00:10
Safi, Marokko, 19 november 2009
Barbate is de laatste plaats, die we in Spanje aangedaan hebben voor de oversteek naar Tanger in Marokko. We dachten dat het in Marokko wel warmer zou zijn, maar dat is niet waar. Het is er aan de kust koeler dan in het zuiden van Portugal en Spanje. Veel mist en veel swel, oftewel deining, aan deze kant van de Atlantische Oceaan. De havens zijn vissershavens of havens voor zeeschepen, niet ingericht op zeilboten, maar we zijn er wel welkom. Er wordt altijd moeite gedaan om een plekje voor je te vinden, zoals hier in Safi waar we langszij een opleidingsschip van de zeevaartschool liggen. Toen we vanmorgen naar buiten kwamen, stond de hele reling vol met nieuwsgierige scholieren, die graag een praatje wilden maken. Ook een meisje in overall en met hoofddoek tussen de jongens!
Handen geven is hier geen probleem. Ik krijg van de heren steeds ongevraagd een hand.
Marokko is een Franse kolonie geweest en Frans is nog steeds de voerstaal. Bijna iedereen spreekt vloeiend Frans. De mensen zijn bijzonder vriendelijk, al worden je wel regelmatig diensten verleend, waar je niet om gevraagd hebt, en waar dan wel iets tegenover dient te staan zoals wat geld, chocolade, whisky, wijn en/of sigaretten. Het gaat (meestal) zo charmant dat we daar niet veel moeite mee hebben.
Tanger heeft een erg mooie, meer dan 1000 jaar oude medina. Alle nieuwbouw van de stad is buiten de oude kern gesitueerd, zodat de oude sfeer volledig behouden is gebleven. Smalle omhoog krinkelende weggetjes. Piepkleine winkeltjes, alias werkplaatsjes. Alles wordt met de hand gemaakt, stoffen, kleding, koekjes etc.
De kleding is traditioneel, kaftans, muilen met puntneuzen, hoofddoeken. Vijf keer per dag komt uit luidsprekers de oproep tot gebed. In de restaurants wordt geen alcohol geserveerd. We zien regelmatig bedelende bejaarden, die vaak ook geld krijgen.
Blijkbaar is er in de steden niet overal watervoorziening in de huizen. Op de hoek van steegjes zijn waterkranen, waar mensen met jerrycans water halen of de was doen.
In de medina's loopt de "garabe" , die kommetjes water verkoopt. Hij is prachtig uitgedost en dat is niet voor de toeristen, want hij besteedt aanvankelijk helemaal geen aandacht aan ons.
De swel is hier voor de kust zo hoog dat we bijvoorbeeld Rabat, de hoofdstad van Marokko, niet binnen konden lopen. Je krijgt soms metershoge rollers achter je aan, ook als er geen wind is.
Vissersbootjes liggen buiten te wachten om net tussen twee rollers door snel naar binnen te varen.
Rabat hebben we daarom met de trein vanuit Mohammedia bezocht.
Op de foto de enorme begraafplaats op een heuvelhelling, zover je kijken kunt. De graven allemaal naar het oosten gericht.
In Mohammedia lag naast ons een boot met 4 Franse jongens, die 8 maanden de tijd hadden om een
project op scholen te doen in allerlei plaatsen die zij aan zouden doen. Eén ervan had nog nooit gezeild. Hij was verbaast hoe langzaam een zeilboot gaat.
Dat klopt, we varen gemiddeld zo'n 5 à 6 knopen en dat is minder dan fietssnelheid.
Vanaf Tanger naar Lanzarote op de Canarische eilanden is ongeveer 550 mijl /ruim 1000 km. Als je dit in dagtrips wilt doen (40 mijl per dag) kost het je 2 weken, als je dag en nacht doorvaart net iets meer dan 4 dagen. Willen we een beetje opschieten moeten we dus af en toe nachten doorvaren.
Van Tanger naar Mohammedia is ons dat niet zo goed bekomen. Midden in nacht zwierf er een boot om ons heen zonder verlichting. Na een half uurtje werd er af en toe een schijnwerper op ons gericht en werd ons opgedragen te stoppen. Dat waren we niet van plan, niet wetend wat voor lui het waren. Toen we niet stopten werd er met grote snelheid om ons heen gevaren om vervolgens op een meter of 10 te stoppen. Na enig heen en weer roepen was duidelijk dat ze aan boord wilden komen, waarop wij zeiden dat dat in de volgende haven kon maar dat we ze in volle zee niet aan boord wilden hebben. Daar dachten ze anders over en riepen dat ze van de Marokkaanse marine waren. Eén hield een geweer op ons gericht. Het laatste overtuigde ons om maar te stoppen. Vooraf hadden Mathilde en ik de pepperspray al in onze zak gestoken. Het verbaasde onszelf dat we beiden redelijk rustig waren. Er is één man aan boord gesprongen, die overigens zeer vriendelijk was. Hij heeft de paspoorten en de bootpapieren gecontroleerd en is weer vertrokken. Het duurde toch wel even voor bij ons de adrenaline weer wat gezakt was.
Bij de foto's:
Mathilde trots met de bonito (kleine tonijn) van 1 kg,
beeld van een prachtige dame die de schippers opwacht in Cadiz (dan wil je wel thuis komen), internetten op de treden van de kathedraal in Cadiz,
hond Nora maakt het zich gemakkelijk op het kerkhof in Rabat,
koekjes worden met de hand gemaakt,
het naaiatelier waarin 1 naaimachine past,
de Garabe in Tanger,
Wim en gids in Safi,
overzichtsfoto van Safi.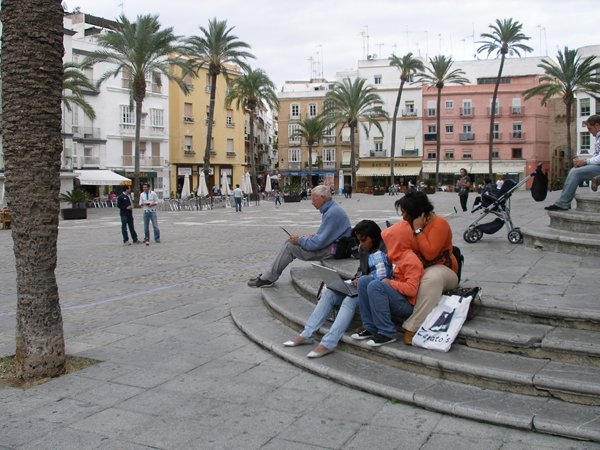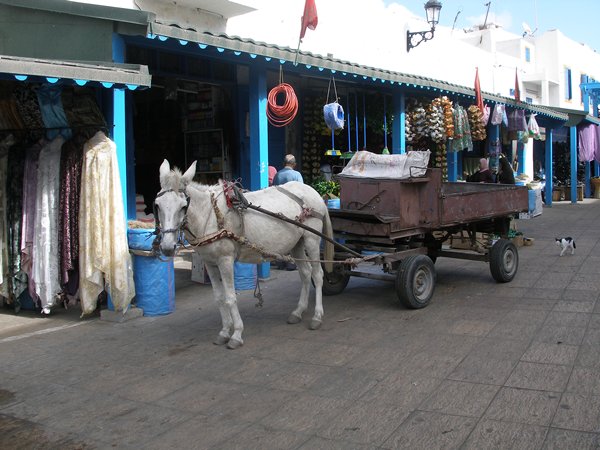 ---