Portosin 3

Lonely-Planet
Mathilde en Wim
Sun 30 Aug 2009 10:50
Zondag, 30 augustus, Portosin.
Negen uur. Het carillon kent één deuntje: ave, ave, ave Mariá.
We beginnen hier na 5 dagen verwaaid liggen, ingeburgerd te raken. Wim is op pad om voor het ontbijt een stokbroodje in zijn stamcafé te halen. Zwerft 's morgens vroeg wat over de visafslag als de vissersboten binnen komen. De vissers drinken na een nacht vissen, in het café, koffie met iets sterks erin. Wim neemt vast een voorschot op ons ontbijt met een kopje koffie en een chocolade croissant.
Portosin is een klein havenplaatsje met voornamelijk een grote "supermercado" en wat piepkleine winkeltjes. De bakkerij is niet veel meer dan een tafel waarop ze het deeg staan te kneden en een tafeltje met de kassa.
In de haven liggen voornamelijk kleine vissersbootjes van de lokale bevolking. Een klein stukje is gereserveerd voor passanten boten.
De twee komvormige strandjes zijn tot een uur of vier vrijwel leeg. Dan beginnen de gezinnen met kinderen te komen. Als de zon ondergaat wordt het weer stil op de strandjes.
Het water komt niet boven de 15 graden en dat is eeerg koud. Ik nam gisteren in de haven onverhoeds een duik, ik was er snel weer uit. Het deed gewoon pijn.
Wij hebben het Spaanse ritme nog niet helemaal te pakken. Om een uur of 12 beginnen we honger te krijgen, maar zijn de terrasjes nog helemaal verlaten. Tussen 2 en 4 zouden we graag tussen al die gezellig etende mensen zitten, maar dan hebben wij geen honger meer.
Om een uur of 6 wordt er een drankje genuttigd met een tappa en om 9 uur of later volgt nog een kleine maaltijd.
We doen erg ons best om Spaans te leren. Altijd weer wonderlijk wat je wel en niet onthoud.
Apío (selderij) en mi abuelo (mijn grootvader) zijn geen probleem, maar de vervoegingen van de werkwoorden, die toch erg veel op het Frans lijken, moet ik maar blijven herhalen.
We beginnen het thuisfront onderhand te missen! Erg veel behoefte aan eens een praatje met deze of gene. Gelukkig wel regelmatig e-mail of sms-contact, steeds leuk zo'n berichtje.
We zouden vandaag weer op pad gaan, maar het blijft nog steeds erg waaien, wordt dus waarschijnlijk een dagje later.
Liefs, voor jullie allen van Mathilde, ook van Wim
Bij de foto's:
Lonely Planet nu een keer van boven, nog 2 plaatjes uit Camarinas (vissersbootje met de krabbenkorven en ons verlaten ankerplekje), strandplaatje van Portosin, Mathilde met haar speeltjes (Ad en Marijke: Mathilde heeft nog geen keus kunnen maken met welke inktvis ze een Dorade kan vangen) en 2 plaatjes van de graanschuurtjes zoals je ze hier langs de weg ziet in Calicia.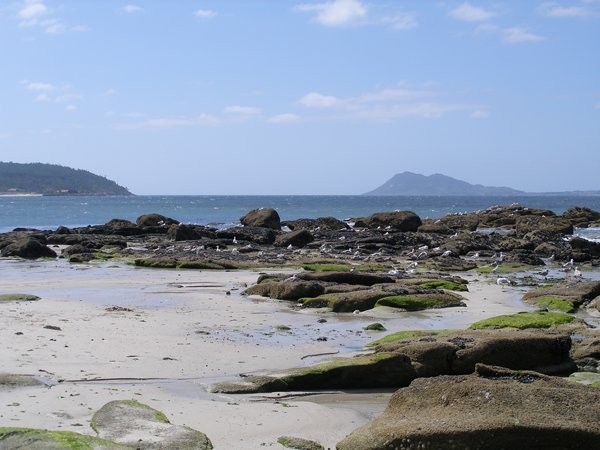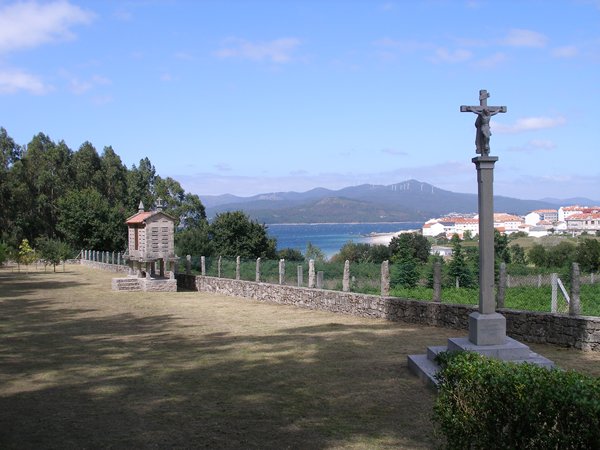 ---