Spanish Cay

Lonely-Planet
Mathilde en Wim
Sat 7 Apr 2012 20:39
Spanish Cay, Bahama's, 7 April 2012
De Bahama's  zijn een grote groep eilanden ten oosten van Florida en Cuba, 700 mijl (ruim 1000 km) lang. Ze worden begrenst door een groot Barrier Reef, de 3e in grootte van de wereld. Achter het rif verscholen liggen ondiepten, zandbanken en eilandjes van limestone, koraal en zand.
Aan de oceaan kant is het direct  zo diep dat de diepte meter het niet meer kan meten: 1-3 kilometer.
In de vaargidsen staat wel aangegeven hoe je varen moet, maar het is toch vooral ook veel Eyeboll-navigatie. Op het oog zien wat zandbank is, rotspunten en koraal. Het water is meestal 2-4 meter diep, vaak zo helder dat het lijkt of je over een tuin vaart. Wuivende koraaltakken, begroeide rotsen. Andere momenten is het melkachtig blauw, wat kan duiden op een zandbank, maar soms vaar je een stuk om en blijkt het opgedwarreld zand te zijn van een grote school vissen die al verder trekkend de bodem omwoeld.
Spanish Cay is een mooi eiland met een grote (te) luxe haven. Zwembad, bar op een rots in zee en een prachtig zitje op een balkonnetje boven zee. Op de waranda van het havengebouw staan schommelstoelen om van de ondergaande zon te genieten. Echter, het lijkt of het zijn beste tijd gehad heeft. Bijna niemand in de haven en de huisjes onbewoond, hier en daar neigend naar verveloosheid.
We zitten hier een paar dagen vast vanwege sterke noorden wind, maar we weten het eiland inmiddels erg te waarderen.
Een onwijs grote stingray in de haven en haaien, die met vissersboten mee de haven in komen.
Een forse trigger fish met een grote flappende rug- en buikvin en een grote stekel op zijn kop, die hij bij gevaar op kan zetten.
Alles is te belopen op het eiland. Baaien met prachtige, totaal verlate stranden, delen die bij vloed onder water lopen. Struikachtig bos en wit en paars bloeiende planten tussen het gras in het dal. Even naar de noord kant van het eiland gelopen om te zien hoe de golven stukslaan op het rif.
Bij de foto's:
De zon verduisterd door de rook van een bosbrand
Een ficus-achtige boom met een enorme stam
De stingray, het idyllische plekje en het strand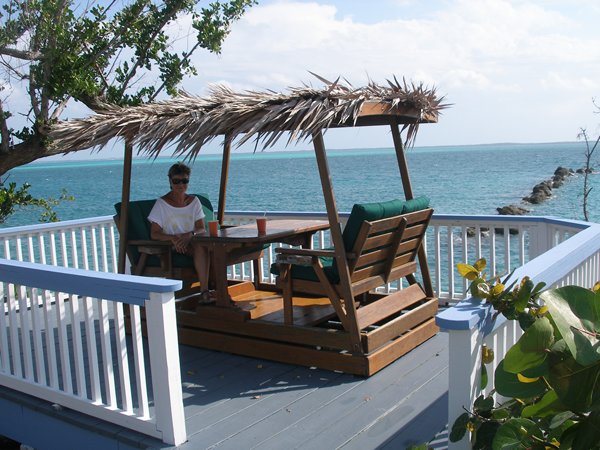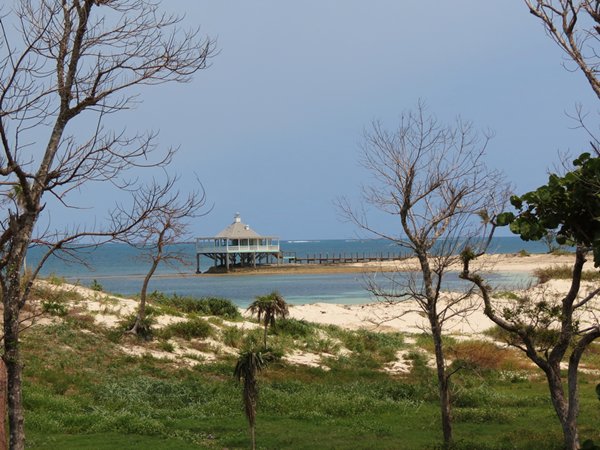 ---