Exuma's

Lonely-Planet
Mathilde en Wim
Thu 3 May 2012 22:09
Warderick Wells Cay, Exuma Cay's Land and Sea Park, Bahama's, 3 mei 2012
"You'r on island time".  In Hope Town hoorden we dat je de gasfles kon laten vullen: "Zet de fles maar op de steiger, morgen om 12 uur kun je hem ophalen".
Daar waren we heel blij mee, want de fles moest onderhand aardig leeg zijn en wie weet hoe lang het nog zou duren voor er weer een gelegenheid kwam om hem te laten vullen. Dan maar een dagje langer blijven. De volgende dag: fles nog leeg op de steiger. "nee, waarschijnlijk niet vandaag", wanneer dan wel? "Ja, niet zeker, afhankelijk van hoeveel flessen er zijn......Je kunt ook naar Marsh Harbour varen....." etc. Dan maar een uur terug varen naar Marsh Harbour, waar we net vandaan kwamen. Zitten we niet echt meer mee. Wat we in ons "vorige leven" in een paar uur deden, daar doen we nu gerust een paar dagen over.
De Bahama's zijn "waardeloze" eilanden. Er valt niet veel te verbouwen. De pogingen van de Engeland Loyalisten om katoenplantages te stichten mislukten. De aristocraten gingen terug naar de Amerikaanse Oostkust of moesten omzien naar een andere bron van inkomsten. Wat restte was de sisal-teelt, wat ananasplantages en kleinschalige citrusvruchten teelt.  Slaven werden verkocht, toen dat nog kon, of achtergelaten. Zij namen genoegen ( en nog?) met de dagelijkse behoefte aan vis en natuurlijk de Conch-schelpen, dat/die er in overvloed was/waren, en een kostgrondje voor wat bonen, yam en bananen. Soms kon spons gewonnen worden. Met een gevorkte haak werd de spons van de grond geplukt. Op het droge rotten de diertjes erin weg, waarna ze schoongespoeld werden en verhandeld.
Smokkel is altijd een grote bron van inkomsten geweest, samen met het "wrecken", het leeghalen van schepen die op het rif gelopen waren. Wapens werden naar Cuba gesmokkeld t.t.v. de onafhankelijkheidsstrijd tegen Spanje, naar de Zuidelijke Staten van Amerika tijdens de Civil War en alcohol tijdens de jaren 30, toen het gebruik van alcohol in de VS verboden was.
De Bahama's liggen eigenlijk alleen maar mooi te wezen in een prachtige oceaan, zo mooi als we nog niet eerder gezien hebben. Volgens astronauten is het het mooiste stukje van de aarde. De stranden zijn wit tot roze, de eilanden grillig van vorm met vaak prachtige binnen baaien, zandbanken die het water weer een andere kleur geven.
De begroeiing is vaak heel dicht, mangroven in de zoute, lagere delen, en op de hoger geleden delen lage struiken en palmetto's, lage palmen.
Op een aantal eilanden leven de met uitsterven bedreigde Exuma leguanen en Hutia's ( een knaagdier).
Op Allan Cay legde één keer per dag de "Powerboat Adventures" aan, de veertig gasten sprongen van boord om op het strand de leguanen te voeren, en weg waren ze weer.
De Abago's heten toeristisch te zijn, maar het is zo kleinschalig, het stelt eigenlijk niets voor en het maakte het wel gezellig. We ontmoetten er vooral Amerikanen en Canadezen. Allemaal hebben ze leuke verhalen. Jere uit Montana, die op een Tennessee Walker dagen door de bergen rijdt zonder een dorp tegen te komen. Ann, die in Australië gewoond heeft, in Thailand en in Canada en nu al 20 jaar op Great Abago woont, waar helemaal niets is. We lagen daar geankerd in Little Harbour in een prachtig kommetje. Met op de oever in het zand alleen "Pete's Pub and Gallery",maar het was daarmee ook het ontmoetingspunt van de mensen die er wonen. Met auto's kwamen ze stapvoets rijdend over een zandweggetje weet ik waar vandaan.
Veel eilanden zijn ook onbewoond. In Allan Cay lagen we geankerd op een mooi plekje, toen, verrassing, Harry en Ans van Lion King, aanklopten.
We hebben wat met hen gebuurt en de dagen dat we door slecht weer niet van boord konden, was het gezellig om dagelijks even te kletsen over de marifoon.
We liggen nu in een natuurpark aan een mooring. Er zijn een paar wandelpaden over het eiland en er zijn een paar mooie snorkelplekken op het rif  met als oogst roggen, metergrote zeebaarsen en de eerste 2 meter- of- meer Lime Shark (een rifhaai), een grote grijze verschijning, die bijna zonder zich te bewegen langs glijdt.
Wim heeft "Lonely Planet-2012-Holland" in een stuk hout gekerfd. Dat gaan we vanmiddag een mooi plekje geven op Boo Boo Hill als gift aan de geesten van de opvarenden van een schip dat voor de kust vergaan is. Geen van de opvarenden werd zelfs maar teruggevonden.
"Blow hole's" zijn gaten in de rotsen van de kust, zo'n 40 meter boven de zeespiegel, waar door het water van de oceaan lucht omhoog geperst wordt.  Het is beangstigend met hoeveel kracht en briesend geluid dat gepaard gaat. Of zijn het toch de geesten?
De Exuma's zijn veel natuur en weinig mogelijkheden om iets te kopen, water te tanken of je afval kwijt te raken. We beginnen aardig door onze vers-voorraad te raken en het water is bijna op. Eén dag heeft de watermaker gedraaid, maar is alweer kapot en niet de vereiste onderdelen voor handen. Tijdens de stortbuien hebben we erg ons best gedaan om met zeiltjes water op te vangen. Zonder veel succes, de wind blies er onder, de afvoer scheurde uit, was alles weer weg. Uiteindelijk hebben we zoveel mogelijk uit de dinghy gehoosd, die stond blank, maar tijdens het varen ging één van de putsen om en de ander was bij aankomst half leeg. Je kunt je zo een beetje voorstellen hoe schipbreukelingen rond tobben. Het dinghy-water is goed om je af te spoelen na het zwemmen. Vaat spoelen doen we met zeewater en zo redden we het wel weer een tijdje.
Bij de foto's
Pete's gallery en pub in Little Harbour
Island time
Zwemmen in glashelder water
De Exuma leguanen op Allan Cay
Het strand van Allan Cay
De 7 jaren appel: als je er een hap van neemt doe je dat de eerste 7 jaar niet meer, hij doet er ook 7 jaar over om rijp te worden.
Natuurpark Warderick Wells Cay
Boo Boo Hill: giften aan de geesten
Powerboat Adventures op Allan Cay
Kennismaking met Turks stel, hondjes uitlaten op de bank bij laag water (met Harry en Ans)
Trigger fish met scherpe punt op de kop die hij op slot kan zetten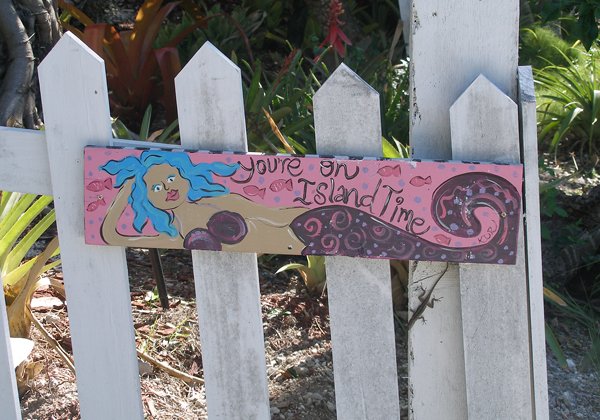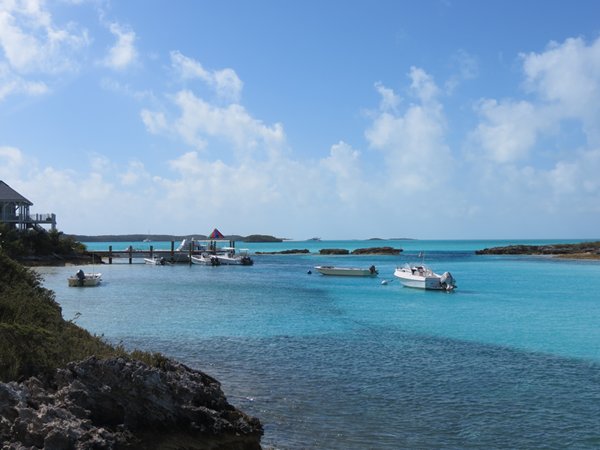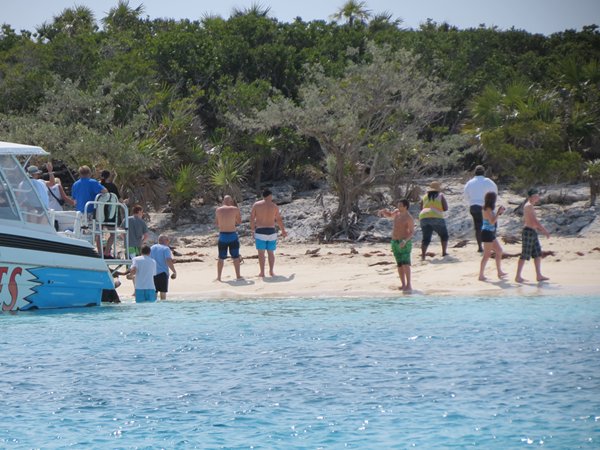 ---