Curacao

Lonely-Planet
Mathilde en Wim
Sun 5 Sep 2010 02:09
12:04.69N 68:51.52W
Curaçao, Spaanse Water, zaterdag 4 september 2010
Sinds een week liggen we voor anker in het "Spaanse Water" van Curaçao.  Een grote baai met veel inhammen waardoor het kleiner lijkt dan het is. Het viel niet mee een ankerplekje te vinden. In verband met het onprettige politieke klimaat in Venezuela , liggen er nu veel schepen, die het seizoen anders in Venezuela zouden doorbrengen.
Het gezelschap is meer gemêleerd dan we gewend zijn. Hier naast grote mooie schepen ook nogal wat schepen, die wel een verfje kunnen gebruiken. Je betaalt één maal 10 dollar aan de havenautoriteit  voor een half jaar of langer en that's it.  Verder is het levensonderhoud beduidend goedkoper dan op de andere eilanden.  Er zijn boten, die hier al jaren liggen.
Iedere morgen om 10.00 uur rijdt een shuttle voor die je gratis haalt en brengt naar de Vreugdehill-super. Twee oudere, een beetje shabby boaters maken er een uitje van door zich iedere dag met de bus naar de super te laten rijden, in de winkel een gratis kopje koffie te drinken, en zich na een uur weer terug te laten brengen.
We kunnen eindelijk weer eens wat cultuur genieten. Willemstad is prachtig met zijn historische, kleurrijke panden aan de Handelskade. Heel de oude binnenstad staat op de werelderfgoedlijst van de unesco. Er zijn mooie musea, de grote gerestaureerde oude landhuizen (voorheen plantagewoningen), etc.
De mensen zijn soms niet aardig, boos als je een foto maakt, je (als blanke Nederlander?) niet willen helpen, vaak ook juist bijzonder aardig, zoals  Wilbert en Judric, die bij een groot Salsafestijn op het Brionplein in Willemstad aan ons tafeltje kwamen zitten en zo aardig waren ons na afloop met hun auto bij de haven af te zetten, zodat we niet al om 10 uur met de laatste bus terughoefden.
Wilbert over het evenement: mooi, hé, dat gaat u zeker niet vergeten!
Afgelopen woensdag zijn we met Bernhard en Elly, een aardig Duits stel waar we regelmatig mee optrekken, naar een geweldig concert van Candy Dulfer op "Mambo-beach" geweest.
Het is alle dagen bloedheet 30- 35 graden. Wil je iets ondernemen, dan moet je het heel vroeg of laat  doen. Om de dag gaan we om 6 uur met B/E "brisk walken" of joggen langs de oever. Morgen om 7 uur met een ander groepje snorkelen bij een wrak.   
We zijn niet de enige actievelingen 's morgens vroeg. De parkeerplaats staat helemaal vol met auto's van Curaçaoënaars,  die komen joggen of zwemmen. Nou ja, zwemmen, tot aan hun hoofd in het water staan.
Bij de foto's:
meisje langs het strand, de kleurrijke huisjes in Willemstad, een zeeschip wat Willemstad in vaart, fat mamma bij het Kura Hulanda museum.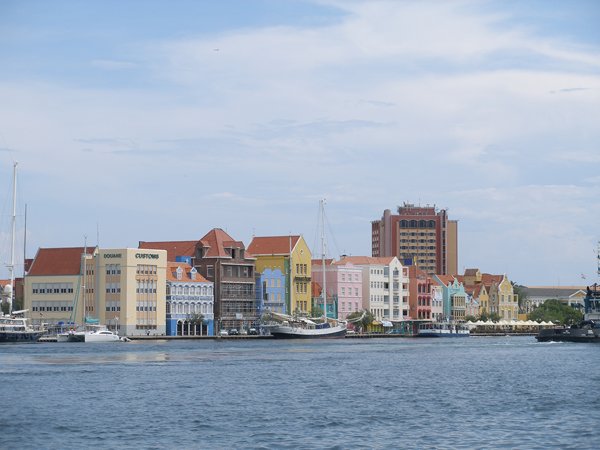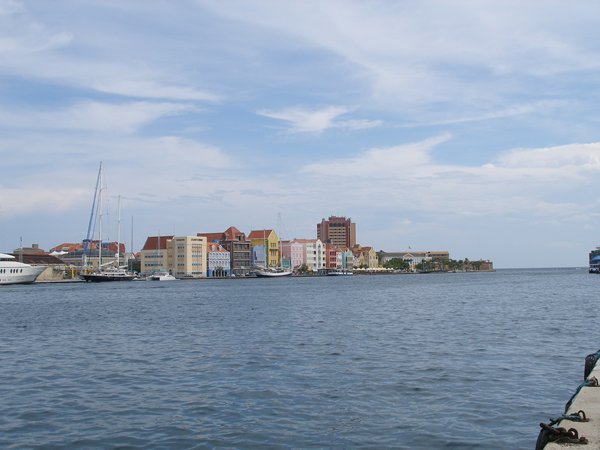 ---