Fort Lauderdale

Lonely-Planet
Mathilde en Wim
Wed 18 May 2011 00:44
26:07.18N 80:06.59W
Fort Lauderdale, Florida, 17 mei 2011
We zijn in een wonderlijke wereld beland, erg verwarrend.
Miami was fantastisch, de wolkenkrabbers met veel glas en spiegeleffecten, ieder gebouw heeft wel een grapje. De metromove, een treintje dat je hoog tussen de immense gebouwen door over een rail ziet gaan. Prachtig, surrealistisch. Er wordt veel Spaans gesproken, als gevolg van het grote aantal voor het Castro-bewind uitgeweken Cubanen, dat hier is neergestreken.
We zijn naar het museum voor moderne kunsten geweest en naar de dierentuin (geen hokken en bijna niet te belopen zo groot). Dit zijn inmiddels vaste bezienswaardigheden geworden, die we overal bezoeken. Met metro en bus en weer metro en andere bus. Een hele onderneming.  De afstanden zijn hier te groot, we denken er over om weer vouwfietsen te kopen. We dachten een stukje langs een weg te lopen, maar pas na 2 uur gelopen te hebben, konden we met openbaar vervoer weer terug.
Onderweg streken we neer bij een "Italiaan" voor een kopje koffie. Aan het tafeltje naast ons bleken 2 Nederlanders te zitten, politiemannen, die voor een congres over computercriminaliteit in Miami waren. Het werd erg gezellig, we konden niet zo goed afscheid nemen.
De bussen hebben een fietsenrek voorop, waar je zelf je fiets op kunt zetten, handig.
Fort Lauderdale is een stad gebouwd langs een wirwar van riviertjes en kreken. Volgebouwd met erg grote dure huizen, de meeste protserig, met kapitale boten aan de steiger. In het hele complex van dure havens (100-350 dollar per nacht, stropdas verplicht) hebben we één plek met moorings gevonden voor 30 dollar per nacht (voor ons al duur voor een haven, laat staan voor een mooring), dicht onder de "Las Olas Bridge". Wel met gratis internet en gebruik van wasmachines.
Vanmiddag zijn we lopend op zoek geweest naar watersport winkels, want we hebben het één en ander nodig, maar alles is eigenlijk te ver weg.
We liggen op een paar minuten lopen van het prachtige palmenstrand van Fort Lauderdale. Een onwerkelijke wereld. Langs de boulevard, een éénrichtings-driebaansweg, wordt 's avonds show gereden. Een constante stroom van zeer grote 4WD Amerikanen met enorme bumpers en grote wielen, zó lange bolides als ik nog nooit gezien heb, supersnelle sportwagens, veel glimmend chroom, geen spatje vuil. Het is of ze zo uit de showroom gereden zijn. Prachtig.
Je kunt je wel voorstellen, dat je, in deze sprookjeswereld van dure huizen, auto's en boten, je realiteitszin verliest.
Aan de andere kant moet de natuur zijn weg vinden. Deze tijd van het jaar komen waterschildpadden hier op het strand hun eieren leggen. Waar moeten ze dat dan doen, vraag je je af? Blijkbaar trekken ze zich weinig aan van alle muziek en horden strandgangers, of kunnen ze niet anders? De lichten naar het strand zijn afgeschermd om nog wat duisternis te geven. De nesten zijn met linten afgeschermd (daar omheen gaat het strandleven gewoon door).
Voor de zeekoeien geldt hetzelfde. Je begrijpt niet hoe de dieren hier moeten overleven(doen ze waarschijnlijk ook niet). Overal staan borden en waarschuwingen om voorzichtig te varen, maar de speedboten en waterscooters scheuren op volle toeren rond. Bijna alle zeekoeien zouden wel littekens / verwondingen van de schroeven van boten hebben.     
Wat wel plezierig is van alle regeltjes, dat het in de havens 's avonds heerlijk stil is.
Op het strand mag trouwens geen alcohol gedronken worden.
Als het goed is komen morgen de onderdelen binnen voor de windgenerator en kunnen we verder naar het noorden. We kregen een sms-je van Frank en Tini, oude zeilbekenden, dat zij vanuit de Bahama's ook in Florida aangekomen zijn, zij het een stuk noordelijker. Leuk hen weer te ontmoeten.
Foto's:
In Amerika is alles groot, ½ liter glazen sangria
Key West: oude stad met de typisch houten huizen
Woonboten aan de steiger in Key West
Metrozoo: leuk beeld van olifanten, spelende orang-oetang
Gratis en voor niets in de parken eekhoorntjes (en nachtreigers en ibissen en parkieten)
Miami design-strandje met te verslepen design stoelen, wolkenkrabbers
Inspannend varen door ondiep water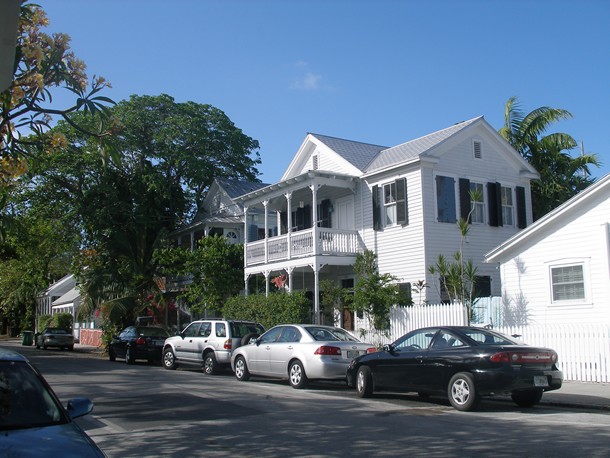 ---