Fort Lauderdale

Lonely-Planet
Mathilde en Wim
Sun 15 Jan 2012 18:24
Fort Lauderdale, Florida, 15 januari 2012
Fort Lauderdale is een badplaats bestaand uit kanalen en eilandjes die vol staan, en dan ook echt vol, met Hollywood-achtige huizen. Een perceel wordt helemaal volgebouwd met huis.
Ons ankerplekje in New River is in uitzondering komvormig, doordat verschillende kanaaltjes  en de rivier hier bij elkaar komen. Een heerlijk rustig achteraf plekje. Bij de aanlegsteiger voor de dinghy staan altijd zoveel witte ibissen op de oever, als bij ons ganzen. Strand en boulevard zijn op loopafstand.
Oud en Nieuw hebben we met een hele groep mensen gevierd. Amerikanen, Nieuw Zeelanders, een Japanse etc. Eerst Pot Luck Diner en daarna feest. Aan het eind van de avond in een witte prachtige limousine (werden wij ook eens gefotografeerd ipv andersom), wel volgepropt met 13 mensen, naar het centrum van de stad om de laatste 10 minuten voor 12, een verlichte bol  naar beneden te zien zakken. Daarna het hele eind terug gelopen langs het water. Erg gezellig , vooral ook door de inspanningen van Nancy, vriendin van Frank en Tini, die hier op een boot woont. Specialiteit: een drankje,  gemaakt van gelatine met een smaakje (jello), waarbij de helft van het water vervangen wordt door wodka. Met slagroom en in gekleurde glaasjes. Ze had er erg veel van gemaakt.
De verjaardag van Wim hebben we samen gevierd. We hadden wat veel avonden achter elkaar met verschillende mensen geborreld. O.a. met Harry en Ans van de Lion King, die heel bijzonder, via de noordelijke route overgestoken zijn. IJsland, Groenland, New Foundland en zo verder afgezakt naar het zuiden. En Steven en Marja uit Seatle, bijna 70-gers, die hun hele leven op andermans boten geleefd en gewerkt hebben en dus nooit een eigen huis gehad hebben. Onvoorstelbaar.
Met Fr/T zijn we een dag naar de Everglades geweest. Een gigantisch natuurgebied, waarvan overigens maar 7% echt beschermd is. Allemaal moeras, eigenlijk te beschouwen als een 60 km brede rivier, die het gebied regelmatig overspoeld. Een weinig toegankelijk gebied. We hebben de enige 25 km lange weg gefietst en wat gewandeld. In het zuidpunt kun je kanoën en kamperen en er zijn wat  airboats, die hooguit 10 cm diep steken en aangedreven worden door een vliegtuigpropeller (ongelofelijke herrie).
Er leven nogal wat met uitsterven bedreigde diersoorten, zoals de Florida Alligator, de Florida Panter, Zeekoeien, de Woodstork etc. Toen men het gebied ging cultiveren, bleek het enorme belang ervan. De stand van heel veel dieren ging ineens dramatisch achteruit.
Iedere dag zitten we een behoorlijke tijd bij Starbucks om te internetten/krant lezen, te e-mailen en natuurlijk Wordfeud te spelen. Leuk ook door de chat-regeltjes tussendoor. Ik speel het ook met een paar Amerikanen, maar oh, wat is dat lastig.
Jullie moeten ons alle fouten in teksten en bij de film vergeven, want het duurt eindeloos voor iets naar de site doorgestuurd is. Om het te verbeteren zouden we alles opnieuw moeten doen.
Frank en Tini spreken we iedere dag wel, vaak alleen even met de dinghy langszij om de vorige dag met elkaar door te nemen.
Binnenkort gaan we weer uit elkaar. Fr/T verschepen hun boot, na 10 jr op de boot gewoond te hebben, naar Spanje, waar ze een huis gaan kopen en wij gaan binnenkort door naar de Bahama's. We gaan ze missen, erg fijn om mensen in de buurt te hebben waar je het zo goed mee kunt vinden. Of zoals Tini altijd zegt: "wat een raar leven leiden we eigenlijk, hé".
Bij de foto's
Wel geld voor een E-reader, niet voor een nieuwe broek (ik weet wel dat dit mode is hoor).
Ibissen als ganzen bij ons.
Eén van mijn verjaardagscadeautjes: heerlijke aardbeien in chocolade.
Leguaan op de beschoeiing van de brug.
Langs het strand van Ft. Lauderdale.
De "Portugese man of war", een gevaarlijk (geen-) kwalletje, dat zeilt over het water.
Troetelkleertjes voor de "pocket pet" hond: een hele kraam vol (terwijl het hier zelden onder de 20 graden is).
De Everglades: allligators, Anhinga's, jonge alligators, Woodstorks, Frank en Tini, Pairie Hawk, en witte reigers.
De Anhinga of slanghals vogel, zwemt met het lijf onder water en spiest de vis aan zijn puntige snavel.
Oude jaar in Ft. Lauderdale: de limousine, Sussy, Nancy, Tini, Mathilde en Frank, deels met tiara's.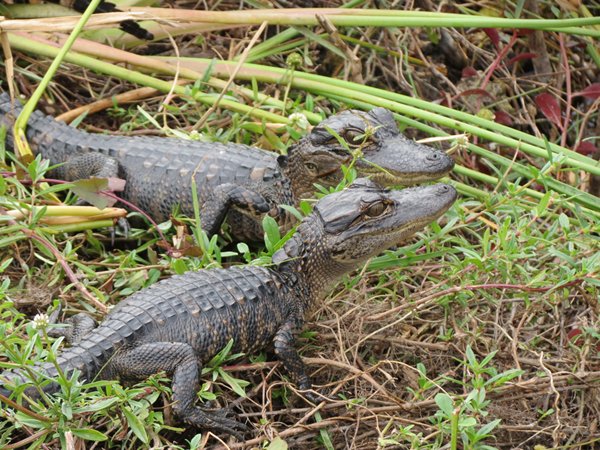 ---