Tavira 37:06.86N 07:37.75W

Lonely-Planet
Mathilde en Wim
Sun 25 Oct 2009 18:07
Tavira 25 oktober 2009
Gisteren zijn we met een kalm gangetje en rustige oceaan richting Tavira vertrokken. We zijn onderhand zo gewend aan rustige wind en een kalme zee dat ik er tegenop begin te zien om wat voor oversteek dan ook te maken. Tot nu toe hebben we in Zuid Portugal geen dolfijnen meer gezien, maar, oh jammer Dorien en Remco, waren ze er nu weer. Grote dolfijnen met zwarte rug (tot nu toe hadden ze vooral een grijs dek). Bovendien ons maaltje vis weer gevangen, 3 makrelen en voor ''t eerst een andere vis met een zijlijn voorzien van naar voren gerichte stekeltjes.
We blijven nog een beetje in de buurt van Faro. De douchekraan is kapot en er wordt nu een nieuwe opgestuurd uit Nederland, die ws maandag aankomt.
Nautische aardappeltjes en marmelos (kweeperen)
In de winkels zijn vaak bepaalde groenten en vruchten niet te krijgen (sperziebonen, sinaasappels), maar we komen ook regelmatig groenten en vruchten tegen die we niet kennen.
Marmelo's bijvoorbeeld. Het zijn keiharde gelige vruchten met een donsachtig velletje en een onregelmatige structuur. Je kunt ze zo niet eten. Je kunt er alleen compote of jam van maken.
Ons woord marmelade komt van marmelo! Als je hier "marmelade" koopt, is het dan ook altijd van marmelo's gemaakt.
Nautische aardappeltjes: krieltjes in de schil op een bedje van kiezelstenen koken in veel zeewater (of water met zeezout in vergelijkende concentratie), de aardappeltjes droog laten koken (pan niet helemaal sluiten).
Het schilletje gaat rimpelen en er blijft een heerlijk zoutlaagje op achter. Lekker als snack bijvoorbeeld tijdens de wacht.
Met Remco en Dorien hebben we een paar geweldig leuke dagen gehad. Het weer zat eerst niet mee, regen en fris, maar later werd het gelukkig beter tot helder blauwe lucht en lekker warm.
We hebben eerst wat door Faro gezworven, kwamen in een rommelige antiekzaak terecht met beschilderde oude tegels (Azulejos: azul=azuurblauw), vergelijkbaar met ons Delfts Blauw. In de ontwikkeling ervan werd de Delftsche techniek overgenomen die voorkomt dat de kleuren in elkaar overlopen, waardoor het mogelijk werd zeer fijne details te schilderen.
Er kwam een man binnenlopen, die een gitaar van de muur pakte en werkelijk prachtig het "Concierto de Aranjuez" van Rodrigo ging zitten spelen.
Die beschilderde tegels zie je overal in Portugal. Voorstellingen op de gevels van huizen, sommige kerken zijn er van binnen helemaal mee bekleed.
In Almancil staat de kerk van São Laurenço (afgebeeld met een soort gril-rooster in zijn hand).
Er is binnen geen millimeter, die niet betegeld is. Het tegeltapijt verhaalt hoe hij, omdat hij zijn rijkdom niet met de armen deelde, met rieken doorboord werd, op een vuur geroosterd en uiteindelijk heilig verklaard. Kinderen hoeven zich hier tijdens de dienst niet te vervelen, volwassenen ook niet trouwens.
Met veel plezier hebben we naar de DVD's over onze jeugd gekeken, films gemaakt door pa en ma Klein, op DVD getoverd door Ru, en nu meegebracht door Remco en Dorien, een ware familie produktie. Ontzettend leuk om de tijd in Santpoort terug te zien. Toen deden we ook al leuke dingen.
In de boomgaarden bomen vol granaatappels, hier hebben we ook de kweeperen aan de bomen gezien en een boomgaard met "díospiros", in het Engels persimmon. Een vrucht zo zacht dat, alleen al bij het vasthouden, je vingers er al in staan. De vrucht bevat veel oplosbaar tannine. Door een behandeling met CO2 wordt het tannine onoplosbaar en wordt de vrucht harder en beter te verwerken. De opzichter en pluksters wilden ons wel alles uitleggen en de vrucht laten proeven. Erg zacht vruchtvlees, draderig als de mango, lekker zoet.
Later zagen we ze ook op de markt.
De Portugese Waterhond
Een middelgrote hond met zacht zwart golvend haar en hij heeft zwemvliezen. We zien ze hier regelmatig, erg vriendelijke honden. Ze kunnen heel goed duiken en werden daarom vroeger gebruikt om de vissen richting netten te drijven.
Faro natuurgebied
Ankeren hier is niet zonder risico. Het hoogteverschil van eb en vloed is zo'n 3 meter. Bij vloed liggen we in één grote watervlakte, bij eb blijven er nog heel kleine watergeulen over.
Een paar dagen geleden was de wind 's nachts windkracht 8 á 9. Wim heeft de hele nacht opgezeten om te zien of de ankers het wel hielden. 's Morgens bleken 2 (Nederlandse-) schepen op het droge te liggen. Het heeft nog heel wat voeten in de aarde gehad voor ze weer in het water lagen te dobberen.
Ooievaars en lepelaars zijn hier vaste gasten. Op iedere kerktoren staat wel een ooievaarsnest.
Maar de zeeotters die Remco en Dorien in de haven zagen zwemmen en op boten klimmen, hebben we helaas gemist.
Vrijdag zijn we met zijn vieren nog met de kusttrein naar de vis- en groentemarkt in Olhõ geweest.
Vooral de vismarkten zijn steeds weer erg de moeite waard. Het is er zo schoon dat je geen vis ruikt.
Alle mogelijke soorten vis, waarvan ik er ongeveer niet één ken. De zeeduivel met zijn enorme bek, octopussen en heel grote helder zilveren alen.
Dorien wist te vertellen dat de octopus gevangen wordt in de aarden kruiken, die we regelmatig zien.
De octopus kruipt erin als schuilplaats.
Lula's, pijlinktvissen, worden gevangen met een visje, waaraan 2 kransen van heel fijne haakjes zitten.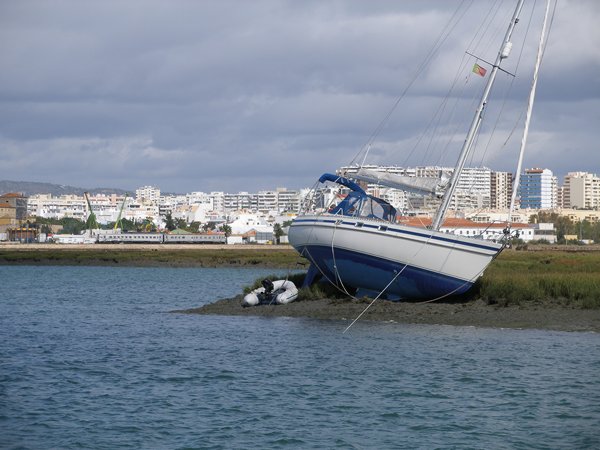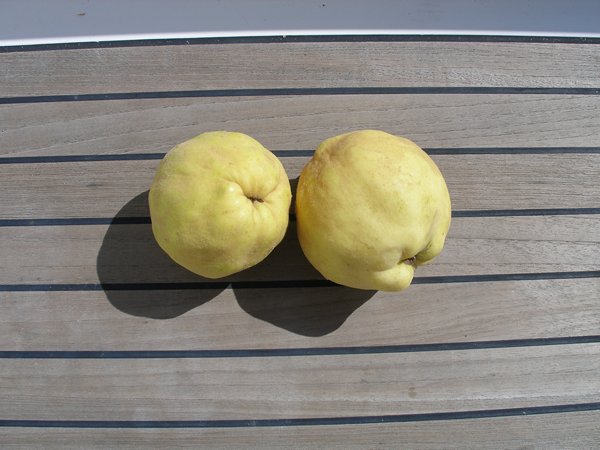 ---