Norfolk ja echt nog steeds

Lonely-Planet
Mathilde en Wim
Fri 5 Aug 2011 18:32
Norfolk, Virginia, 5 augustus 2011
In het weekend moesten we in de haven plaats maken voor 35 race boten, van die schichten, die je al tijden van te voren als een onheilspellende onweersbui aan hoort komen.  De bestuurders hebben een soundbarrier op. Er schijnt wel een aan-uit knop voor de geluiddempers op te zitten, maar die wordt nooit gebruikt.
Maandag zijn we weer terug naar de haven gegaan. We hebben heel wat slapeloze nachten gehad over de levering van de nieuwe genua uit België. Het verliep allemaal zo onprofessioneel dat we er ongeveer van overtuigt waren dat de dealer er met onze centjes van door was. "Het is niet verzonden, ja toch wel verzonden, nee het ligt er nog, het is zoek, het ligt in Berlijn, in Antwerpen". Gedurende 3 weken was het steeds: "over 3 dagen is het er" en geen enkel bewijs kunnen krijgen dat het überhaupt gemaakt was. Wel, het zeil bestaat dus echt. Het ligt al een week in Miami, maar komt niet door de douane.  We moeten een Amerikaan bereid vinden om garant te staan voor de te betalen invoerrechten??, die daar ook zijn persoonsnummer en zijn belastingaangifte voor moet overleggen, of je zo iemand zo van de straat plukt!? Voor een tijdelijke invoer komen we ws niet in aanmerking omdat we het zeil dan zelf uit België mee hadden moeten nemen/invoeren om het later ook weer uit te voeren, het toegestuurd krijgen valt daar niet onder!? De 3e mogelijkheid is dat het "inbond", dat wil zeggen zoiets als verzegeld, hier naar de douane verstuurd wordt, dan kunnen we het tenminste persoonlijk afwikkelen. Maar ook dat schijnt niet te kunnen. Het is ons trouwens volkomen onduidelijk waarom het zeil zijn doel (Norfolk) 1500 km voorbij geschoten is, het had wat ons betreft niet helemaal naar Miami gestuurd hoeven worden. Het schijnt wel een heel uitzonderlijk geval te zijn, waar iedereen op moet studeren, dikke boeken, artikel zoveel en artikel zoveel.
Gelukkig liggen we op een erg prettige plek. Genoeg aardige dingen die te befietsen zijn. We zijn een dag naar de dierentuin geweest. Volgens de reacties op internet: "de kleinste dierentuin die ik ooit gezien heb" en "mijn dochtertje vindt het altijd erg leuk om naar de dierentuin te gaan, maar dit was "extremely boring".
Wij vonden het een prachtige dierentuin. Erg ruim opgezet met heel veel groen. De percelen zijn zo ingericht dat bospartijen en watertjes zo grillig verlopen dat je niet ziet dat het een afscheiding is. Het lijkt of je op een grasveld met bos en waterpartijen, hier een giraf ziet en daar tussen de bomen een neushoorn. Voor otters watervalletjes, riviertjes en waterplassen, waar je ze op verschillende plaatsen achter glas onder water kunt volgen. En genoeg gelegenheid voor de dieren om zich terug te trekken als ze even geen zin in mensen hebben. Het is wel zo dat er zo weinig dieren per m2 zijn dat je er soms naar moet zoeken en 1 neushoorn en 1 zebra zijn minder interessant om te zien dan een groep zeebra's.  Maar, ze lopen in het gras ipv op een kale zandbodem, dat is ook prettig om te zien.
Het viel ons in de dierentuin weer op hoeveel "in memoriams" er overal zijn. Een bankje vanwaar je over zee uitkijkt, in het Chrysler museum een aankoop van een kunstwerk ter nagedachtenis van iemand die veel van kunst hield, de mooie bronzen olifanten in de dierentuin ter nagedachtenis van een 13 jarige jongen die zo van dieren hield en dierenarts had willen worden. Het is ontroerend. Een erg goed idee om de doden onder de levenden te gedenken ipv tussen de doden.
Het is steeds weer een verrassing te ontdekken dat je op een plek bent, waar je in de krant over gelezen hebt. Martin Luther King kwam uit Georgia en de schietpartij op de Virginia Tech. We gaan meer naar de film dan we ooit geweest zijn, tot Harry Potter en de smurfen (erg leuk) aan toe. In een ouderwetse bioscoop, waar oude films draaien, zagen we "don't kill the mocking bird", een film die in 1920 speelt. Over een blanke advocaat die bedreigt wordt (een "nigger lover") omdat hij een neger verdedigt, die uiteindelijk voor verkrachting veroordeeld wordt en natuurlijk onschuldig is, en door de sheriff "tijdens de vlucht" doodgeschoten wordt. Geeft een aardig beeld van de tijd, waain je iemand met een donkere huid dood kon schieten en er mee weg kwam.
In de New York Times stond een reactie op uitspraken van een senator, die de slavernij afschildert alsof het een "happy familie" situatie was. Het valt blijkbaar nog steeds niet  mee om te erkennen dat mensen hebben geleden onder een gruwelijk systeem. In een museum werden 2 succesverhalen uitgebreid belicht, een ex slaaf die senator werd en een ex slavin die lerares werd op een zwarte school terwijl, toen het eenmaal toegestaan was om te leren lezen en schrijven, alleen blanken les mochten geven. Dat was het enige wat er over de slavernij gezegd werd. We konden het niet helemaal plaatsen.
Aan de andere kant was er ook een uitgebreid artikel in de krant over patentaanvragen op medisch wetenschappelijk onderzoek, die allemaal afgewezen werden omdat ze discriminatie in de hand zouden kunnen werken (bijvoorbeeld onderzoek naar prostaatkanker bij Spaanse immigranten).
Verder worden we héééél veel gefilmd. Werkelijk overal hangen videocamera's. In de taxi, in de bus, op straat, op kruispunten van wegen, in het park, in winkels, óveral. We zien het al niet meer. Wat we ook niet meer zien, is vandalisme en vervelende jongetjes. Het lijkt hier niet voor te komen.
Bij de foto's
Een neushoorn in de dierentuin, ruimte genoeg.
Bronzen olifanten ter nagedachtenis.
Ook in de dierentuin: giraffe met gezelschap.
Speciaal voor Ivo en Ineke: Bodhisattva ca. 200 na Christus.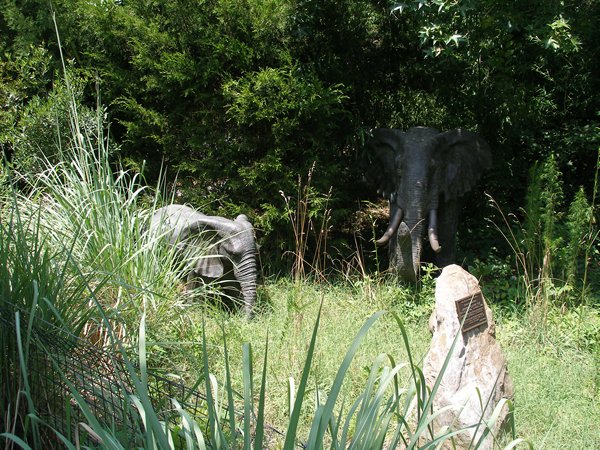 ---