Dominicaanse Republiek

Lonely-Planet
Mathilde en Wim
Sun 20 May 2012 18:18
Las Salinas, Dominicaanse Republiek, 19 mei 2012
Het was spijtig de Bahama's te verlaten. In 6 weken tijd hebben we er eigenlijk nog maar een fractie van gezien.
Er waren nog nauwelijks andere boten en wij moeten ook mijlen gaan maken om voor het hurricane seizoen in Curaçao te zijn.
De Bahama's worden iedere 2 jaar wel geteisterd door een hurricane of andere storm met naam. Het was triest om te zien, hier huizen tegen de vlakte, daar een dak van een kerk.
We moesten onze verwachtingen steeds bijstellen (niet dat dat erg was, meer grappig). De vaargids maakte regelmatig enthousiast melding van havens, supermarkten, bakker en dieselstations etc. Misschien kon ik wel naar de kapper! Maar de haven bleek steevast één steiger (overigens verrassend soms wel met een gezellige jachtclub), diesel sjouwen met jerrycans, een super met wat blikken, aardappels en uien. Dat is niet negatief bedoeld, want die heel kleine dorpjes zijn schilderachtig. Meer naar het zuiden met harde kleuren, hard roze-rood, blauw en groen.
De mensen zijn steeds erg aardig. Vraag je de weg, dan brengen ze je wel even.
Op een heleboel plaatsen zijn grotten in de rotskust, waar gedoken wordt of waar je bij laag water in kunt. Onderweg van Staniels Cay, waar we 8! verpleegstershaaien in de haven zagen, en Farmers Cay, zijn we even gestopt bij de Rocky Dudas Caves, waar bijzondere fossielen te zien zijn. Bij laag water zijn we snorkelend de grot in gegaan. Was wel spannend om door de zuigende en stuwende golven je weg te vinden.
In de Thunderbold grotten zijn de filmopnamen gemaakt voor de gelijknamige James Bond film!
De laatste 14 dagen hebben we regelmatig met Harry en Ans van Lion King opgetrokken. Of we voeren met elkaar op, of we kwamen elkaar wel weer ergens tegen. Gezellig en ongedwongen.
In Clarence Town hebben we (voorlopig) afscheid genomen. Ans en Harry gingen in één keer door naar Puerto Rico en wij wilden nog naar Great Iguana, het laatste Bahama eiland.  Niet zo'n prettige plek, want alleen beschut tegen oosten wind.
Dit eiland wilden we toch niet missen omdat er enorme zout meren zijn en zo'n 50.000 flamingo's. Het viel niet mee om een gids of taxi te vinden.
Uiteindelijk heeft een "zomaar" iemand ons er, in een oude pick-up, heen gereden. Uren over hobbelige dijkjes tussen en over (vreemde gewaarwording) de zoutvelden gereden. Hij wist er nog veel van te vertellen ook.
De tocht naar de Dominicaanse Republiek was afzien en dat is zacht uitgedrukt. We hadden gedacht er 3 dagen over te doen, het werden er 5. Wind tegen, veel deining en hoge golven. Motorren/ bonken tegen golven en wind in was geen optie. We haalden hooguit 3 knopen, gingen er dus langer over doen en we hadden voor +/- 3 dagen diesel bij ons. Kruisen dan maar. Maar dat schoot ook niet op. Het leverde 2-4 mijl  per uur in de gewenste richting op en soms werden we door de stroom teruggezet. Dat helpt niet erg als je 400 mijl af moet leggen. Uiteindelijk hebben we 160 mijl extra afgelegd (bijna 300 km). Bovendien konden we op een gegeven moment de genua niet ingerold krijgen en raakten de schoten in de knoop om de reling, de krachten zijn dan zo groot. Niet prettig om op een dansende boot de genua eraf te moeten halen. Toch al een ergernis dat Elvstrom zeil: er is gereefd niet mee te varen, veel te veel bolling. Vervolgens  raakten we 's nachts verstrikt in visnetten, die we uiteindelijk met de grootste inspanning los konden snijden. Voor de 2e keer in 6 jaar golven ovér de boot gehad.
In 4 dagen niet uit de kleren geweest en douchen maar vergeten. Om de dag een blik chili of stoofpot.
We zijn er weer goed van doordrongen dat zeezeilen een serieuze aangelegenheid is, we hebben onze portie adrenaline wel weer gehad.
De 5e dag werd het water rustiger en werd het kruisen een waar genoegen. Eindelijk douchen in de kuip en schone kleren aan. Varen langs een groene steile rotskust met in de verte  in een nevel de bergen van de Dominicaanse Republiek......
In de baai voor Salina hebben we, lichtelijk uitgeput, het anker uitgegooid, naast Jakker van Belgische Tony en Jakelien. Zij vroegen direct of wij Lion King ontmoet hadden? Ja hoor,dat hadden we en zíj hadden nieuws van een hoop mensen die wíj eerder ontmoet hadden.
Als troost hebben Tony en Jakelien 's avonds voor ons gekookt. Is het leven ineens weer goed.
De Dominicaanse Republiek heeft direct een heel andere sfeer. De voertaal is Spaans. De vaak hoge luxe huizen hebben, als in Mexico, een groot dakterras met groot rieten dak erboven en rieten dakjes boven de ramen. Kleine "Piet Hein Eek" sloophout-achtige huisjes in versleten licht blauw en oranje-rood dak tegen een achtergrond van zoutmeren in vakken en kleuren, die aan onze bollenvelden doen denken. Er zweven weer Fregatvogels in de lucht. Mensen met Latijns-Amerikaans uiterlijk. Kleine eethuisjes met plastic tafeltjes en stoelen. De menukaart is ineens ook anders, doet Spaans aan, cerviche (rauwe vis in citroen gegaard), inktvis en gebakken banaan. 
Bij de foto's
Prachtig snorkelwater
In de grot bij Rocky Dudas met Ans en Harry
Verpleegstershaaien naast de dingy, gehakkeld door de golfjes
Schattig eethuisje Nezzie's in (metropool) George Town
Prachtige kerken in Clarence Town
Great Iguana: traditioneel Bahama huisje, schip op de kant, Frank die ons gids in de zoutvlakten
Flamingo's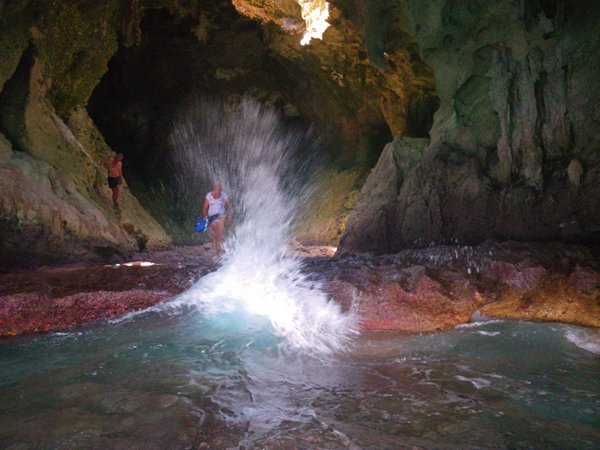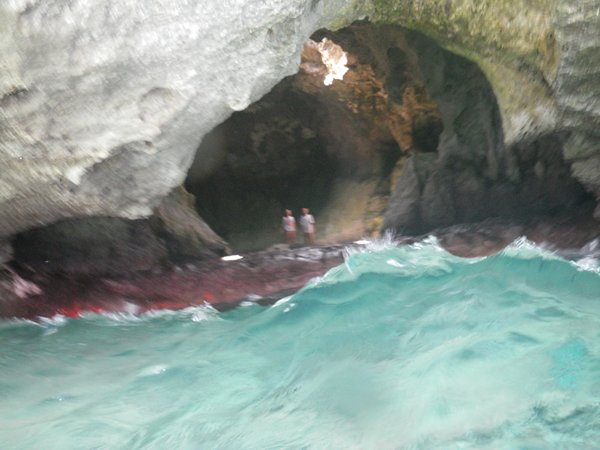 ---