Fernandina

Lonely-Planet
Mathilde en Wim
Mon 12 Dec 2011 21:53
30:40.15N 81:28.03W




Fernandina, Florida, 11 december 2011




Tropen? Hoezo tropen, we liggen een paar dagen verwaaid in Fernandina Harbor Marina. Koud, 14 graden, regen en minimaal 40 knopen wind. We vinden het wel best. Paar dagen met de kachel aan binnen, internetten, broodje bakken en een beetje bijkomen. We geloven het zelf ook niet, maar 4 weken 8-9 uur varen per dag, en af en toe een halve dag aan land, blijkt toch vermoeiend te zijn.




Georgia is het meest tricky stuk van de ICW. Zigzaggend over ondiepe rivieren, stukken omvaren om eilandjes en zandbanken heen. Volgens Wim moet je alleen denken dat je 2000 km moet varen en maar niet kijken welke kant je op gaat.  Af en toe moeten we een stuk de oceaan op, waar sinds lang weer eens de boeken van tafel schuiven.

Zover je kijken kunt moeras, riet en verlaten kreken. 's Nachts als we in een kreek ankeren, kachel aan en niets de geluiden van roepende vogels.

We zagen, heel bijzonder, een groep herten de rivier oversteken. Prachtig gezicht, hertenkopjes en gewei,  die boven het water uitstaken. Nieuw voor ons zijn de grote groepen Witte Amerikaanse Pelikanen. In de zomer zijn ze op de grote inlandse meren te vinden en in de winter trekken ze naar de kust. In tegenstelling tot de bruine pelikaan duiken ze niet naar vis, maar drijven ze in kleine groepjes de vis naar de ondiepe stukken, waar ze ze vangen.

De Wood Stork komt alleen hier langs de zuidkust voor. Het is een ooievaar met kale nek en naar beneden gebogen bek. Niet zo mooi, wel bijzonder. Grote zwarte gieren en roofvogels zweven boven de marshes, we zien af en toe ook de grote Bald Eagle. Verder grote zwermen oeverlopertjes en andere wad/watervogels, veelal wintergangers uit Alaska. Hier in de haven met het slechte weer zitten grote groepen kleine meeuwen, wadvogels en pelikanen met de koppen in de wind, meestal iedere soort op een eigen steiger.

Dit is ook het gebied van de grote garnalen. We kopen ze vers zo van de vissersboten.




Er zijn veel waarschuwingen en meldingen van geldende  snelheidsbeperkingen over de marifoon ter bescherming van de North Atlantic Right Whale, die hier voor de kust deze tijd van het jaar haar kraamkamer heeft. Er zijn nog maar 300-400 exemplaren. Voor ons niet te onderscheiden van de walvissen, die we in Pathagonië gezien hebben, maar het is blijkbaar toch een andere soort.




We mochten de kerstparade niet missen, maar het waarom is ons een beetje ontgaan. Clubs, scholen, politici, en bedrijven manifesteerden zich met auto's met hier en daar wat kerstversiering en mensen met een kerstmuts op, die rood-wit gestreepte snoep-wandelstokjes uitdeelden en  de omstanders "Merry Christmas" toeriepen.

In Thunderbolt Marina werden we gewekt met de ochtendkrant en doughnuts.  Zo is er steeds wel iets leuks.

Savannah is een historisch plaatsje dat je niet mag missen. We zijn er met z'n zessen met de bus naar toe geweest. De vele koloniale huizen hebben we een beetje links laten liggen en hebben in plaats daarvan het Jepson Centre of Art bezocht. Er was een geweldige tentoonstelling van de Amerikaans Cubaanse fotograaf en schilder Goicolea.  Veel halfwas jongetjes bezig met één of ander ritueel. Bij nadere beschouwing bleek hij de jongetjes zelf te zijn. Hoe je door manipulatie zoveel verschillende uitdrukkingen en houdingen van eenzelfde gezicht kunt maken, is mij nog niet duidelijk.

 

Ik heb een erg gezellige verjaardag gehad. Van Wim een in het water "groei-man", die altijd aardig is, niet snurkt, het altijd met je eens is en nog zo wat van die prettige dingen. Als je hem zat bent, laat je hem weer krimpen. Van de anderen leuke zelfgemaakte kadootjes en veel gezelligheid.

En weer heerlijk veel e-mailtjes, telefoontjes en SMS-jes.

 

"Eiland" is in Brunswick achtergebleven. Ulli en Imke gaan kerst thuis, in Duitsland, vieren. Jammer, we zullen ze missen. Met Frank en Tini verder. We zijn ongeveer op de helft. Nog zo'n 1000 km te gaan.




Bij de foto's




Kerstparade in Beaufort

Sfeerplaatjes van de intercoastal waterway

Wildcat en Eiland in de verte

Overzwemmende reeen

Het is af en toe koud!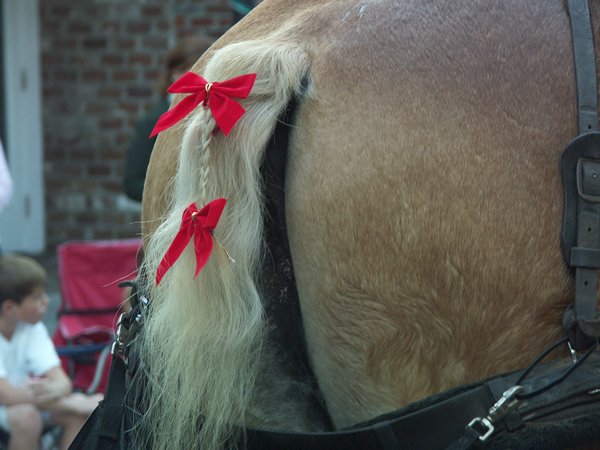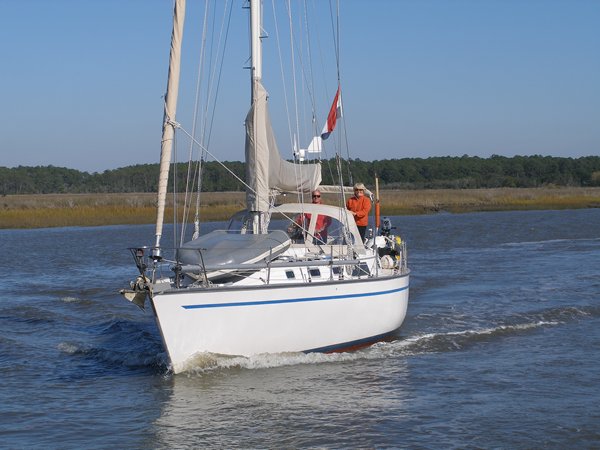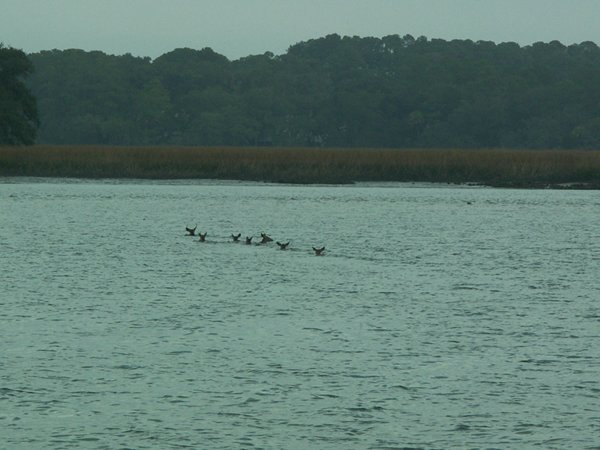 ---