Jamaica vervolg 2

Lonely-Planet
Mathilde en Wim
Sat 29 Jan 2011 22:21
Jamaica, Port Antonio, 27 januari 2011
Jamaica staat voor Reggae, Rastafarian en Reefs. Overal waar een paar mensen bij elkaar zijn, is muziek en hard en tot 's morgens vroeg. Er komen zo'n 500 nieuwe nummers per maand uit.
Reggae is nog steeds erg populair, maar wordt langzamerhand verdrongen door Dancehall, een soort
hardcore Caribische rap.
We zijn een paar keer met de bus naar Kingston geweest. De busjes hebben geen vaste vertrektijden. De 1e vertrekt als hij vol is, de volgende als die weer vol is. En vol is ook echt vol. De één gaat een beetje naar voren zitten, je moet scheef zitten, want de schouders passen niet naast elkaar. De muziek keihard, en scheuren maar.  Drie uur over bijna 100 km. Als de bus even stilstaat, komen er verkopers die pinda's en plastic zakjes met bevroren limonade verkopen.
Het is een prachtige tocht, deels langs de kust en deels door de bergen. Slingerweggetjes langs dorpen, bananenplantages, oerwoud, langs riviertjes. Bij aankomst direct de taxie ingedoken en "up town" naar het Bob Marley museum gereden in zijn voormalige huis en opname studio aan de Hope Rd.  Krantenartikelen die over de hele wereld over hem geschreven zijn hangen aan de muur, zijn gouden en zilveren LP's, gezinsfoto's (hij had met zijn vrouw Rita 4 kinderen, en nog 8 kinderen bij 4 andere vrouwen), wat kleren etc. Zijn geliefde plekjes, de hangmat op de waranda en het plekje in de tuin onder de boom waar hij (tot ongenoegen van de buren) zijn jointjes placht te roken. Tot slot een erg aardige film over zijn leven ( hij groeide op in het getto van Kingston) en beroemde optredens.  
Bus uit en taxie in, we hadden eigenlijk nog maar weinig van Kingston gezien. We hadden het overleefd, dus  we konden het er nog wel een keer op wagen. Gisteren hebben we de tocht opnieuw gemaakt. Eerst hebben we het Devon House bezocht.  Eén van de weinige bewaard gebleven Jamaica's "great houses" gebouwd in 1881. Het huis is eigendom geweest van de 1e Jamaicaanse (donkere) miljonair, rijk geworden in de goudmijnen van Venezuela.  Het huis stond vol antiquiteiten en het heeft een prachtige houten waranda met de Engelse gingerbread daklijsten, het "Norma's on the Terrace"- restaurant. Kleine winkeltjes in de voormalige keuken, bakkerij, smederij etc.
Op de terugweg van het National Art Museum, "down town", moesten we toch een stuk door de stad lopen naar het busstation. Het zag er niet prettig uit, tralies voor de ramen, vuile markten.
Op het busstation waren keurige toiletten, maar wel met 2 man bewaking ervoor en een deur die achter je op slot gedaan werd. De shuttlebussen die tussen de verschillende busstations reden, waren gratis. Al met al niets schokkends gezien of gebeurd. Wim gaf de taxichauffeur per abuis een 1000-Jamaican dollarbiljet ipv 100 en kreeg het keurig terug. We waren 's morgens om half acht in de bus gestapt en 's avonds om half acht waren terug. Van de 12 uur hadden we meer dan 7 uur in de bus gezeten. Wim had pijn in zijn heup (al uren) en ik was zo stijf dat ik bijna niet kon lopen.  
 Bij de foto's

Fregatvogels op hoogspanningslijnen. Soms zitten er meer dan honderd.
Reigers tussen de mangrove.
Tussen golfplaten wonen aan de waterkant.
Haarverzorging op de kade.
Eén van de voorwiel gestuurde karretjes die je hier veel ziet. Duwen gaat eenvoudiger dan trekken.
In de bus naar Kingston. De conducteur vindt het niet erg dat de dames zo dicht om hem heen staan. De chauffeur zit buiten beeld ook helemaal tussen de dames verpakt.
De ingang van het Bob Marley museum. Zijn geliefde plekje onder de boom om marihuana te roken.
Een beeld voor de National Gallery.
Haarverzorging op straat in Kingston.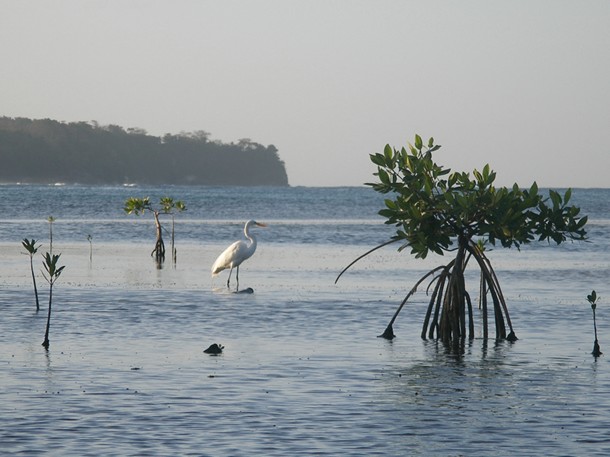 ---