St. Lucia Rodney Bay

Lonely-Planet
Mathilde en Wim
Wed 5 May 2010 02:48
14:05.45N 60:57.84W
Rodney Bay, St. Lucia, 1 Mei 2010
We zijn naar St. Lucia gesneld omdat hier iemand huist, die naar de watermaker kan kijken, die nog steeds niet goed functioneert. De vlucht van Grenada naar Nederland is geboekt (16 mei). We hebben dus haast om naar het zuiden te komen. Wachten op goed weer en wachten tot je iets kunt laten maken, neemt steeds veel meer tijd dan we gedacht hadden.
Grenada is het eerste eiland dat buiten het hurricane gebied ligt en waar we de boot veilig achter kunnen laten. Het hurricane seizoen loopt van +/- 1 juli tot 1 november.
We zijn daarom verschillende eilanden voorbij gezeild en andere hebben we maar heel kort aangedaan.
De Rodney Bay is een mooie beschutte ankerplaats. Zo beschut voor hun vloot, dat de Engelsen en Fransen er steeds weer om gevochten hebben. Het eiland is 14 keer van nationaliteit veranderd.
Het eiland is zelfstandig, de voertaal Engels, maar je vind overal nog de franse invloed. De baaien heten dan ook vooral Anse i.p.v. Bay.
In de hoofdstad van Martinique, Fort de France, konden we eindelijk weer eens uitgebreid inkopen doen en de voorraden aanvullen. Lekker Frans stokbrood eten en zo'n heerlijk druipende (en stinkende) Franse kaas. Hier vonden we ook de lekkere blikken Gésiers met eend, die we eens bij René en Pauline op de Viskus gegeten hebben.
Van Martinique zijn we al snel doorgevaren naar St. Lucia. Sinds we weer meer en langer aan het varen zijn, ook het hengeltje maar weer eens uitgegooid. Onze eerste Barracuda gevangen! en snel weer over boord gezet, deze mooie vis met zijn scherpe tandjes en mooie stippen op zijn lijf, want de grote kunnen giftig zijn (stapeling van cyguatera).
De tweede vis, die we vingen, was een zwartvin tonijn van ruim 2 kg (zie foto), een bijzondere verschijning met zijn grote naar opzij uitstekende borstvinnen. Blijkbaar is dit de tonijn, die je hier vangt, want in Castries zagen we een visser, die dezelfde tonijnen te koop aanbood (foto).
We hebben de eerste kakkerlak op bezoek gehad. Hij was er ineens, gelukkig in de kuip. Als de bliksem alle ramen dicht en een grootscheepse klopjacht ingezet. Niet gevonden, maar ook niet meer teruggezien. Hopelijk weggevlogen of in zee gespoeld.
Dit blijkt 2 dagen later niet het geval te zijn. Er zaten er 2 in een bakskist. Het valt nog niet mee om ze te verjagen. Ze zijn supersnel en ieder spleetje is groot genoeg om in te verdwijnen. De 1e vloog weg en kwam op de boot van de buren terecht…….., de 2e dacht ik verjaagd te hebben, maar vond hem even later terug tussen de lijnen. Een aanval met Deet-spray deed hem uiteindelijk in het water belanden.
Aan de Rodney Bay ligt het dorp Cros Islet, in alle boeken als high light genoemd. Op vrijdagavond wordt de hoofdweg afgesloten, gaan alle eettentjes open en wordt er op straat gedanst en gebarbecued .
Je moet er met de taxi naar toe, vooral niet lopend, want de criminaliteit is er groot.
Wij zijn er aan het eind van de middag doorheen gelopen. Het is een vrij groot dorp met piepkleine eethuisjes, vol met lokale bevolking. Armoedig geklede mensen, in alle zijstraten krotten zover je kijken kunt. Het moet een belevenis zijn, maar het kwam er 's avonds niet van om terug gegaan.
Vandaag zijn we met een minibusje naar de hoofdstad van St. Lucia, Castries, geweest. Op alle eilanden verplaats je je met minibusjes. Achter de voorruit een bordje waar hij naar toe gaat. Je steekt je hand op als je mee wilt. Je roept "bus stop" als je eruit wilt. Vast tarief ongeacht de lengte van de rit, met z'n tweeën 5 $ E.C. (1 East Caribbean dollar = +/- 0.3 Euro), en altijd een zitplaats.
Castries is een behoorlijke plaats, meest houten huizen. Er zijn in het verleden 2 grote branden geweest, die bijna de hele stad verwoest hebben. Bij het park is nog één rijtje historische houten gebouwen bewaard gebleven. Grote overhangende balkons met uitgewerkte houten daklijsten als van kant (gingerbread trims).
Op 1 mei was alles gesloten, maar de groente- en fruitstalletjes op straat waren er gelukkig wel. We hebben weer een groot aantal nieuwe vruchten leren kennen: de wax apple in de vorm van een kerstklok, de French cashew ( een soort appel), lokale pruimpjes, die naar mango smaken. Bananen in vele soorten. De kleine "figs" die er bijna rot uitzien, maar die je zongerijpt (overrijp) moet eten, de "plantains", puntige gele (familie van de) bananen, die je moet koken of bakken/grillen (zie foto), en "onze" bananen die rijp gegeten of groen gekookt worden.
Van de Callalloo, een groot (olifantsoor) blad, maak je soep (lekker, smaakt naar spinazie).
Op bijna alle eilanden wordt gember gekweekt/verbouwd en wordt dan ook in grote hoeveelheden aangeboden. Nog steeds blijven er veel groenten en vruchten over die we moeten proberen.
We zijn, 4 mei, van de ankerbaai naar de haven vertrokken. Er is opnieuw naar de watermaker gekeken, we vinden steeds iets nieuws, dat kapot is. Het ziet er naar uit dat we hem voorlopig niet kunnen gebruiken. Als we op Grenada zijn maar verder naar kijken.
Af en toe vraagt iemand of we hem met Tante Ma over willen zetten. Dat levert soms leuke, onverwachte bezoekjes op. Zoals op de replica van een Maghelhaen van een Tsjech. Een houten schip van 60 ton, dat 2 á 3 knopen vaart, dwars getuigd is en overal lekt (zeiltje boven de kooi). Ze hadden in 40 dagen de oceaan overgestoken (normaal +/- 3 weken).
Bij de foto's:
Dominica: dame op de markt met gegrilde plantains, de replica van de Maghelhaen.
St. Lucia: de zwartvintonijn, huisjes met gingerbread houtsnijwerk en dame op balcon, beelden van Rodney Bay met de Lonely Planet en Tante Ma, de zwartvintonijn op de markt, huisjes tegen de berg op.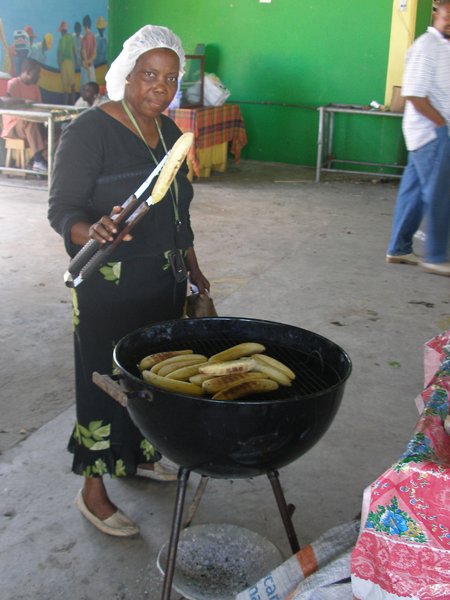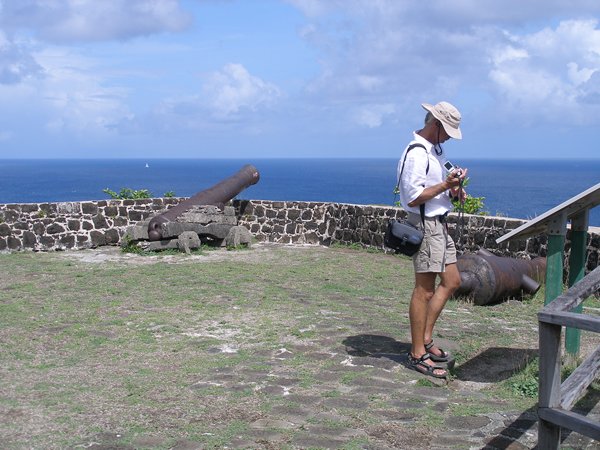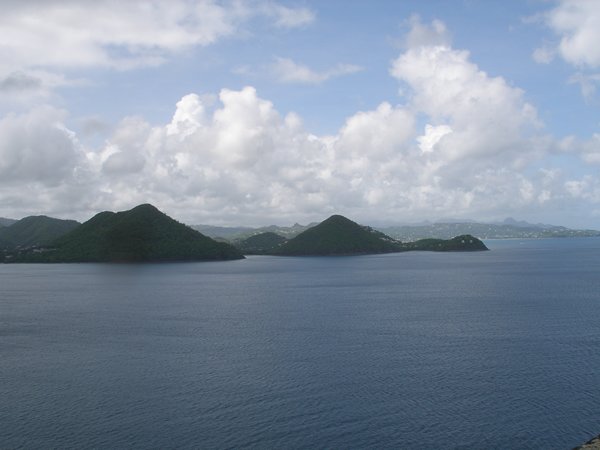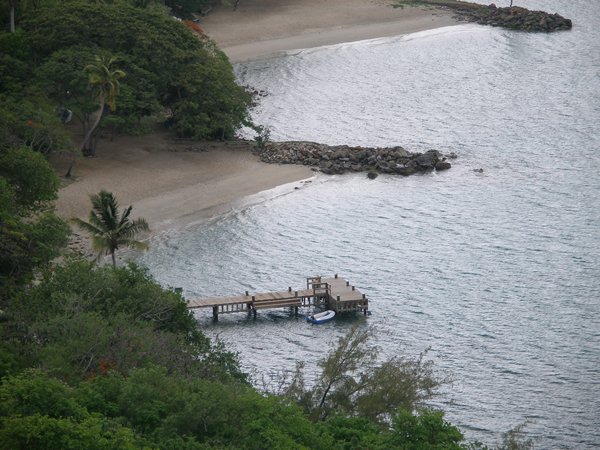 ---