Panama kanaal

Lonely-Planet
Mathilde en Wim
Wed 6 Mar 2013 16:13
09:22.03N 79:57.046W
Shelterbay Marina, Panama, 5 maart 2013
Shelterbay Marina ligt aan de ingang van het Panama kanaal en aan de rand van het oerwoud. 's Morgens vroeg hoor je het krijsen van papegaaien en het brullen van de brulapen. Voor de bouw van het Panama kanaal hebben de Amerikanen hier hun nederzettingen gehad. Nu vooral verlaten en vervallen gebouwen. Maar, er is ook nog een weg. Je loopt zo de jungle in en je komt geen auto tegen. Om 6 uur op en de oogst van een half uur lopen: hele families howler monkeys met onhandige jongen, een toekan, papegaaien, gieren en de zwarte gewone havik, agouti's en een luiaard, die zich langzaam ondersteboven hangend langs de hoogspanningskabel naar de overkant begeeft. Je moet er maar aan denken, info van de haven: "laat je huisdieren niet loslopen, ze kunnen aangevallen worden in de jungle". Verder is hier niets. Voor boodschappen moeten we met de courtesy-bus een half uur rijden naar Colon, en plek waar je beter niet kunt zijn.
 We zijn hier naar toegekomen om met Seawhisper als line handlers het Panama kanaal door te varen. Als je aan komt ga je door een woud van ankerende grote zeeschepen, die liggen te wachten om het kanaal door te kunnen. Het is een heel gedoe. Het schip wordt gemeten en er gaat een hoop papierwerk aan vooraf. Buiten de kapitein moeten er 4 line handlers zijn en er komt een "adviser" aan boord, die met de marifoon contact houdt met de verkeersleiding. Je bent verplicht om lijnen en autobanden-fenders te huren. We vonden het allemaal nogal overdreven om een aantal sluizen door te gaan, maar dat bleek het allerminst. Uiteindelijk waren we erg onder de indruk. Om één uur voeren we weg met een boot opgetuigd met autobanden en lange lijnen en 6 man aan boord (waar je een slaapplek voor moet hebben en die je van voedsel moet voorzien) naar de "Flats", waar we ankerden tot adviser Franklin aan boord kwam. Om 6 uur konden we eindelijk opvaren naar de 1e sluis. 3 zeilboten worden aan elkaar gebonden en zo vaar je de sluis binnen. De sluizen zijn gigantisch. De Fransen hadden nog het idee om een hele berg af te graven, zodat je zo van de Atlantische Oceaan  naar de Pacific kon varen, maar dat bleek ondoenlijk. De Amerikanen kozen er voor om de boten via 3 sluizen eerst 30 meter omhoog te brengen tot het Gatun Lake (het grootste door mensen gemaakte meer) om je dan weer weer 30 meter naar beneden te brengen tot het niveau van de Pacific. Het meer levert de 200 miljoen liter water die nodig is om de sluizen te vullen.  Lionel deed de transit voor de 7e keer. 30 jaar geleden moest hij $ 7 betalen, nu was dat +/- $ 1700. Grote vrachtschepen betalen tussen de  2 à 300.000 $. Ongelofelijke bedragen. Drie boten worden aan elkaar gebonden en via lijnen naar de wal (10 meter hoog) in het midden van de sluis gehouden, dat vereist nogal wat coördinatie, want de krachten van het instromende water zijn groot. Grote vrachtschepen zijn d.m.v. "donkeys" verankerd. Dit zijn karretjes, die in een rail lopen en die het schip in het midden houden en transporteren naar de volgende sluis. Op het Gatun Lake ging  Franklin van boord en wij brachten hier met zijn zessen, geankerd, de avond en nacht door met een rummeloentje van ons en lekker eten van Barbara.
We hoorden te laat (Remco en Dorien waren beter op de hoogte) dat er permanent een webcam hangt in de Miraflores sluis. Jullie hadden ons zo kunnen volgen.
Nog een stukje San Blas
Toen ik aan het zwemmen was, kwam ik deze gevaarlijke jongen tegen. De Portugese Man of War, een kwal-achtig iets (samengesteld organisme van zoöieten) met tot 10 meter lange tentakels, die met een opgeblazen zeiltje zich met stroom en wind laat meevoeren. De aanraking van de tentakels geeft o.a. extreem pijnlijke plekken en verlamming van de ademhalingsspieren. Ik las het verhaal van een man, die zijn vrienden smeekte hem dood te schieten om hem uit zijn lijden te verlossen na een confrontatie met een Man of War.
Op weg naar het Panama kanaal, een nieuwe anti-zeeziekte pil geslikt, waar ik +/- 24 uur op sliep.
Krina heeft een mooie kraaltjes-enkelband voor mij gemaakt, erg ingewikkeld. Het is één kraaltjes-draad, die om je been gewikkeld wordt. De figuurtjes moeten dus precies boven elkaar uitkomen. Getrouwde Kuna vrouwen dragen ze van enkel tot knie en in bijzondere patronen. Erg knap.
Een luiaard, die doodgemoedereerd ondersteboven naar de overkant wandeld, waar de blaadjes groener zijn.
Er zijn negen soorten brulapen. In Suriname zagen we op de Brownsberg al brulapen zo groot en rood als orang-oetans. Hier zijn ze een stuk kleiner en zwart, maar ze brullen net zo hard. Als je het geluid voor het eerst hoort, denk je dat er zwaar onweer aan komt. 
Een agouti, een knaagdier zo groot als een behoorlijk konijn.
Een toekan, familie van de spechten.
Nog een brulaap. Ga niet onder de boom staan, als je geen douche wilt. Mannetjes plaatsen acuut hun reukvlag door al plassend met de hand hun penis heen en weer te slingeren.
De Common Black Hawk
De ingang van het Panama kanaal, een paar zeeschepen gingen ons voor.
Door drie schepen aan elkaar te koppelen wordt een raft gemaakt. SeaWhisper in het midden fungeert als motor.
In de sluis met hoog water.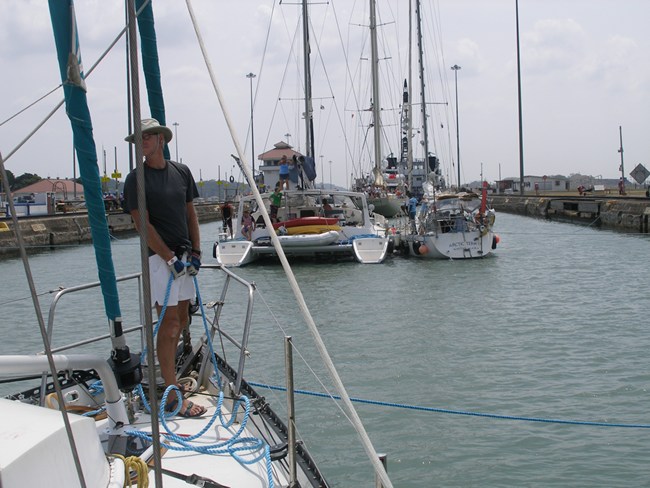 En hier 10 meter lager.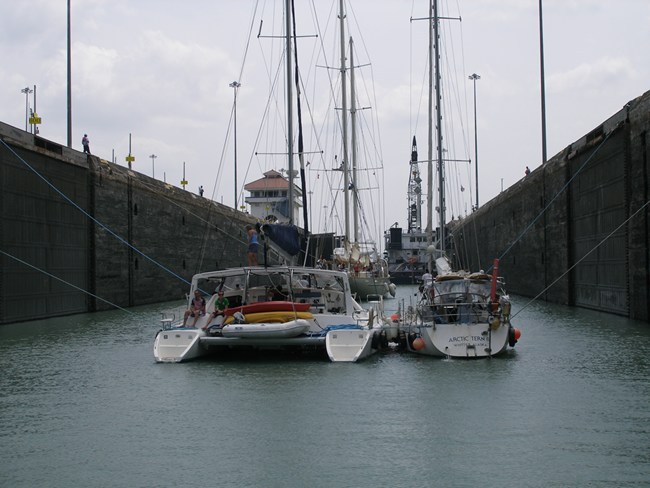 De line handlers op de wal.
De crew op SeaWhisper: Wim, Valentine (Zwitsers) en Tor (Noors) en de adviser en Lionel binnen.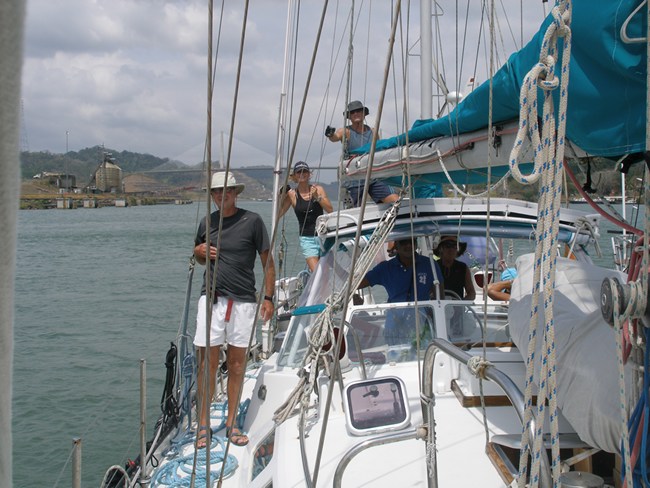 ---