Bonaire vervolg 3

Lonely-Planet
Mathilde en Wim
Sun 8 Aug 2010 16:14
Bonaire, Kralendijk, 2 augustus 2010
Je gaat naar Bonaire om te duiken, naar Curaçao voor de oude koloniale gebouwen en naar Aruba voor de uitgestrekte stranden.
Kralendijk komt van koralendijk. Het eiland bestaat uit oud stollingsgesteente, waar later koraalkalksteen tegen afgezet werd. Bonaire en ook Klein Bonaire is geheel omgeven door koraalriffen. Er staan op de kaart 60 duikplaatsen aangegeven en bij Klein Bonaire nog eens van A t/m Z. Vliegtuigen vol Amerikanen worden ingevlogen voor een duikvakantie. Op de nummerplaten van de auto's staat "divers paradise". Hier kun je alle vissen en koraal zien, die in het hele Caribisch gebied voorkomen.
We zijn nog steeds behept met een motorloze dinghy. Vandaag weer naar Budget Marine om te horen of de bestelde onderdelen al binnen zijn.  Het beperkt ons erg in onze mogelijkheid eens een ander stukje van de kust te bezoeken of om naar Klein Bonaire te varen om bij de grote waterschildpadden te  snorkelen.
Een paar dagen geleden hebben we een Jimny gehuurd en zijn 's morgens heel vroeg vertrokken om het Washington Slagbaai National Park te bezoeken in het noord-westen van Bonaire. Voormalige plantages. Het is een erg groot woest gebied met rotsen, oud lava gesteente, zoutpannen (saliña's) met hier en daar Caribische Flamingo's en natuurlijk de cactussen. De kust heeft verschillende Boka's,  door de zee ingesleten "monden" landinwaarts, waar de golven vreselijk tekeer gaan, een indrukwekkend schouwspel.  De wegen zijn rotsachtig, soms zo steil dat je op de top haast niet verder durft te rijden omdat je het vervolg van de weg naar beneden niet kunt zien. We hebben een hele dag in het park rondgereden en nog lang niet alles gezien.
Onbegrijpelijk dat de Lonely Planet het eiland afdoet met: in 2 halve dagen heb je alles wel gezien.
Verder konden we het autootje mooi gebruiken om in de super op de Kaya Gerharts (de straten hier heten "kaya") de voorraden 5 literflessen water, melk, sapjes en blikjes Carib aan te vullen. Hoewel, alles wat je normaal in een auto kunt verstellen, zat volledig vastgeroest. Het was nog een hele toer alles op de achterbank te krijgen. 
Op de Karel's pier waar we Tante Ma (haar naam staat er nu eindelijk aan 2 kanten op) aanleggen en regelmatig  aan de bar een smoothie, een "ijzig" vruchtendrankje, drinken, staan vooral jonge meiden uit Colombia achter de bar. We waren nogal verbaasd  te horen dat ze meesten al een paar grote kinderen hebben,  op 14 jaar het eerste kind.
Op de ABC eilanden worden de kinderen, vaak van verschillende vaders, door de moeder, die werkt, en háár moeder grootgebracht. De vader blijft uit beeld, komt af en toe eten/ slapen. Mannen gaan alleen uit. Een overblijfsel uit de slaventijd, toen het huwelijk onder slaven niet rechtsgeldig was en mannen en vrouwen regelmatig werden verkocht.
Het is een erge maco-cultuur. Bij  kleine hutjes staan grote 4wd's, 's avonds rijdt er een hele stoet glimmende motoren langs. Zo kun je laten zien dat je werk hebt.   
Een tweede auto-huur-dag  zijn we naar de oceaankant van het eiland gereden met zijn Lagoen en om nog een keertje kijken bij de zoutwinning. De zoutbergen zijn haarscherp en symmetrisch tegen de wolkenlucht  afgetekend met wisselende schaduwwerking soms kristal, soms grijs, met ervoor een roze vlakte zo ver als je kijken kunt.  Surrealistisch, als het decor van locatie-theater.   
Foto's:
Ezel op de weg,  onbegrijpelijk dat er vogels en leguanen op de cactussen zitten, flamingo's bij het Goto-meer, een cactushaag (trankera), een erg droog stukje park, koe/waar is gras en water?,   nog wat flamingo's, auto verhuurbedrijf: een wegenkaart is niet echt nodig (niet helemaal waar),   de prachtige kleuren van de zoutponden, nog een keer de slavenhutten en pilaar,   geitjes op een kaal niets-te-eten erf  in Rincon.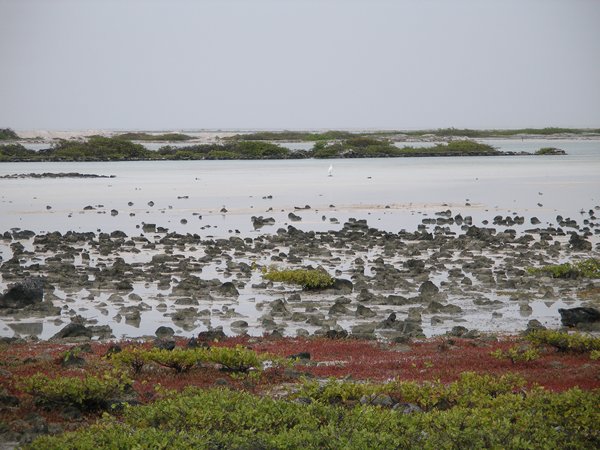 ---