Spaanse water

Lonely-Planet
Mathilde en Wim
Sun 3 Jun 2012 19:37
Spaanse Water, Curaçao, 2 Juni 2012
Eerst nog een klein stukje Dominicaanse Republiek, bang dat we anders vergeten hoe bijzonder het er was!
De  tweede en laatste ankerplek was Boca Chica, even voorbij de hoofdstad Santo Domingo. Met de bus, voorzien van airco, merengue, die iedereen mee kan zingen en roesjes gordijntjes naar Santo Domingo. Hispaniola, zoals de Dominicaanse Republiek van oorsprong genoemd werd, was het eerste land/eiland in de "Nieuwe Wereld" dat Columbus (15e eeuw) ontdekte, dus vóór Amerika. De Arawaks waren de oorspronkelijk bewoners van alle(?) eilanden als ook van bijv. Pathagonië. Van Pathagonië herinner ik me nog dat de Arawaks geen kleren droegen maar zich insmeerden met zeehondenvet en in hun kano's een vuurtje stookten om warm te blijven. In Pathagonië wordt het nooit warmer dan 15 graden en het regent er vaak. In natte kleren blijf je dan niet warm. Het was een zeer timide volk. Zoals overal waren zij al snel verdwenen door slavernij, slechte behandeling en Europese ziekten, waar ze geen weerstand tegen hadden. Daarna kwam de slavenhandel uit Afrika op gang. De bevolking van nu is een mengeling van Europees en Afrikaans.
De Zona Colonial heeft een aantal prachtige fortachtige paleizen. Het Alcázar de Colón, waar de nakomelingen van Christobál Colón (Columbus dus) gewoond hebben en het Museo de las Casas Reales, waar de koningen huisden. In de kelder bevond zich een prachtig ingerichte apotheek met geneeskrachtige-kruiden-kast. Op ieder laatje stond de naam van het kruid geschreven, maar voor degenen die niet konden lezen, was het plaatje er ook nog opgeschilderd (zou een aardige aanwinst zijn, Sas). De tafel had er veel weg van onze oude Spaanse reistafel.
In de Dominicaans Republiek wordt veel amber/ barnsteen gevonden. Amber ontstaat uit de hars van een boom, de Algarrobo. Het hars is een afweer van de boom tegen insecten. In zijn druipgang van de hars langs de stam raken allerlei insecten gevangen in de bruin-gele stroop. In het Museo Mundo de Ambar zijn stukken amber te zien met mieren van miljoenen jaren geleden.    
Het was een leuke aankomst op Curaçao. We wisten niet meer dat het zó groen was, de Tafelberg en de metershoge zuilcactussen. De entree was vertrouwd. Ruim om het rif heen, langs het Resort met het mooie water, links af om de rotsen en dan ligt daar het Spaanse Water met tegen de achtergrond huizen verscholen in het groen tegen de heuvels. We zagen direct alweer wat bekenden. Brigitte met de waterboot, Dick van "Isis" voor het internet (dat hebben we dus weer volop) en de "Papillon" van Gert-Jan en Angelique, Roelant van Budget Marine. 's Morgens om kwart voor acht het cruisers net op kanaal 72, om 10 uur met de shuttle naar super "Vreugdenhil". Het "happy hour" hokje van Norman bij de haveningang is flink uitgebreid en het schijnt tegenwoordig op vrijdag een ware happening te zijn met Antilliaans en Surinaams eten, live muziek, cruiser-muzikanten die meespelen en dans tot in de vroege uurtjes en waar nu ook de lokale bevolking op af komt.
En, oh ja, dat waren we vergeten, dat je hier in de dinghy nooit droog overkomt, altijd nat tot op je "slipje".
We lezen weer het Antilliaans Dagblad, eten wat op het balkon van het mooie Coloniale huis van "Gouverneur de Rouville" met uitzicht op de St.Annabaai en de Pondjesbrug en we hebben kaarten voor de voorstelling "Ontboezemingen" in Teatro Luna Blou.
Ik moest naar de tandarts en prettig dat we genoeg mensen kenden, die hier al jaren op een boot wonen, om achter een adres te komen.
Nou, een tandarts wisten ze wel, maar of hij goed was? Niemand bleek zelf naar de tandarts te gaan. Net als onze ervaring op Bonaire, ook hier een moderne praktijk en prima behandeling!
Wat nu verder. De laatste 2 trips waren heavy, niet voor herhaling vatbaar. Frank wist te vertellen dat het gebied ook als "the thorny path" bekend staat. Nou, dat was het ook. Ik had het helemaal gehad met het zeilen, maar Wim was het ook te veel. Van de zeeziekte heb ik lang gedacht: "ach, het zal wel meevallen", maar het viel nooit mee. Echter, zodra je aangekomen bent, is het over en ben je het vergeten (dat wordt wel minder trouwens).
Er mee kappen, net nu we het stoppen met werken verwerkt hebben, weer aan elkaar gewend zijn en ons aangepast hebben aan het samen in een kleine ruimte leven, de heimwee en het schuldgevoel voor het achterlaten van de moeders minder worden (er zijn zorgende broers en zussen, maar toch)?
Het lastige is, dat als het leed geleden is, je ook direct weer de verlokkingen ziet van nieuwe bestemmingen.
We zijn aan het bekijken wat de mogelijkheden zijn. De boot laten verschepen naar Nederland of Middellandse Zee (Wim aarzelt ook of hij de boot wel terug wil varen)? Ergens neerleggen en geen lange stukken meer varen?
 "We'll wait and see" zegt Homer Wells in John Irvings "The cider house rules". "Right".
Foto's
Museo de las Casas Reales, geneeskrachtige kruiden apotheek met kruidenkast en beschilderd laatje.
Museo Mundo de Ambar met kunst en in amber gevangen insecten.
Hanengevechten zijn in de D.R. de nationale sport. Ieder gehucht heeft zijn eigen "gallera" (gevechtsring). Een afbeelding op een bierblikje vinden ze geen bezwaar.
Automatic Identification System (ais): zijn we heel blij mee. Alle vrachtschepen zijn tegenwoordig verplicht hun naam, positie, snelheid en vaarrichting uit te zenden. De ais vangt het bericht op en het schip verschijnt op de plotter als blauw driehoekje, ja het was druk met wachtende schepen voor Curacao. Het zwarte driehoekje is ons schip, de groene lijn is de richting waarin we varen. Je kunt ook zichtbaar maken of en waar/over hoe lang je bij elkaar zult komen. Het rode lijntje geeft de veilige zone rond het schip aan, komt er een ander schip binnen het lijntje dan gaat er een alarm af.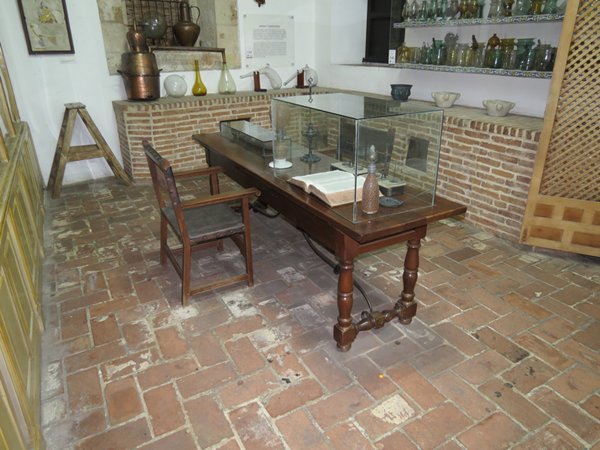 ---