Placencia

Lonely-Planet
Mathilde en Wim
Mon 16 Feb 2015 17:52
Belize, Placencia, 16 februari 2015
Boom met bloemen met meeldraden als een waterval
Sun Dog, Rio Dulce Guatemala. Heerlijke mojito's.
Uitklaren in Livingston, een havenplaatsje aan het begin van de Rio Dulce, alleen bereikbaar per boot. Hier wonen Carífuna, in het verleden gevluchte of gedropte overbodige slaven.
Foto: bergen vis liggen te drogen op een tafel of gewoon in het zand.
Het kostte ons een hele dag om een handtekening te krijgen zonder een extra boete van 45 US dollar te hoeven betalen voor wij weten niet wat.
Above Grounds, koffie- en internet tentje, de enige plek in Placentia met goed internet. Gezellig ontmoetingspunt ook, op het balkonnetje. Veel hippy-achtige Amerikaanse types. Placentia heet toeristisch te zijn, maar het stelt niets voor.3 jaar geleden was hier nog geen electriciteit. Één verharde weg en verder loop je in het zand tussen de huisjes op palen door. Onverwacht eeerg aardig.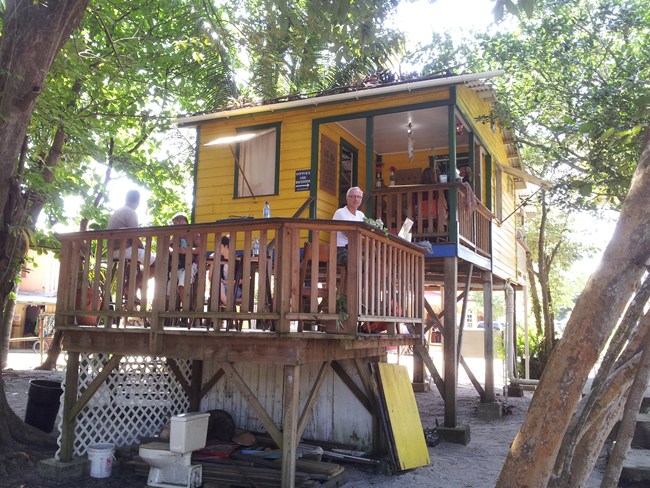 Yoli's, steiger waar je gratis je dinghy kunt "landen". Tevens gezellig en koel plekje en op zondagen een BBQ.
Met zicht op onze ankerplek
Het is niet alleen aan de Vecht dat het niet goed gaat met de nieuwe beschoeiing

Ranguana Island, Belize, een puk bomen met strandje in een eindeloze hoeveelheid water. Het is niet makkelijk varen in Belize. De waterkaarten kloppen van geen kant en er zijn overal koraalhoofden, dus veel op het oog en alleen 's morgens als je de zon achter je hebt.

In de vaargids stond: "never, never sail at night in Belize"
Ranguana Island. Nieuwe Tante Ma II en in de verte Lonely Planet. 
We hebben hier fantastisch gesnorkeld. Anders dan we gewend zijn, zijn de "spotted eagle ray's" niet schuw en zeer talrijk. In één dag zagen we er 10 rond de boot en bij het snorkelen. Tevens 2 actieve verpleegstershaaien (meestal zie je ze rustend op de bodem) en een lion fish. 
Verse lyches. Je bijt een stukje van de schil af en dan floep je de vrucht naar buiten.
Stop bij Bird Island met vele fregatvogels
---