Ormos Anissou to Varkisa 14.6.2013

Minka of Southampton - Cruising Log
Edmund Wigan
Fri 14 Jun 2013 10:03
Position 37:49.002N 23:48.215E
In the end I took a few photos of Ormos Anissou this morning before I left.
There were four yachts which stayed the night and a couple of small local yachts which live on moorings.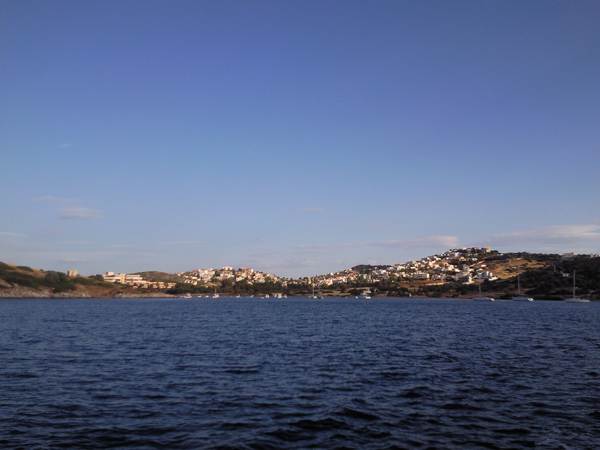 The anchorage is known as chapel cove. I couldn't see one but didn't go ashore to look.
Approaching Varkisa…….
….we passed a few rocks. This coast is a bit tricky and not very well charted. Coming between Arsida Island and the mainland there was meant to be a minimum of 10 mts and where there was meant to be 15 there was only 5mts.
Approaching Varkisa there were a lot of ugly buildings…..
….which was confirmed when I had a look around after parking up. There is a rather fun rocky beach to one side of the harbour…….
….and a turkey basters delight on the other side.
The harbour is quite fun.
No potential as a charter base and as you can see only small boats inside. Minka is almost outside the harbour and it was a bit tricky getting her in there as I couldn't drop the anchor as far from the quay as I would like because it is too shallow. Unusually no one came to help so I had to hop off myself and do the stern lines.
I will now stay here for a couple of days until David joins me as it is as close to the airport as any marina and avoids him getting a taxi through Athens which I understand is a congestion nightmare.
PS Just come into a bar overlooking the harbour and been charged 4 euros for a small beer……you can tell we are getting nearer Athens.
---