Porvoo to Kotka

Minka of Southampton - Cruising Log
Edmund Wigan
Tue 28 Jun 2011 06:49
Position N60 28.4261 E026 55.9297
A very good trip leaving at 10.00 and arriving at 2000 all in fine weather with some useful winds to enable us to average around 6kts. The whole trip involved navigation through islands with clearly marked passages. Firstly a few general scenery pictures
These little houses on islands look idyllic. Mostly they have small landing stages and are sometimes in small groups.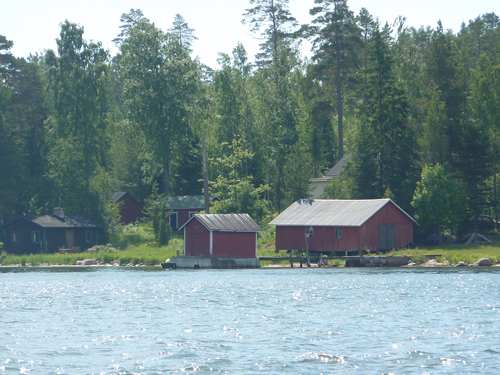 Some islands are just too small for houses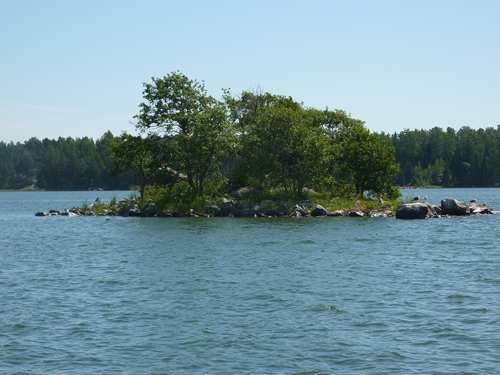 We went through a narrow channel between two large islands which seemed to be a base for survey vessels. The maintenance of the buoyage here must be a major undertaking and I guess these orange survey vessels are involved.
You can see the little motor boat is not hanging about. In general the power boats here do not concern themselves about the wake they create despite coming very close. The picture shows a mild example.
This was in a narrow channel approaching a Ferry.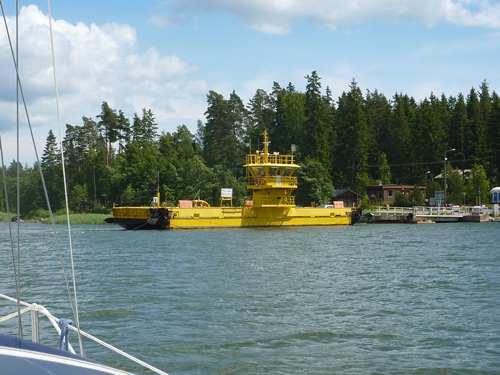 Despite this it is a very relaxed day for some.
Rocks like these make you very happy that the survey vessels do such a good job. Even in large expanses of water there can be narrow channels so just because it looks safe to wander off track it can be hazardous. The charts are very detailed and show every rock but they are not identified by isolated danger marks as they would be in the UK. A rock picture
and another
The buoyage largely comprises port and starboard lateral marks and cardinal marks. The marks are nearly all poles showing the appropriate colours but not shapes or top marks.
Above is a standard port hand lateral mark. Very few are lit although they all have reflective tape on them. The cardinal marks can be black and yellow or black and white.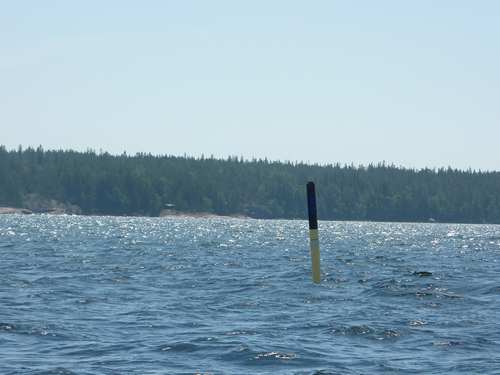 A North Cardinal and to follow a South Cardinal
We only passed one in poor condition which needed some paint and was a bit confusing from a distance
These more substantial buoys tend to be in major ship channels. There are some other signs as well
and a better shot of the happy orange buoy
It reminds me of those large orange balls with ears that we used to bounce around the garden on.
We passed a several yachts on the way and I took some photos of a few. Generally the average size is a bit smaller than in the UK. There are a few beautifully maintained wooden classics
and some blue water yachts.
and a very pretty small yacht with wooden coachroof.
Unfortunately the picture doesn't do it justice.
We came into a service dock in Kotka as we wanted to be near the engineer who will hopefully be fixing the boat's diesel heater. On the corner coming into the dock we passed a modern building which I am guessing is a maritime museum.
A closer shot of one of the old boats outside
We are staying here today so I will go and explore the town......it looks pretty industrial.
---