The last bridge to Belomorsk

Minka of Southampton - Cruising Log
Edmund Wigan
Sun 17 Jul 2011 12:54
Position
N64 30.59 E034 48.5 Belomorsk Quay
As we are getting to the end of the canal I thought I would show a few photos of the lock construction. With the exception of the lock which has been rebuilt using sheet piles the condition of the concrete walls is very poor. The original construction was not good with poor shuttering and this photos shows the walls are not even straight.
In many places the concrete is cracked and the reinforcing bars and mesh exposed.
Where the walls are cracked when the lock is filled cavities behind the concrete fill up and then the water flows out as a waterfall as the lock empties.
We arrived at the last lifting bridge at about noon and moored up to wait for it to open.
Again we had to moor up to ship moorings. We were told the bridge would open at 1630 but if the wind was more than 15kts it would not open. All afternoon the wind built and at 1630 the bridge did not open so we settled down for the evening. The wind continued to increase but suddenly at 1730 the bridge opened so we made a mad dash for it before the bridge operators changed there minds.
The Czech boat was first off the starting blocks but Peter the First was determined to get in front.
Daniel and his crew with their feet firmly on the throttle.
The pilot is wearing the white shirt.
All through the last bridge.
There were some interesting buildings on the short journey from the bridge to Belomorsk.
and quite a few locals came out to see us go by.
We arrived at Belomorsk and tied up to an old concrete quay, there isn't a new one.
Belomorsk is very run down but some friendly youngsters showed us the way to the supermarket
There is also some competition
The housing is in a pretty poor state
These houses are built from solid logs and then rendered.
This one had a bit of charm. The electrical infrastructure looks a bit sad.
This is a substation and even the lamposts have been on the vodka
but the public harbour building looked in reasonable order. The children's playground was a bit sad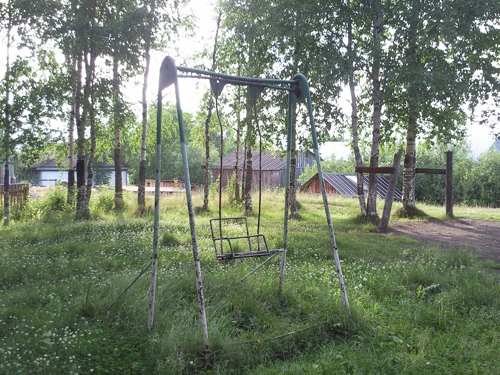 but it did have a roundabout
but with only one seat left.
Even the dog looked sad. So that was Belomorsk a town our Russian friends say is 30 years behind the times.
---