Pititeri to Nisos Skantzoura, Ormos Prasso 6.7.2013

Minka of Southampton - Cruising Log
Edmund Wigan
Thu 6 Jun 2013 07:13
Position 39:04.127N 24:06.841E
Just found this picture of one of my early morning starts. This was leaving Skala Sikias….looks like someone else was up.
Quite often the small fishing boats come into an isolated anchorage at about 2200 and then leave at 0400 to carry on fishing. The above picture was taken at about 0600.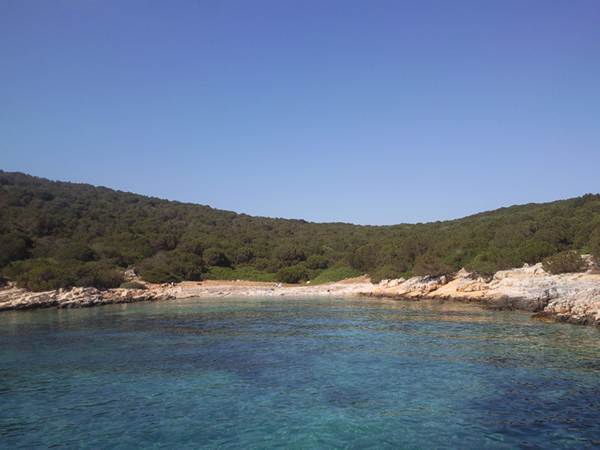 Nisos Skantzoura is largely unoccupied despite having some very sheltered anchorages. The journey was only 12nm so we sailed all the way, sometimes down to 1.5kts as the winds were very slight. The anchorage above is the northern part of the bay in Ormos Prasso. There was an English owned Sabre 27 at anchor quite close in so I went in a bit further but still had 2 mts under the keel.
I anchored and and left the engine running at tickover in reverse so she held herself stern to the wind to keep her off the rocks whilst I swam ashore with the shore line. I have 50mts of floating rope for this purpose. With crew someone usually rows ashore paying the line out of the dinghy as they go. This quite often ends up with a tangle. This time I fixed the line to a cleat and then tried feeding it out into the water and letting it drift. This worked well so I dived in and swam to the shore and fixed the line to a rock. So far so good…. I swam back to the Minka and realised I hadn't put the ladder down and the neither was the wind vane paddle down for me to use to climb on board. I tried climbing up the wind vane and think I might have made it with another attempt but had a better idea. I tied a loop in the shore line so that it hung just below the water and put a foot in that so was then easily able to hop aboard. Another lesson learned.
I went ashore and and took a few photos. You can only just make out the line ashore…it is quite taut. After tidying up I had a swim and did a bit of snorkelling….it is always good to check the anchor is dug in. I swam over and was invited aboard the English Sabre 27. The owner sails single handed and brought her all the way from Plymouth round the outside. A great little yacht and very seaworthy. Sorry no picture.
---