Skiathos and Skopelos 24.5.2013 and stuff

Minka of Southampton - Cruising Log
Edmund Wigan
Fri 24 May 2013 18:31
Phil has sent me a few photos. This one of us racing around in that buggy we hired
My birthday surprise…..
……cake for breakfast. Finally from Phil one taken from his plane of Minka in Skiathos.
She is the on the right hand side of a group of three yachts facing us.
Minka and I are now sailing on our own again. We started with a 10nm trip to Panormos on Skopelos. Going in….
….and anchored with two lines ashore.
The secluded inlet we are moored in features in Michael Carroll's "Gates of the Wind". According to the cruising guide the book has recently been reprinted under a new title "An Island Greece: On the Shores". The book describes the Greek Islands before oiks like me descended on them. This is the house in the book…..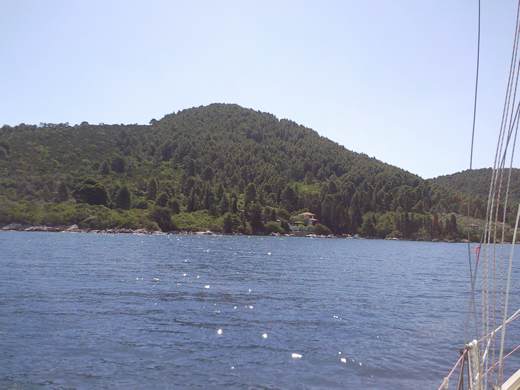 …..where I went ashore….
….and walked around to the more commercial bay.
Later on another British yacht came in and moored up 100mts away. I noticed they were flying their Gin and Tonic flag (a red diamond on a blue background) so went over to say hello in my dinghy. I was invited aboard for a cup of tea and found out that the owners come from Plymouth and we had some mutual friends. Michael was trying to sort out an engine problem so I provided moral support…..despite that it seems to have solved it. Then I got a very generous G&T and Rosanne invited me to supper which was great. We had a very enjoyable evening on board Ethel ( the name of their yacht).
---