Marina de las Dunas to Santa Pola

Minka of Southampton - Cruising Log
Edmund Wigan
Sun 23 Oct 2011 14:32
Whilst I was in Marina de las Dunas I met a few English peoople who seem to use their boats a Spanish cottages. Whilst there I had a chat with a chap who has owned 14 different yachts and has a Bavaria here. As I only had 6nm to sail tro Santa Pola it was lunchtime before I got going. He was already out sailing his yacht Sunray and we sailed in company for a while.
His yacht looks like it is sailing on the side of a hill. This is not another weird affect caused by my mobile phone camera but due to a 2 mt swell. Coming out of the river the swell was breaking in the entrance which was interesting.
Approaching Santa Pola. All these places seem the same from the sea. Lots of blocks of flats with a little bit of industrial docks.
Coming in I came across this yacht....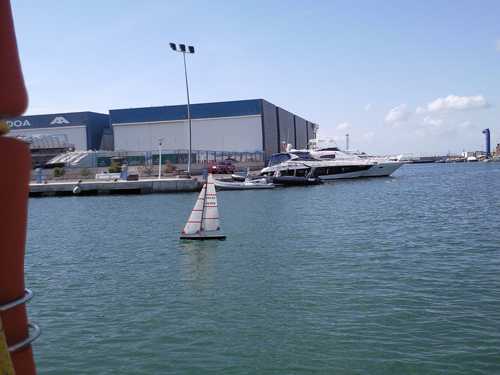 If it seems strange it is sailing with full sails up in a marina then you haven't spotted it is a radio controlled model. I am not sure if in the international regulation for the prevention of collisions at sea cover models but as I was under power I did give way.
The marina in Santa Pola is great with fixed finger pontoons which caught me out as I had set up to moor stern to. Fortunately I was helped by a marinero who really knew his job so we soon moved warps to the right side. Considering it is such a good marina I didn't feel too ripped off paying 28 euros for the night. The place itself seems just like all other Spanish resorts.
---