Nisos Thassos 30.5.2013

Minka of Southampton - Cruising Log
Edmund Wigan
Fri 31 May 2013 16:33
The 50nm journey from Limnos was uneventful. I was overtaken by a French couple in a Dufour who had been next but one to us in Mirina. They motored all the way here and got in a couple of hours before me. The wind was consistent in direction but varied in strength. We sailed a lot of the way with the main out on a preventer to port and the genoa poled out to starboard. The wind began to drop so if I hadn't ripped the cruising chute I would have put that up. So plan B was to get the spinnaker out and all its guys and sheets. I got it all ready to go which took 20 minutes and then the wind dropped so that wouldn't work either. The engine went on for a couple of hours until the wind strengthened again and we sailed with the first set up.
The day was bright but comparatively poor visibility. Thassos appearing out of the gloom.
The harbour is quite large so we went alongside with a bit of wind blowing us on. This built up later so I moved her onto a quay which enabled her to face the wind……much more comfortable.
Somehow I am not that enthusiastic about this place which may be unfair. Lots of ferries coming in and out.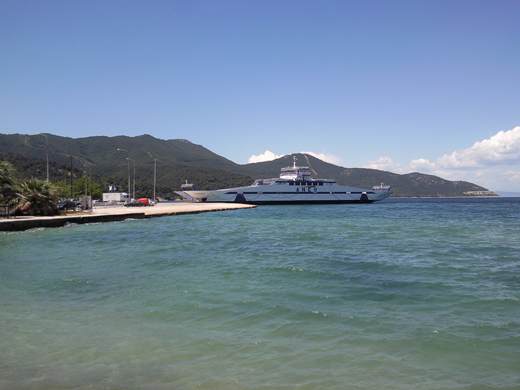 These ferries are reversible and can be sailed equally well in either direction. They look really odd on the AIS (automatic identification system) as they show up on the screen pointing in one direction but doing a reciprocal course.
The island seems to produce huge chunks of marble.
There is a small old fashioned boat yard where they pull the boats out on sleds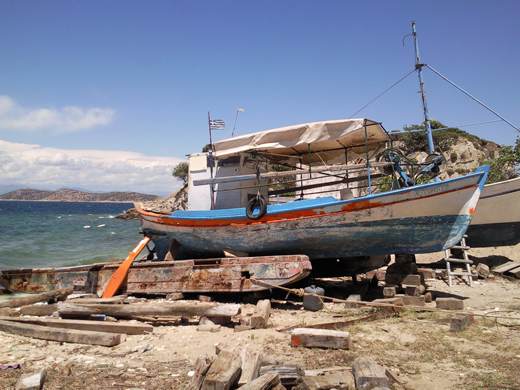 Because the sleds are wooden and would float they bolt old engine blocks to them otherwise they would set off like Kon Tiki.
There are loads of beaches and bars.
Most of the buildings are modern…..there are some relics but the amphitheatre is closed for repair so I missed that.
In the mid range there was this which has the Port Police upstairs……
….which I rather liked. It faces the old harbour which is quite shallow. Then this ….
….cottage in need of some love. It seems to have electricity. Finally, a sculpture which was just behind Minka ….
……the dolphins look overfed and very complacent.
---