Change of plan

Minka of Southampton - Cruising Log
Edmund Wigan
Fri 26 Mar 2010 17:23
The stormy weather continues here so I have come to the conclusion that I will not have time to get down to South Portugal and get home for Easter. This appears to be the safest place to leave Minka so I have booked a flight home from Porto which is about 90 minutes by train from here. I will leave here on tuesday. It is also a lot cheaper here than in Portimao. Not surprisingly Portugese marinas become more expensive and busier the further south you go. Hopefully by the time I get back the summer northerly winds will be here.
I walked down to the sea this morning and tried to take some photos to show what it is like.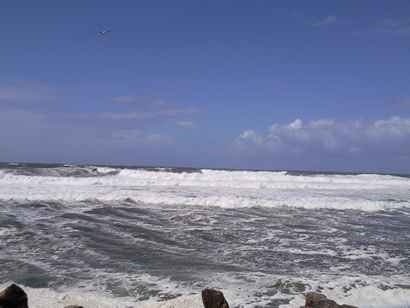 Those give a bit of an idea. The navtex tells me that Figueira da Foz harbour is closed to all vessels less than 11mts long. Minka is 10.93mts. I can just imagine a harbour master coming out with a tape measure in those waves. Couldn't walk all the way along trhat path on the breakwater as further down the waves were breaking over it.
I had a better look at the Castelo and took some more pictures. It seems to be more like a fort than a castle.
It doesn't seem that well fortified. The little towers on the corners are more ornamental than anything else. The navigation light is the front light of two which are lined up when entering the harbour to make sure you stay in the deep water. The other one is in the middle of town.
It is peeping over the roof of that ornate chapel.
I have a bit of tidying up to do but then I shall become a tourist for a few days.
---