Cabo de Palos to Los Alcazares (Mar Menor)

Minka of Southampton - Cruising Log
Edmund Wigan
Mon 7 Jun 2010 06:42
Cabo de Palos is a lovely little place. We moored up in the main water frontage of the town so the restaurant was only 25 mts away.
We are facing the way out of the harbour which is behind us. We couldn't find the harbour master so had a free stay. He will probably catch me on the way back.
Today we sailed from there to Puerto de Tomas Maestre and went through the canal into the Mar Menor which is an inland sea about 11 miles long by 6 miles wide. The canal has a lifting bridge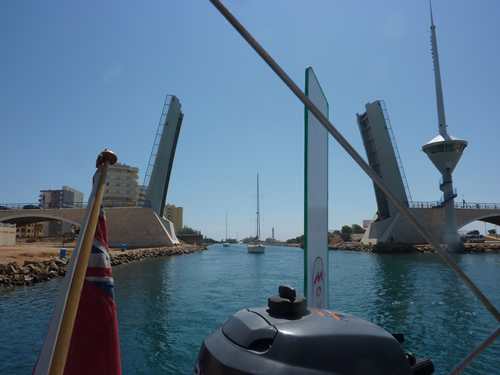 which opens every hour. The water depth in the sea is only 3 - 5 mts. Once we got into the sea the Spanish put on a fabulous air display for us which was at Murcia or San Javier airport.
There were lots of boats anchored watching the display. We are now in a small marina at Los Alcazares which looks like a major beach resort. Tomorrow we plan to come out of the Mar Menor and visit Torrevieja.
---