Samos, the tour

Minka of Southampton - Cruising Log
Edmund Wigan
Fri 10 May 2013 06:19
The weather has got quite warm so Minka is wearing her sun bonnet for the first time this year.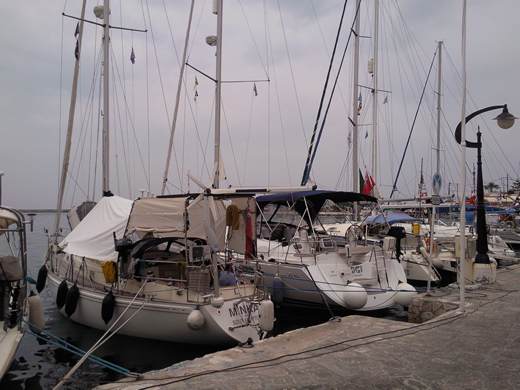 However, the day we have chosen to hire a buggy has decided to be grey and overcast……..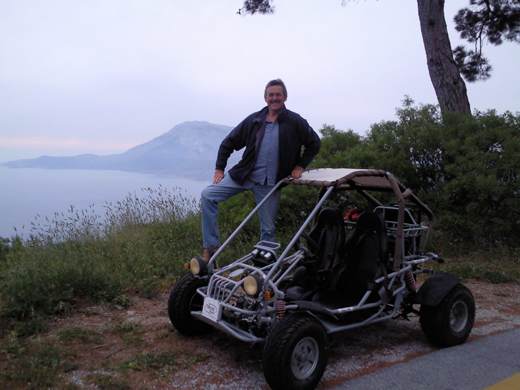 …….which failed to restrain Phil's enthusiasm. At the hire shop we could have hired a small car for 35 euros or this buggy for 40 euros. The Greek who hired it to us spoke good English and said he hoped it would be reliable but we had to remember it was Chinese sh*t. Whilst it steered where it wanted, didn't stop and rattled a lot the only problem we had was running out of petrol. Even then we had a bit of luck as we were only 100mts from a garage.
We set off and went to have a look at the Eupalinian Tunnel. This was a section of the ancient city of Samos's aquaduct. Built in the 6th century BC it was a major feat of engineering with the tunnelling talking place from both ends at once. The water pipes were in a trench dug down from the floor of the tunnel up to 7mts deep. This photo shows a section opened up by German archaeologist in the early 1970s.
We rattled our way through some open countryside……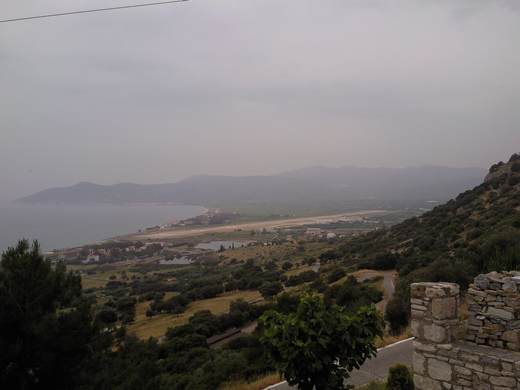 …….and ended up at a monastery with a fine view of the runway and in a different direction the town of Pythagorion.
The monks had constructed an underground chapel within a cave in the hillside.
It was quite small inside……
……..and very blue. The chapel outside was a little larger with a few artifacts in it.
The silver picture frame to the right is a bit weird.
Our next stop was at the only marina on the island. This is now pretty empty as it has a new owner who decided to increase prices by a factor of three.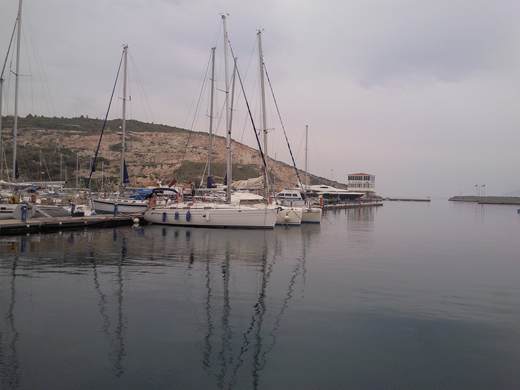 Is it a boat or a large garage……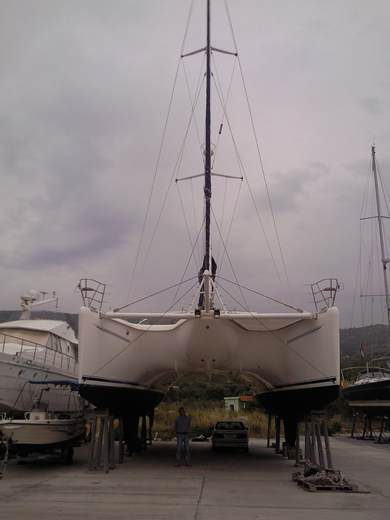 ……..no it's a Privelege 585 catermaran.
Our trip then took us inland to a village with some quite narrow streets. Following Phil's directions we found ourselves driving down a steep hill…
….through this gap. The back wheels are slightly wider than the front but we got through by keeping the nearside wheel on that little kerb. Just as well really as it was too steep to back up.
Carrying on we passed through a lovely valley but the weather was deteriorating and then we stopped in the mountain village of Vurliotes for lunch. The locals have solved the problem of having loose tiles by weighing them down with rocks.
The square where we stopped for lunch was very pleasant and we shared it with a group of German walkers. Phil and I were very disappointed not to hear them yodelling when they left.
Some of the buildings needed some care but it is good to see how they were built.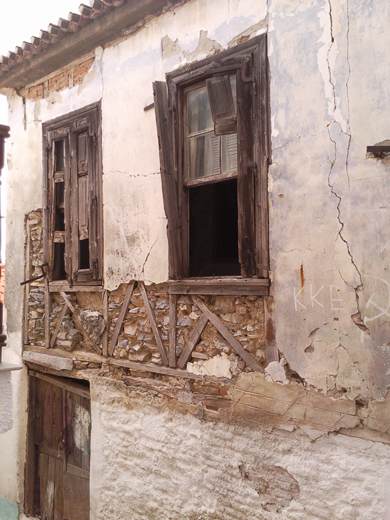 When we left it started to rain and we started to reconsider the idea of having saved 5 euros and hired a car with a roof.
We got pretty wet so stopped in a small village called Platanos for shelter and a hot drink. We were the only people visiting the village so were well looked after by the owner and her aged dad who insisted we try the local wine. We decided to call it a day and headed back to the boat via some very wet and bendy roads with poor visibility.
After a brandy and change of clothes everything looked sunnier again.
---