Taormina to Agostoli (Cephalonia)

Minka of Southampton - Cruising Log
Edmund Wigan
Thu 12 Jul 2012 08:56
A few pictures of Taormina.
The beaches are a bit stony but they were very busy. I had not realised that cruise ships came into small places and anchored.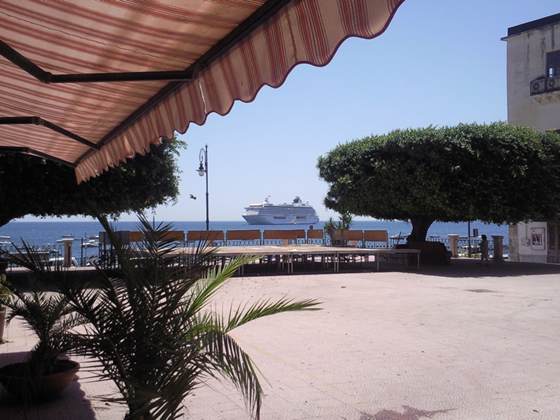 All the passengers then seem to be ferried ashore for a few hours.
The anchorage where George has his buoys
And a final view of Mount Etna as we set off for Cephalonia.
The trip to Argostoli on Cephalonia was 240nm and took two days. There was not much wind so a lot of motoring. Just off the toe of Italy I saw this strange parcel floating in the water.
It consists of a base block of polystyrene foam, then what looks like a parcel and the top block is an old plastic container with a light fitted to it. I wondered if I had come across a drugs drop ready to be picked up by the mafia. Later on I came across two more and I think they are home made buoys to keep people away from an old wreck which is marked as a prohibited zone on the charts.
The sun rising over Cephalonia.
Coming into Argostilo I came across another cruise liner anchored in the bay. This one is the Costa Classico which I think is owned by the same company which had the one that tipped over on the rocks.
A view of the town coming in
With another cruise liner tied to a quay. Argostilo seems a pleasant place. I went and reported to the coastguard as I have to get a transit log from them. This was at about 12.30 but the guy decided it was too close to the end of the day to sort it out so I went and had some lunch before catching up on my sleep.
---