Karagoz Koyu

Minka of Southampton - Cruising Log
Edmund Wigan
Wed 3 Apr 2013 07:44
Position 36:15.318N 30:24.377E
Karagoz Koyu is a large bay but it has a small cove with an entrance only about 30 mts wide. There was another yacht anchored off when we arrived but we decided to get closer in to try to get some protection from the swell.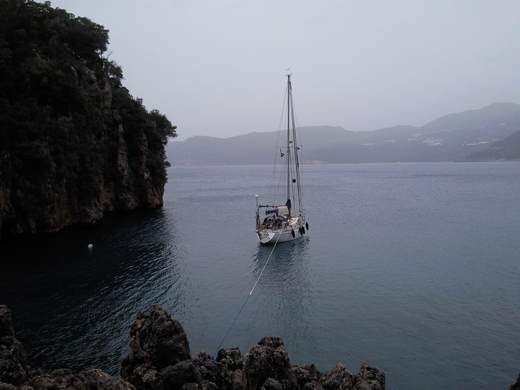 I was slightly nervous as there were quite a few rocks around so we anchored in about 14 mts and backed up to the bay taking a line ashore to stop us swinging into the cliff you can see to Minka's port. This worked fine and we stayed the night here. She still rolled quite a lot during the night so after we had decided to stay another night, to give us some time to explore, we moved into the cove itself using the anchor and two lines ashore. Before doing this we surveyed the depths using a lead line from the dinghy.
As you can see there is a cave in the cliff which is obviously used as a shelter…..someone has even left a pillow in there. The peach is pebbles but really clean.
Phil bought some fish from our only neighbour
To the right of his boat you can see a wooden bridge he has built to get to the mooring.
It looks even more precarious in this shot. He went out at about 1900 and didn't return until daylight.
We spent a few hours exploring and for once I decided to have a look at some wild flowers
The wild poppy is much smaller than English ones.
A blue flower……………..
……and a pink one.
The woods are lovely with some more old ruins scattered about
Sorry wrong picture
This is a delightful place at this time of year and well worth a visit……a final picture
---