Slovetsky Island 13/14th July 2011

Minka of Southampton - Cruising Log
Edmund Wigan
Sun 17 Jul 2011 12:58
Position N65 01.8 E035 41.4 Slovetsky Island Harbour
The Island is really a very special place. From a natural point of view it is the largest one of a group of five. Although quite small it has many lakes which are more the size we are used to in England. The main tourist interest is the massively constructed monastery which has also at various times served as a prison and garrison.
We moored stern to to a concrete jetty in the main harbour. It was quite full as a cruise boat was in and about 20 yachts from Archangel who were on a rally.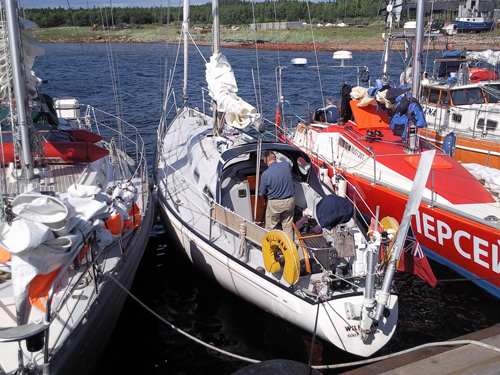 There were several yachts from Archangel of this design
The other local boat of interest was this motor boat which was due its 100 year service..
As we had arrived at 0400 we slept until lunchtime and then went to visit the monastery. First the layout of the island.
The harbour is on the East side and the dotted lines show the approach route. This ia view of the monastery from the harbour.
The stone tower on the left is part of the external fortified wall and a small chapel on the right.
The main entrance.
Repairs underway. Some inside shots
This is the inside of the refectory and the chap is our tour guide. This central pillar supports an incredibly massive brick vaulted ceiling.
One side of the refectory. We saw inside the Cathedral which is quite ornate but all of this is modern as the original riches of the monastery were either taken away or destroyed by fire in the 1920s.
and looking up the tower. An original ceiling painting can just be made out.
We climbed one of the fortified towers and I took a picture of the view
This shows the lake which is on the opposite side of the monastery to the sea. The lake has a water level 7mts higher than the sea which gave the monks water power for their mill and later a source of electricity. The difference in level was also used to create a dry dock without the use of pumps.
Another shot of the lake.
Looking up inside the tower to show the wooden roof construction.
Our guide then got a phone call to say we must get back to the boats as a change of wind direction and gusts of 30kts+ were doing some damage.
We re-arranged things so that the boats lay alongside the quay in rafts. This was done with a considerable amount of difficulty and some minor damage..
After all that we had supper aboard the German Boat and were joined by the two Swedes. After that we went onto Peter 1st for pancakes and vodka. A very good night.
Today we have been to the sauna/shower and we leave at 7.00pm this evening.
---