Cascais

Minka of Southampton - Cruising Log
Edmund Wigan
Wed 28 Apr 2010 08:42
Cascais must be one of the best run marinas. The chap turned up this morning on time to return my deposit for the entry card and help me cast off. I did not really explore the town but have a few pictures of the marina to give some idea.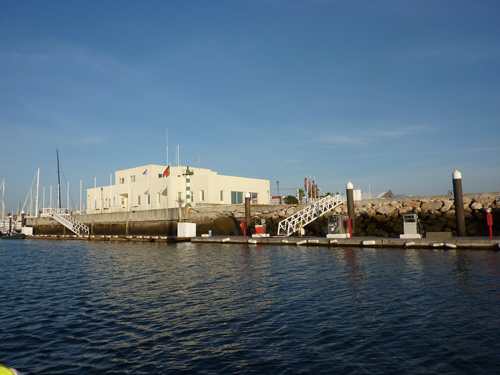 This is the reception pontoon and fuel berth. They have even fixed fenders to the pontoon which is much better than some places that even leave lumps of metal on the sides of the pontoon. The worst I have found was a six inch nail sticking out. The office above is very palatial with marble floors. I suppose I am easily impressed but many marinas just have a portacabin.
A view across the marina from Minka's berth. Unfortunatelt it doesn't do justice to the buildings in the background which are rather fine.
Leaving the marina this morning. I am now on my way to Sines and the good news is that it has moved 50nm nearer since the last blog entry. I am using two charts with different scales and got them confused. If the wind will get up a bit then I should just get in there in daylight this evening. The wind is very variable in strength and direction and I am only averaging 3.5kts at the moment.
---