Archangelsk to Kirkenes part two

Minka of Southampton - Cruising Log
Edmund Wigan
Sat 30 Jul 2011 07:38
The day was very calm with light winds so we motored all day and in the early evening sailed into the second anchorage.
You can see how calm and still it was in this shot taken late at night. It doesn't get any darker than this.
Looking out of the bay from the anchorage in the morning. There was a little bit of wind so we were optimistic for a good day's sail. During breakfast the wind got up to 20kts plus. Michael motored gently towards the anchor and I was getting it in by hand as the manual windlass is kaput. He put it back in gear and found we had no drive. After some investigation it was clear that the gearbox had failed and we had neither forward or reverse. We waited half an hour for the wind to abate to make it easier to get the anchor in but it didn't so Michael helped me haul it up by hand. We then set off sailing in a good wind which died down within half an hour.
We gently made our way up the coast sailing at from 1 to 3 kts..........at least the wind had a favourable direction. Eventually we were becalmed so took the sails in and waited for the wind. The coastguard ship stood by us about a mile away and we had a chat with them about the engine and our water situation.
They then offered to fill our water containers for us and launched their Rib.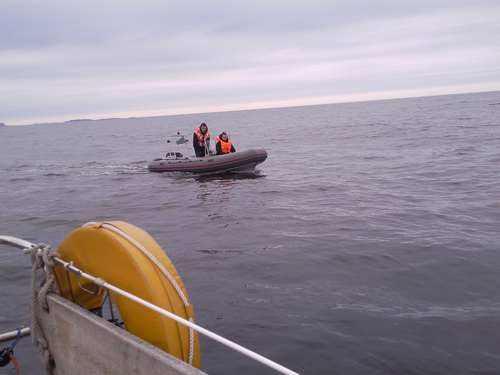 They went off with the containers leaving two chaps on board to check our papers. They were very friendly and keen to help.
The Rib came back with our containers full of water and then set off again only to return with a milk churn full of water which took some getting aboard.
One of the Russians used a small saucepan to transfer this water into our tank. This was really kind and much appreciated as without an engine this trip was clearly likely to last a few days.
The Russians left us and we continued to drift with the tide for a day or so, making a little progress and then falling back again.
This shows our track. The first part shows how little we gained , if anything , tacking against the tide. You can then see us falling back with the tide twice. I awoke for my watch to be a bit shocked how close we had drifted to the very rocky coast. Michael was busy trying to get the outboard for the dinghy started so we could tow ourselves offshore a couple of miles. I blew the dinghy up and we put the outboard on but despite it firing occasioinally it wouldn't start. As the situation was a bit dire I tried towing Williwaw using the plastic oars. The best I managed to get her up to was 1.25kts so the straight line of the track shows the dinghy towing us about 3 miles offshore.to the boat symbol. In fairness we had a little breeze which also helped.
All this time the coastguard ship stood off keeping an eye on us. Whether they were anxious for our safety or concerned we were going to land spies in Russia I am not sure.
Shortly after this the wind got up and gradually built to an F5 from astern so we made good progress for 24 hours or so, starting with full sails wing to wing, eventually reducing to only half the genoa.
During the night the coastguard ship disappeared but we found it waiting for us in the morning further up the coast. When we were about 50nm off Kirkenes the wind died again and we sailed for over a day making between 0 to 3kts, mostly 0.
To pass the time we had a race with a duck
as you can see it won easily.
When we were about 30 nm off Kirkenes Seeadler caught up with us and took us in tow.
However this attracted the attention of a Border Patrol vessel which was far less friendly than the coastguard. They had not heard about us and came and boarded both yachts.
They checked all our papers again and wanted to clear us out of Russia. Sadly we had already done this formally in Archangelsk so we didn't have any clearance papers for them to stamp.
Eventually they gave up and disappeared back to their mother ship.
And another picture showing our intrepid skipper.
We set off again under tow managing a very comfortable 4 to 5kts. Gottfried the skipper of Seeadler hauled us in on our tow rope to pass over chocolates which was great. We then entered a very foggy patch which is quite common here until it cleared and then we could see Norway.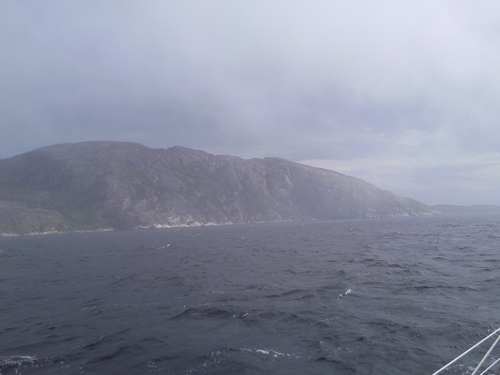 I had been quite impressed by the Russian Border Patrol Veseel but we met this Norwegian one on the way into Kirkenes and it is much more impressive.
The small boat harbour in Kirkenes is sheltered and the locals very friendly. They cleared this pontoon for us so we could moor side by side and within half an hour had found us a key to their sailing clubhouse where we have free use of showers and a washing machine.
The harbour is a lovely place to be.
More about Kirkenes in my next blog.
---