Ugazi to Kas

Minka of Southampton - Cruising Log
Edmund Wigan
Mon 8 Apr 2013 14:37
Position 36:12.258N 29:37.842E
The trip back to Kas was a little lively. At the anchorage we were getting over 20kts of wind which was going to be on the nose for at least 10nm. My crew decided they wanted to go, so off we set for the 20nm journey. We motored for about 8 miles into the wind through some quite large waves. The wind building to about 30kts so we were getting 2.5 to 3kts boat speed. Eventually we got an angle on the wind and put some sails up suitably reefed for the conditions. Then the rain came to join the party…………….
Phil on the helm which Colin had forsaken after a heroic stint.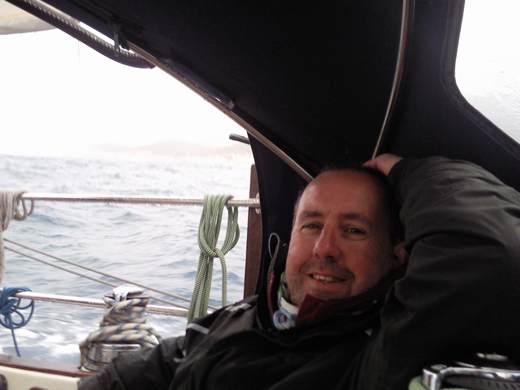 A much relieved Colin sheltering under the spray hood. We had one little disaster when the dinghy, which we were towing got torn on the Monitor wind vane. I should have put it on deck but hindsight is a great thing. It may be repairable but it needs a professional repair. The wind eventually died down and we motored the rest of the way in poor visibility.
I tried out the foghorn but my crew were not impressed. In all it took six and a half hours to cover 23nm. The crew were impressed by the hot showers here.
Today we have been in the marina doing a few little jobs. I have fitted the new sea water pump which Colin brought out and solved a recent problem which meant the engine wouldn't start on the key. Colin and Phil have marked the anchor chain so we will now know how much we have let out and also spliced 50mts of anchorplait rope to it. I turned the chain end for end to spread the wear on the galvanising but hadn't quite finished the job. It is now 1730 and the crew are having a snoring contest. There has been over 40kts of wind here in the marina today so we will stay here tonight.
---