More Nisos Limnos

Minka of Southampton - Cruising Log
Edmund Wigan
Thu 30 May 2013 18:04
The shopping streets are quite fun here and there are some great shops for fresh and dead stuff….or even fresh dead stuff. This was actually alive and just about breathing. It lies outside this shop all day….or maybe there are some lookalikes on shifts.
Busy place. There is a little square off to the right. I had a really good look around as I needed to find somewhere to get a haircut. Complete with head massage it was 10 euros…not sure what the head massage was about. It felt like the barber demonstrating what life would be like if I didn't pay him.
Now I could see I decided to hire a motorbike. It was a really windy day and at times I thought I might take off…..maybe not with 80cc. So I went to have a look at some sites.
I found a church….
….and another church. And a beach activity centre….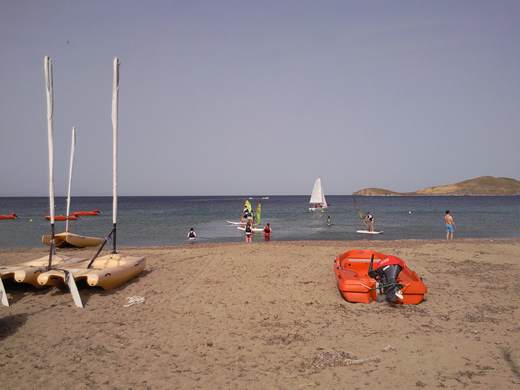 …..with loads of toys.
I would have liked to have a go on a sailboard.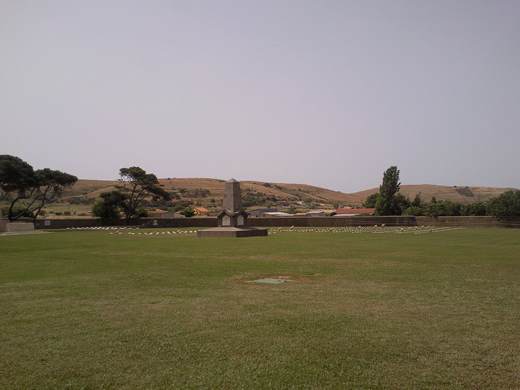 This is the war cemetery for those who were killed here in the Great War. There are British, French, Greek, Australian, New Zealand and a few Indian graves. The huge natural harbour on the south of the island was used to gather the ships together for Gallipoli.
The local cemetery is next door
I followed some signs for a bronze age settlement
They appear to have been very short people and quite hardy as the walls are very low and they didn't bother with any roofs.
They had a great view though. I think this is a reconstruction of a hovel so maybe I was wrong.
The motorbike rental people insist you stay on made up roads. I think this one was made up as at times it didn't exist.
This is approaching an abandoned village.
The speed limit entering the village, obviously they are concerned about the safety of the ghosts……they have no road sense.
The locals don't seem keen on sign posts….
This one had been blasted by quite a few rounds from a 12 bore……well there's not much fun in shooting ghosts. I followed the sign for straight on and the track finally petered out in a little bay.
There was one small fishing boat and no other sign of habitation……so I rode all the way back to the junction and tried the other route. To cut a long story short I visited five bays before finding my way to a main road passing a few signs telling me in four languages not to take photographs……
…..of this. If you look very closely there are some military bunkers in the centre of the photo…..if you can't see them just admire the great camouflage. Just to finish off a rather cute church…..
……and finally a main dealer for Toyota Suzuki……
……perhaps they should get together with the bronze age dwarves as they have plenty of walls but no roofs…..really good seeing an ancient civilisation progressing.
There is a final finally…..there are very few boats I would be tempted to swop Minka for but one came in and parked beside us.
Not a great picture but she is a Fantasi 44 built in Sweden in very<![if !supportAnnotations]>[AB1]<![endif]> small quantities. They built about 3 a year for ten years but have now stopped building them. As well as being a lovely boat the owners were great and invited me for a G&T on board and a conducted tour. The timber craftsmanship inside is outstanding and I doubt there is a better builder.
<![if !supportAnnotations]>
---
<![endif]>
<![if !supportAnnotations]>
<![endif]>
<![if !supportAnnotations]><![endif]>
<![if !supportAnnotations]>[AB1]<![endif]>
<![if !supportAnnotations]>
<![endif]>
---