Selmiye Koyu to Ciftlik 17.4.2013

Minka of Southampton - Cruising Log
Edmund Wigan
Wed 17 Apr 2013 16:51
Position 36:42.97N 28:14.28E
Ciftlik is another protected bay on the Turkish coast about 35nm from Selimiye Koyu. We kept close to the coast all the way and with the wind blowing offshore it was extremely variable from 5 to about 25 kts. On the way we passed this vessel anchored. Phil decided he wanted to check the colour of the crew's eyes so we got a tad close.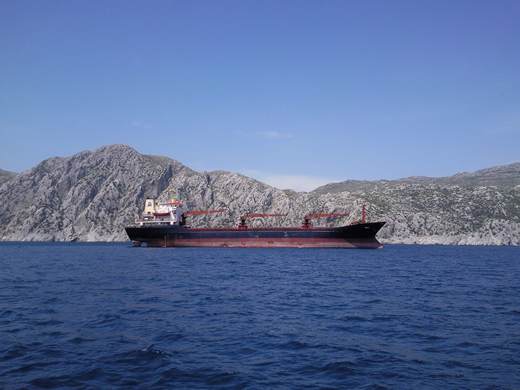 As you can see it was a lovely day. The entrance to Ciftlik looked promising………..
….until you get in and see this horrid hotel.
The hotel is closed and quite neglected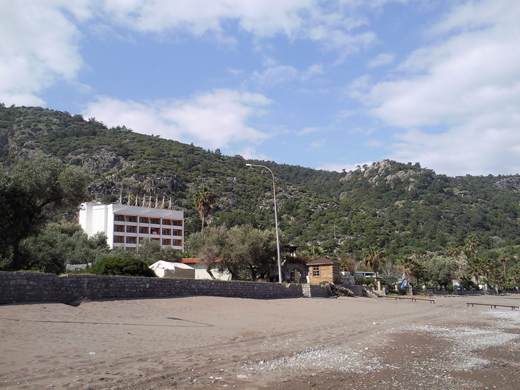 And next to it is an abandoned night club which we went in and explored.
There were two restaurant bars with jetties competing for our business.
We had lunch in the restaurant attached to this jetty only to find that the other eight boats that came in later all went to the other restaurant. Did they know something we didn't or was the owner in league with a flotilla company?
Colin and I decided to take the dinghy and circumnavigate the island which protects the bay.
There is a house on the island which is for sale for £10 million. After that we did that we went to a small beach with a cave……..
….which Colin bravely explored.
The
Colin with his Bay and Cave.
---