Peterhof

Minka of Southampton - Cruising Log
Edmund Wigan
Sun 3 Jul 2011 14:49
The organised visit was to Peterhof. There is not much to say except it is very well worth a visit. Unfortunately they won't let you take pictures inside as I got my wrists slapped for trying. So a few of the outside.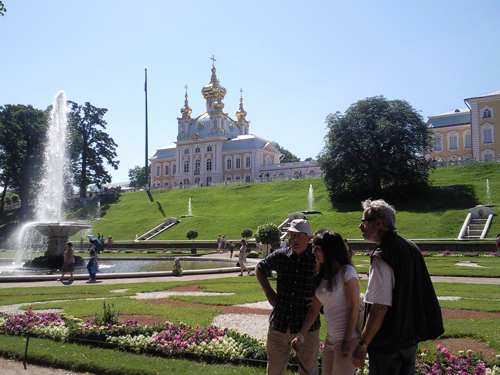 This shows Michael, the tour guide and a Swedish crew member from another boat called Dougal Mcfee but his ancestry is Scottish.
This is one end of the building which was a later extension and a symmetrical addition was made at the other end.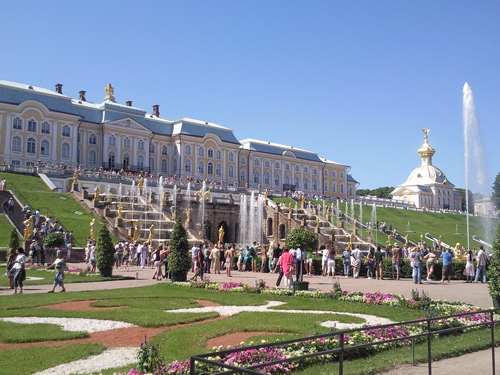 This shows the centre as well as the other end. You can see it was quite busy.
This shows the canal that leads from the house......
.......to the sea.
There are a few buildings in the grounds..........
......including this moated dolls house. There are also several separate fountains and sculptures.
There is beginning to be a lion theme here
It is hard to see but this one also has a grumpy _expression_. Understandable in a way as it does not really befit the king of the jungle to be permanently dribbling. The grounds are quite closely policed and when a child stepped on the grass this chap kept blowing a whistle at her.
This was the only really officious action I have seen here as most Russians are very kind and helpful. On the other hand, as Michael said, a few years ago the child might have been shot!
And a final shot at Peterhof of (L to R) Lena, Michael and Ira.
Lena and Ira kindly took us to get some provisions afterwards and I noticed this ancient trolley bus which has probably escaped from the transport museum.
This will be my last blog from St Petersberg as we leave tonight, we think, as there are rumours that the organisers have yet to get their hands on the written permission!
I am not sure how frequently I will have access to wireless when we set off so don't wait up.
---