More Skiathos 23.5.2013

Minka of Southampton - Cruising Log
Edmund Wigan
Thu 23 May 2013 18:05
Phil and I had a wander around the old town and port.
We found quite a few steps and alleyways……………….
……some open views….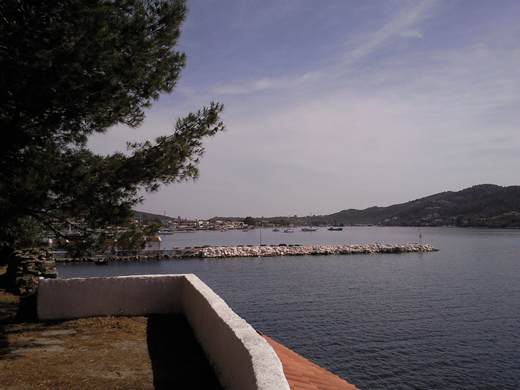 ……and
…..some derelict buildings. This one with its own beach.
Lots of streets like this…..
….and a Welsh fire engine for Colin.
We mustn't leave Dave's collection out….this is rather too smart and actually runs so probably not appropriate,
Phil left for Cyprus yesterday…….
….after treating me to a great meal in a restaurant with many steps……
….and a great view.
Last night the wind got a bit lively and was blowing onto the beam of all the yachts backed up like Minka to the town quay. Fortunately Minka's anchor held even though she had two yachts leaning on her until they got sorted out. A few had to leave and anchor in the bay. There was some damage to this new charter boat which was bashed against the quay.
The damage was mostly to a trim piece on the starboard quarter. They really have had some bad luck as in this picture they are trying to leave but their anchor is hooked around an old ground chain. They had a really good idea to free themselves… they got out their kedge anchor to lift the ground chain and you can guess the rest. They are now backed up to the quay again presumably waiting for a diver to sort it all out.
This is Minka with her two German friends who got a bit intimate in the night.
Finally a new type of flip off pontoon cleat.
Obviously not a problem as someone has tied to the cleat on the opposite side of the pontoon.
That's Skiathos. Off somewhere on Skopelos tomorrow if I can find somewhere sheltered from the South West.
---