Marathokambos - Nisos Samos

Minka of Southampton - Cruising Log
Edmund Wigan
Sat 11 May 2013 06:00
Pythagorion on Nisos Samos is a very useful stopping off place to provision and as a base for touring the island. We left with a little regret as we had a good time here. We headed for a fishing village about 15 nm west but still on the south coast of Samos called Marathokambos. Leaving Pytrhagorion.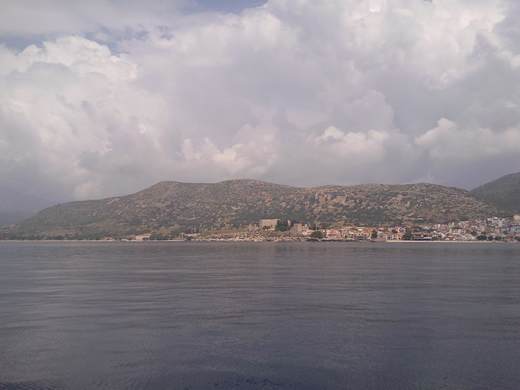 On the way out of the harbour we saw a yacht at anchor which looked like a centre cockpit Rival 41 so went over to have a chat. As we got closer I realised it wasn't a Rival at all. We still had a chat with the American owner……..
…..it is a 43ft Ted Brewer design built in Hongkong. The rest of the trip was uneventful as there was no wind.
Marathokambus harbour is being dredged …….
…..at the moment which is a good thing as it was pretty shallow. We anchored in the outer harbour well out of the way of the dredger.
As you can see we were the only yacht there. This is surprising as there are quite a few tavernas along the quayside and a reasonable but small supermarket.
We found another vehicle for Dave's collection
I think it has a diesel engine…….
……with easy access to the decompressor. That was not the only project……
This steel yacht is only about 23ft long which is unusually small for a steel boat. It was originally well built although it is difficult to see that now.
We are moving on today to Nisidhes Fournoi a group of islands 15 nm to our west.
---