Nisos Skiathos

Minka of Southampton - Cruising Log
Edmund Wigan
Tue 21 May 2013 13:31
Position 39:09.838N 23:29.523E
The 20 nm to Skiathos from Alonnissos looked as if we would end up motoring but as we passed Skopelos the wind woke up and gradually veered to our favour enabling us to sail all the way into Skiathos harbour. Approaching Skiathos……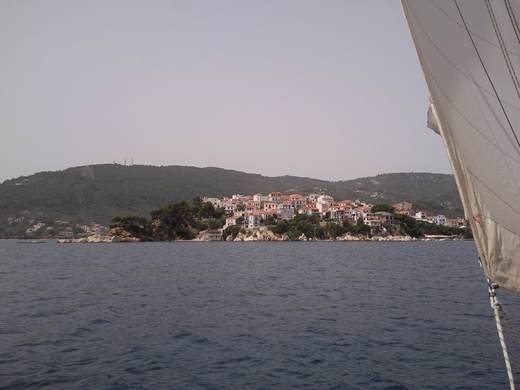 ….and looking the other way.
This is normally a very busy as a charter base. Lynne and I chartered here in 2009 and had a great week visiting the various islands and joining in with a flotilla. The season doesn't seem to have started yet and they have only just installed the pontoons (which are wintered ashore) for all the charter boats.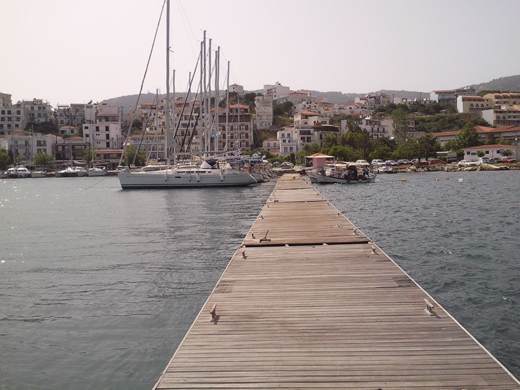 Presumably all the charter boats are kept elsewhere during the winter. The town from the end of this pontoon.
Minka is moored on the town quay facing the camera. I went for a preliminary recce to have a look at the airport and the boatyard. The flight path comes in over the water off the quay and anchoring is banned in line with the runway. There are traffic lights to stop vehicles passing the end of the runway……
……this photo explains why.
There are some pretty explicit warnings….
….one here waiting at the lights for take-off.
A few interesting vehicles to add to Dave's collection
This one is used by the boatyard for pulling boats out of the water. They have a newer version…..
…which shows how they do it with a hydraulic lifting trailer. Finally a flying saucer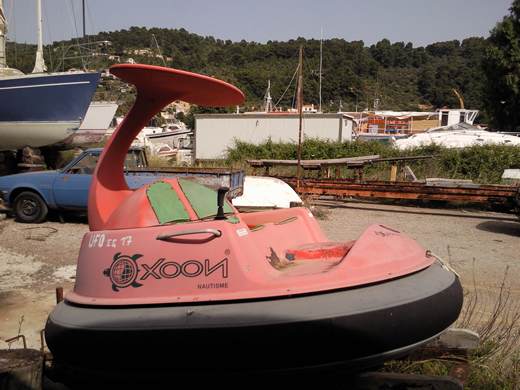 We will be staying here a few days. Phil is busy sorting out travel arrangement as he has to get back to Turkish Cyprus to deal with some family business matters. It looks like quite a complicated trip, flying to Athens and then Larnaca before crossing the border in Cyprus.
---