Kas to Kekova Roads, Ucagiz - 31 March 2013

Minka of Southampton - Cruising Log
Edmund Wigan
Sun 31 Mar 2013 06:25
We had a lively trip for the 27nm eastwards down the coast. On the way out of Kas we had a closer look at the houses on the headland. They have great views but unfortunately face west or north west.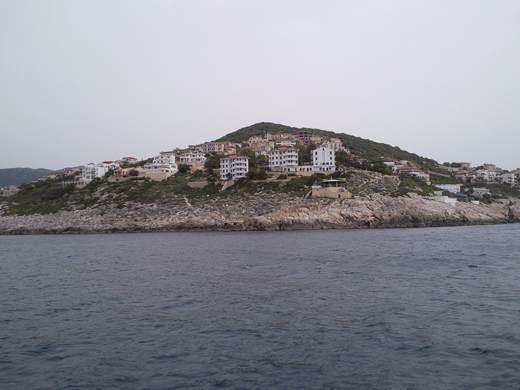 …..and having had another look at the photos lack a certain charm.
We threaded our way through a few islands tacking and reefing as necessary. We went through all the reefing points to check the lines run correctly and also tried out the working jib. This is on a single line furler with a torsion rope, we could not get enough tension in the torsion rope to prevent the luff of the sail curving which in turn meant she wouldn't sail close to wind. That sail has gone back in its bag for a rethink.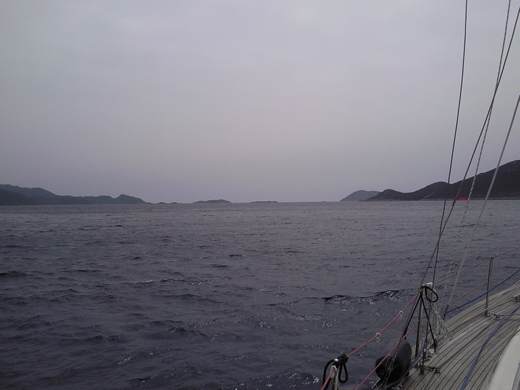 A rather overcast day
This is the entrance to Ucagiz which is protected by a long thin island which runs parallel to the coast and then further protected by another entrance into a 2 mile long lake.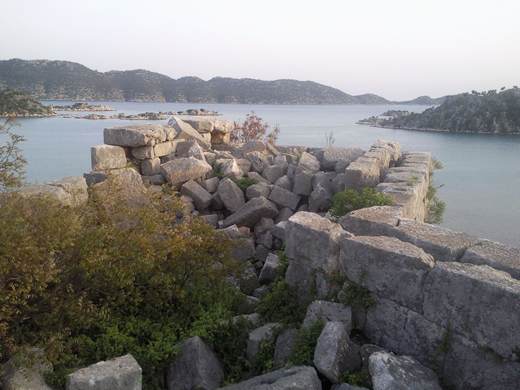 This photo gives an overview of the inland sea, the entrance is to the left. This is taken from the remains of a small castle which would make someone a monumental rockery. The anchorage is great with very good holding in mud.
Again from the castle showing a sort of marina, Minka is in the centre of the picture beyond that. The village is to the right. There are loads of ruins and stone tombs
which are well camouflaged in this picture.
The tomb in the centre left is typical, they all have holes knocked in them or the lids tipped off. This was either caused by some horror fantasy awakening of the dead or tomb raiders which is boringly more probable.
We got the dinghy out and went up to the east of the anchorage where there was a boat yard full of gulets being prepared for the season. Good news the outboard seems to be running well now.
From there we climbed up a hill to visit a much larger castle again with loads of tombs including this one which appears happy.
The two eyes are carved lions heads. The castle has battlements which are somewhat precarious
Another view from inside the castle. The castle also had a bath house, Phil seemed somewhat unsure about the plumbing arrangements.
This is the village of Kale Koy, below the castle, which can be used as an anchorage or even to go alongside the restaurant jetties but only in very settled weather.
A lot of ancient ruins are built into the later houses although the masonry skills seem to have disappeared in the intervening thousand years. Tomorrow we move on to Finike for lunch and then an anchorage.
---